The Sukin Journal
Discover the world of natural through our eyes! From skincare tips, lifestyle and environmental hacks to inspirational interviews! Explore it all.
We've curated a Brightening routine for your most radiant spring complexion yet.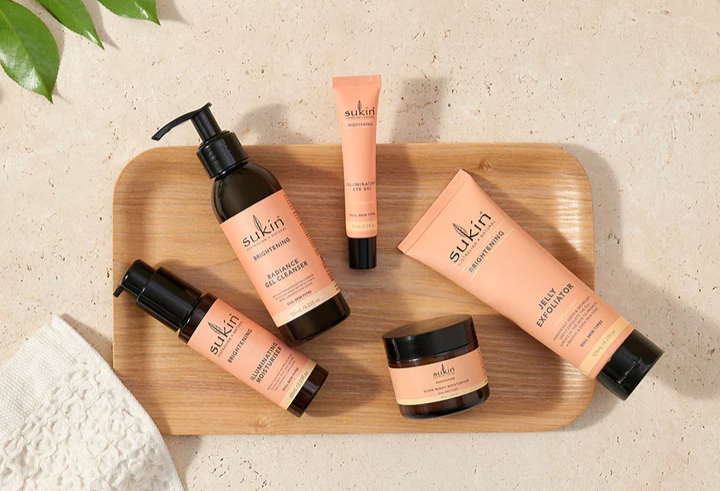 It's time to get glowgeous skin with our Brightening Range. The zesty bestie for all skin types who suffer from dullness, this uplifting range hero's Native Australian Kakadu Plum, Vegan Squalane and Pineapple Enzyme, Bromelain that work to lightly refine, hydrate, and replenish your skin, giving you a complexion that is fresh, hydrated, and luminous.
It's no secret winter is well and truly here, and for most of us, the change in weather means we can expect changes in our skin. Environmental conditions like harsh winds and artificial heating draw moisture and water out of our skin, resulting in your skin looking dull and cranky. A dull complexion is not the vibe this winter, so we've curated a Brightening routine for a complexion so radiant, your co-workers will need shades*.
What to expect from the Brightening range:
Smell: Zesty oranges in Summer.
Feel: Gel textures, silky oils, and Jelly Exfoliants that lightly tingle.
Look: Oranges, yellows, and opaque textures.
Treats: Dull-looking skin.
Result: Radiant and refreshed skin.

AM ROUTINE
1. Cleanse
Give your skin a fresh start each morning by cleansing away dull skin cells, dirt, bacteria, and overnight oils. The Radiance Gel Cleanser is a lightweight gel with a harvest of Fruit Extracts that easily clean and refresh your skin.
Sukin Skin Tip: Avoid cleansing with hot water as it draws out the natural moisture in your skin and can lead to dehydration across your complexion.
2. Mist/Tone
There's no wonder that Mist toners have comfortably earned a place in our skincare routine. Our pick is the Skin Relief Facial Mist it helps tone down the appearance of redness and increases skin hydration. Our favourite thing? You can use it multiple times a day!
3. Exfoliate (once to twice a week)
The slick jelly texture of our Brightening Jelly Exfoliator is a delight for sensorial skincare lovers. Lightly ground Passionfruit Seeds buff away stubborn skin cells, working in synergy with Pineapple Enzymes to dissolve congestion, giving a smooth and dreamy complexion. This exfoliant is the ultimate prep for your skin actives party. Apply it after you cleanse and before the rest of your routine.
Sukin skin tip: No one likes a cranky skin barrier, do your skin a favour and don't over-exfoliate. Stick to 1-2 times a week.
4. Serum
This oil-based serum is formulated with a lightweight base to allow smooth absorption into the skin. Featuring Ultra-stable Vitamin C as your complexion superstar, it helps to reduce appearance of dark spots, prevent signs of ageing, and boost radiance. For an extra healthy-looking complexion boost, we have added clinically proven Tomato Fruit Extract to the formulation for its ability to improve skin radiance**.
5. Eye Care
Eye care products with a lightweight consistency are an effective way to hydrate the skin around your eye contour without overloading it with product. The Illuminating Eye Gel contains a blend of Green Coffee and Kakadu Plum, layered within a light gel texture to treat your delicate eye area with hydration and glow.
6. Moisturise
Protecting your moisture barrier is vital to keep your skin glowing. All skin types need a moisturiser. Moisturisers help add moisture to the skin whilst simultaneously preventing trans-epidermal water loss. The Brightening Illuminating Moisturiser has a lightweight creamy texture that sits perfectly under SPF and makeup, it boasts a fruity blend of Mango, Papaya and Pineapple to restore vitality to your skin, so you can glow about your day.
7. SPF
SPF is an everyday product, and we mean every day. Even when it's peak winter and there's not a glimmer of sun, the UV rays are still out to play. Wearing an SPF helps protect your skin against damage caused by UV exposure and protects against the physical signs of ageing caused by sun damage.
Not so fun fact: If you're using a moisturiser + SPF formula, you probably aren't applying enough of the product/SPF to protect your skin. SPF is only one part of total sun protection and prolonged high-risk sun exposure should be avoided if possible. Frequent re-application or use in accordance with product directions is required for effective sun protection.
*Co-worker shades optional.
**Based on an in-vivo ingredient study (n=26), twice daily use after 4 weeks