The Sukin Journal
Discover the world of natural through our eyes! From skincare tips, lifestyle and environmental hacks to inspirational interviews! Explore it all.
How to treat blemishes naturally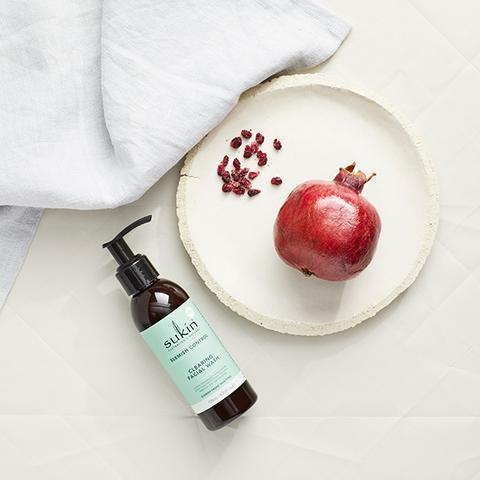 Breakouts are bound to happen whether you like it or not. But one thing we'd like to stop is using harsh, chemical-packed acne treatments that do more damage than good. Fortunately, here at Sukin Naturals, we have plenty of natural ways to treat all kinds of blemishes.

Skip out on nasty ingredients like Benzoyl Peroxide. Banish breakouts and fight blemishes with Sukin Naturals. Made up of four unique products featuring proven native ingredients to leave skin healthy and clear, the Blemish Control range is the only skincare you need for a healthy, clear complexion.

Capable of fighting the cause within just 30 minutes, 8 out of 10 women said they would happily recommend Sukin's new Blemish Control range to friends and family. Because rather than drying out the skin and causing further irritation, our natural solutions fight imperfections at their source without compromising the skin's health.

Read on to discover how you can clear blemish-prone skin naturally with Sukin.
of the skin.

Read on to discover how you can clear blemish-prone skin, naturally.
What Causes Adult Blemishes?
Several factors can trigger blemishes. Reactions to topical products, diet, stress, hormones, genetics or environmental stressors, just to name a few. However, these marks stem from one thing: an overproduction of sebum leading to a blocked sebaceous gland.

In other words, blemishes occur when your pores become clogged.

Despite our best efforts to encourage natural skincare alternatives, many still rely on harsh, chemical-based skincare treatments. While this may work for removing excess oil and bacteria, these products can potentially dry out the skin too much and compromise the skin's natural healthy function. Rather than choosing a synthetic treatment, consider a natural solution from Sukin Naturals.

Harmful Skin Care Ingredients

One of the most prominent ingredients in traditional skin care treatments is Benzoyl Peroxide. Popular for how quickly it kills bacteria, this synthetic ingredient is so powerful that it may also leave skin dry, red and irritated.

Azelaic Acid is another potentially synthetic ingredient commonly found in mainstream products. While it does exfoliate the skin and unclog pores, it may leave skin red and itchy.



Natural Skincare Alternatives from Sukin

Instead of Benzoyl Peroxide, Sukin harnesses natural clearing properties from a blend of native ingredients. Eucalyptus Oil, Tea Tree Oil and Salicylic Acid gently yet effectively clear the pores, rid the skin of pore-clogging dead skin cells and reduce the puffiness associated with breakouts.

The Sukin Blemish Control range also relies on Willowherb and Quince, rather than chemical Azelaic Acid, to naturally minimise the appearance of pores and surface redness.

Find our full range of blemish control skincare below, and be sure to head to our Ingredients Glossary to learn more about Sukin Naturals.

How To Clear Up Skin Naturally

For blemish-free skin, the natural way, make sure each step in your skincare routine works harmoniously with the next.

Step 1: Cleanse your blemished skin with Sukin Blemish Control Clearing Facial Wash.

Remove dirt, bacteria, makeup and environmental pollutants from the skin by applying a small amount of cleanser to the skin and then lathering with water. Gently massage the facial wash into the skin, then rinse thoroughly and pat dry.

Step 2: Unclog pores with Sukin Blemish Control Pore Perfecting Toner.

Refine the appearance of pores and minimise shine by moistening a cotton pad with toner and gently wiping it over the entire face.

Step 3: Keep skin hydrated with Sukin Blemish Control Oil-Free Moisturiser.

Without adding any shine, a botanical blend of Willowherb, Quince and Moringa works to reduce the appearance of blemishes by refining skin texture.

Step 4: Reduce the appearance of blemishes in just 30 minutes with the Sukin Blemish Control Spot Banishing Gel.

Spot treat any blemishes. After moisturising, apply a small amount of Spot Banishing Gel to any areas of concern using a clean finger or a cotton bud.


Shop online with Sukin Naturals and discover the entire Blemish Control Range, alongside some of the best selling and most loved skincare products. Tell us about your skincare routine, take a selfie, shoot a video, and share your stories @sukinskincare.

(If you are trying a product or ingredient for the first time, Sukin Naturals recommends a patch test first.)
SOURCE: Sukin Internal Study: 2021