The Sukin Journal
Discover the world of natural through our eyes! From skincare tips, lifestyle and environmental hacks to inspirational interviews! Explore it all.
How to: use a facial masque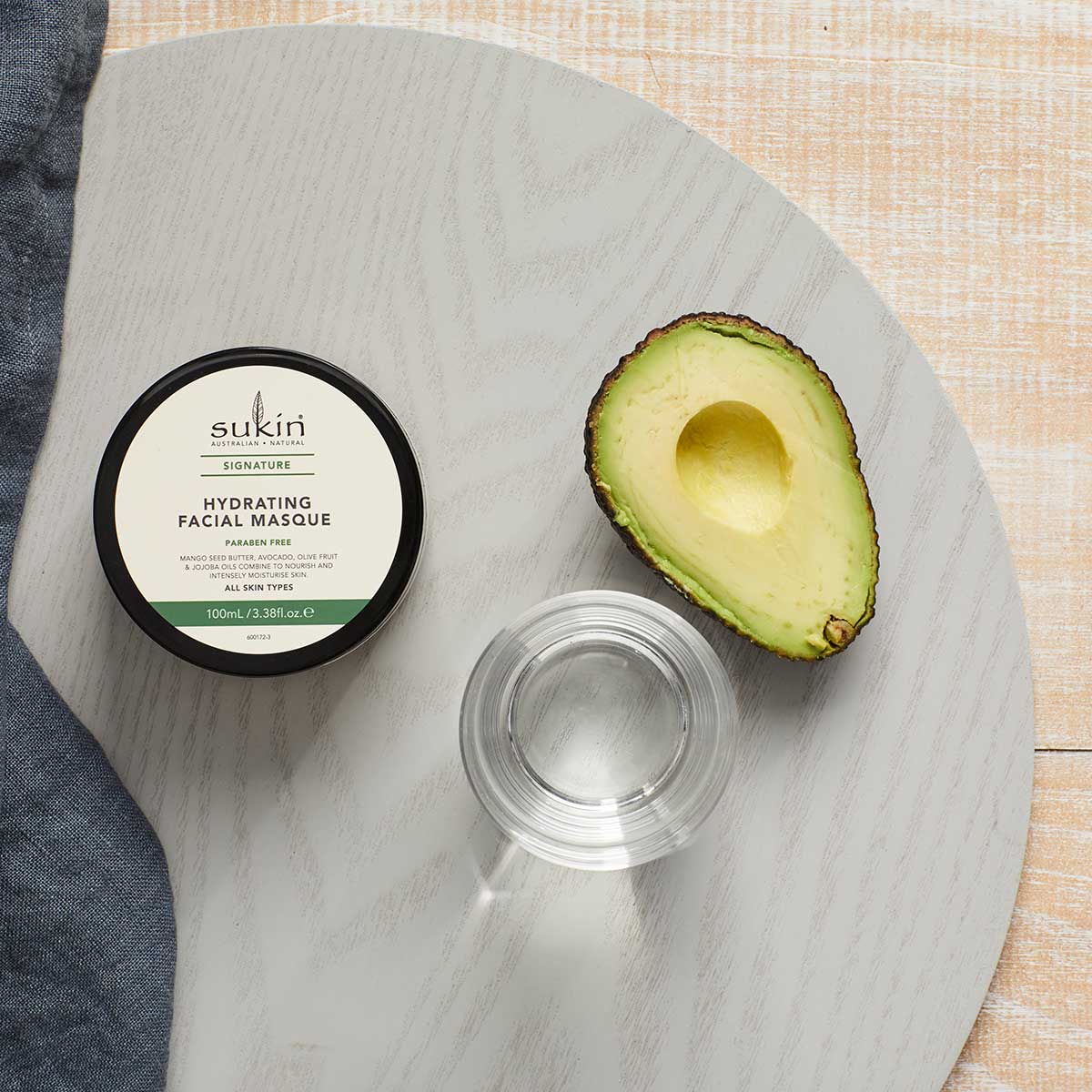 Once reserved for seriously special occasions or evenings of pampering, masques are finally becoming an integral part of many people's skincare routine. There's no rule specifying that you need to be prepping your skin for an event in order to use a masque, so why not treat your skin to a bit of salon-inspired luxury on a more regular basis?
So at what point in your routine should you be applying your masque and how can you choose the best masque for your skin type? We've put together this quick guide to masqueing to answer your skincare questions.
What is a facial masque?
Facials masques, or masques, provide a concentrated skin treatment, with more potent ingredients than what you'll find in your daily topical skincare, so they're formulated to only be worn on the skin for a short period of time before being rinsed off.
All Sukin masques are creamy in their consistency, as opposed to sheet masques, so they're designed to be almost painted onto the skin and left on the skin for around 15 minutes while they work their magic and target even the most specific of skincare concerns.
How to apply a masque
Using either a small brush or clean fingertips, apply your masque to clean skin (masques should be applied after cleansing and before applying any serums or moisturisers). Relax for 15 minutes while the masque dries, then rinse off using warm water and a gentle cloth. 
Gone are the days of saving masques for special occasions. Sukin masques can be used morning or night, as part of your evening skincare routine or to prepare your skin as a canvas for makeup. 
Which masque is righ

t for your skin type?
The best masques for oily skin are masks rich in detoxifying ingredients. Charcoal is a wonderful, natural oily skin salve as it works to extract grime and bacteria from deep within the pores, absorbing excess oil and mattifying the surface of the skin. The Sukin Oil Balancing Anti-Pollution Facial Masque is perfect for oily skin as it harnesses charcoal's ability to draw those impurities out from beneath the skin's surface while Quince, Bilberry and Pomegranate Extracts work to visibly tighten the pores.
If you're looking for a masque to clear up blemishes and acne-prone skin, opt for the Sukin Natural Purifying Facial Masque. A base of Kaolin Clay means acne-causing oils are absorbed from within the pores, while Aloe Vera works to soothe any inflammation.
For a brighter, more youthful complexion, try the Sukin Super Greens Detoxifying Facial Masque. Vitamin and antioxidant rich Kale, Goji Berry and Bentonite brighten the skin while minimising the appearance of fine lines, while Avocado, Baobab and Rosehip Oils deliver intense hydration for a glowing complexion.
The best masques for dry skin are rich in natural butters and oils, just like the Sukin Hydrating Facial Masque. Packed with Mango Seed Butter and a blend of Avocado, Olive Fruit and Jojoba Oils, this masque restores moisture to dehydrated skin and serves as the perfect pre-makeup skin treatment. 
If your skin is prone to sensitivities, choose Sukin's new Pink Clay Facial Masque. Pink Clay works to gently extract impurities from within the pores for a clear complexion, while Aloe Vera and Cucumber naturally nourish the skin and soothe irritations.
See all our facial masques
---