The Sukin Journal
Discover the world of natural through our eyes! From skincare tips, lifestyle and environmental hacks to inspirational interviews! Explore it all.
How to: cleanse your face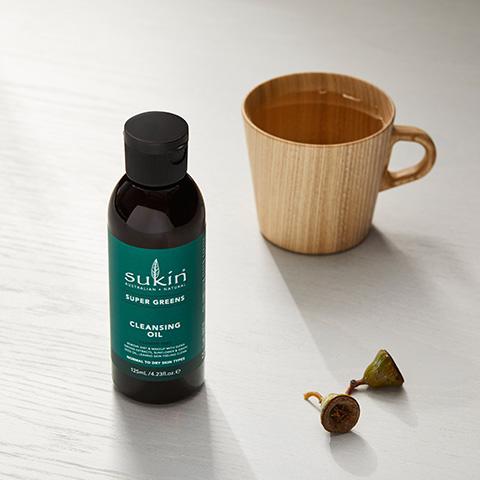 How To Cleanse
Cleansing should be one of the first steps in any skincare regimen, regardless of your skin type, and is essential in ensuring your skin is as clean as it can be. Between makeup, oil, sweat and pollution, our skin faces the elements and is put through its paces day in and day out. The right cleanser will provide you with a clean, fresh canvas, free from blemish causing bacteria and general dirt and grime.
Cleansing is a must, no matter your skin condition nor your lifestyle. So how do you properly cleanse the skin, and how do you choose the best cleanser for you? We've put together this quick guide to cleansing to get you started.
What is a cleanser?
As its name suggests, a cleansers cleanses the skin, removing both surface grime, oil and makeup as well as clearing bacteria from within the pores. Just as a soap or body wash cleans the body, a cleanser erases the day or any overnight oil buildup as well as preparing your skin for the next steps in your skincare routine- without a clean, unclogged base, the rest of your products will be unable to effectively do their job.
New to cleansing and wondering why you can't just multitask in the shower with your body bar? Soap simply won't cut it- the pH balance of the skin on your body is dramatically different to the skin on the face, so it's important to choose a facial cleanser that works with the natural function of the skin. Even if you are using a facial cleanser, it's best to do your cleansing over the sink rather than in the shower. You should avoid washing your face in the shower as the hot water can strip the delicate skin on the face of its natural oils as well as running the risk of dilating your capillaries and aggravating any existing skin conditions.


How to choose the best cleanser for your skin type
If your skin is naturally oily or blemish-prone, choose a lightweight gel cleanser like the Sukin Oil Balancing Purifying Gel Cleanser. Gels cleanse the skin without adding any additional oils, and this particular cleanser is rich in Bamboo Charcoal to extract and absorb any toxins and excess oils. Alternatively, try the Sukin Blemish Control Cleansing Facial Wash.
Dry skin types will benefit from an oil cleanser, as oils work to melt away makeup and grime without stripping the skin of any of its natural oils and drying the skin out even further. Sukin's Super Greens Cleansing Oil is perfect for dry, dull skin as it harnesses the cleansing properties of Sunflower and Grapeseed Oils as well as the hydrating qualities of Chia and Jojoba Oils.
If your skin doesn't lean towards oily nor dry, opt for a cleanser with a creamy consistency, like Sukin's Signature Cream Cleanser. Sensitive skin types should look for cleansers specifically formulated for sensitive skin to ensure their cleanser doesn't cause any flare ups or additional irritations. Those with oily yet sensitive skin will love the Sukin Sensitive Cleansing Gel, while sensitive, dry skin types can benefit from the Sensitive Cleansing Lotion. Particularly dry and distressed skin can also benefit from the Sukin Rosehip Nourishing Cream Cleanser as it restores moisture to the skin thanks to Rosehip and Borage Oils, while Shea Butter, Evening Primrose Oil and Camelia Oil refresh a tired complexion.
How to use gel cleansers
Once you've determined the best consistency for your skin type, it's important to understand how to use your cleanser. To use a gel or foaming cleanser, start with damp skin and warm, wet hands and lather the product with the water. Use clean fingertips to gently massage the cleanser into the skin, then rinse thoroughly with water and pat the skin dry as gently as possible- no rubbing!


How to use an oil cleanser
Oil cleansers are a foreign concept to many, but they're incredibly effective at removing grime and even heavy makeup from the skin. To use an oil cleanser, apply to dry skin using either dry fingertips or a cotton pad soaked in the product. Either massage the oil into the skin or wipe gently until your makeup is removed and your skin is clean. Instead of splashing your face with water, gently wipe the skin with a warm, damp cloth.
Whichever cleanser you choose, it's important to cleanse both morning and night- a morning cleanse may seem unnecessary, but our skin naturally produces oil and collects dirt, grime and bacteria from our pillowcase as we sleep so it's essential to remove any excess before we start our day. 
Check out our Facial Cleansers here
---