The Sukin Journal
Discover the world of natural through our eyes! From skincare tips, lifestyle and environmental hacks to inspirational interviews! Explore it all.
The Best Skin Care Products for Mature Skin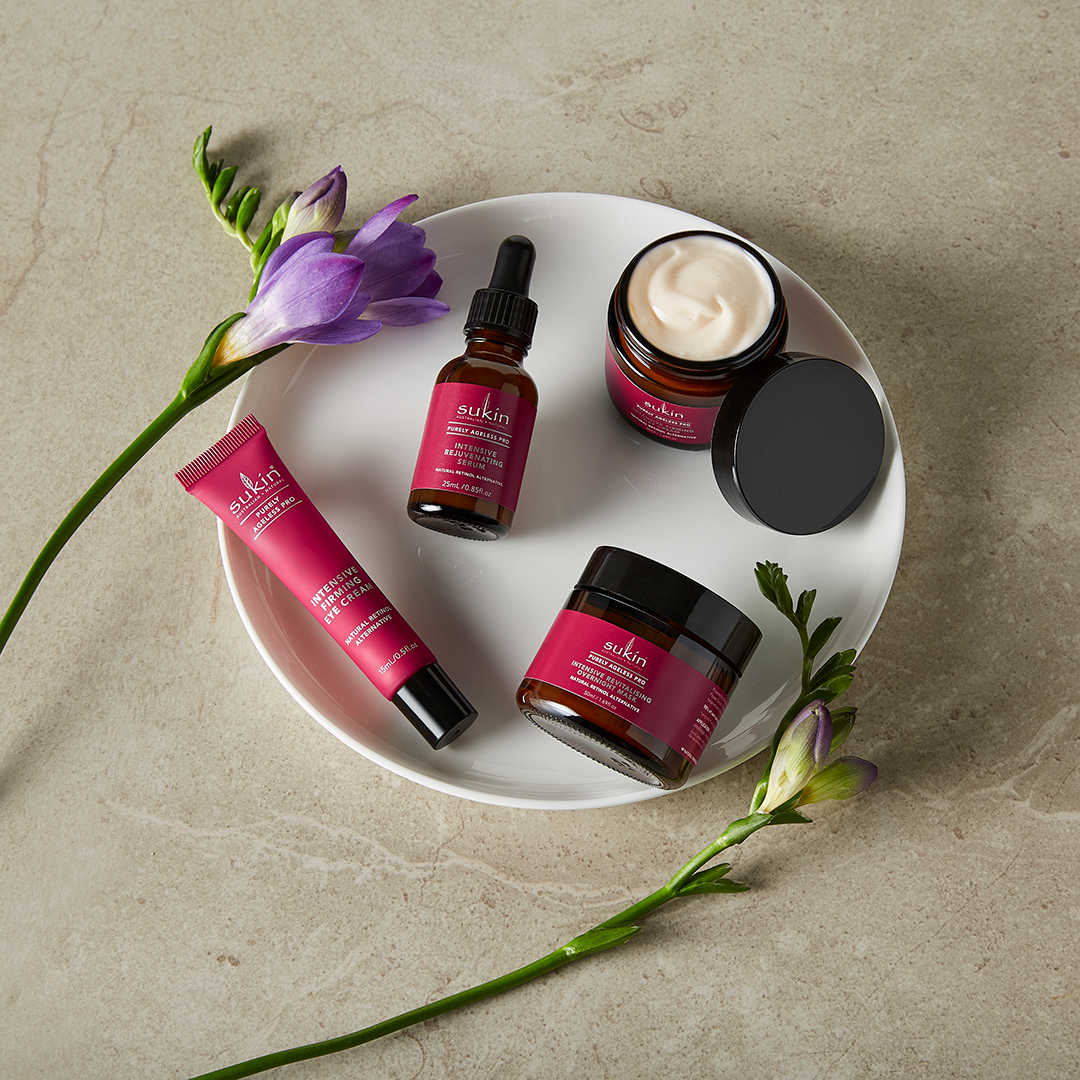 No matter who you are, your skincare routine has more than likely changed over the years, just like your skin. Ageing is a fact of life to be embraced and celebrated, but that doesn't mean you can't also maintain a youthful and glowing complexion beyond middle age.

Our skin (and body) naturally change as we age. In the same way that we need to adapt our exercise and diet habits to maintain optimal health as we mature, our skin also requires an updated routine.

New advances in active ageing skincare using unique natural ingredients radically improved results for mature skin. Leveraging the power of Bakuchiol - a natural alternative to Retinol - we are turning skincare on its head with our new Purely Ageless Pro Range.

Clinically proven to visibly firm and plump skin in just 14 days*; we can't wait for you to try the best skincare for mature skin. To help you on your journey, here are a few skin care tips for your new routine.
How To Care For Mature Skin

Caring for mature skin starts with improving cellular turnover. Your body is constantly producing new cells to replenish old, dead cells. Unfortunately, this process slows down as we age, decreasing skin elasticity and poor moisture retention. Poor skin elasticity also increases the prevalence of wrinkles.

Our skin's natural hydration stores also deplete with age, with the lack of moisture also contributing to the appearance of fine lines. For a more youthful complexion, look for skincare products that boost the skin's natural collagen production, hydrate the skin, and improve the skin's elasticity.

Go beyond daily face washing and cleansing. Mature skin requires targeted products with the right ingredients to deliver visibly smoother looking skin.


Retinol vs Bakuchiol
Retinol — a form of Vitamin A — previously played a significant role in active ageing skincare. 
Although considered an excellent ingredient for revitalising mature skin thanks to its natural exfoliating properties, its list of side effects, including photosensitivity, redness, irritation, burning, itching, dry skin, flaking and peeling of the skin, has limited its success.

On the other hand, Bakuchiol is an alternative that can deliver the same retinol-like effects with the added benefit of being used day and night. Extracted from the Babchi plant, this all-natural, plant-derived ingredient has been used for centuries in Indian and Chinese medicines to help accelerate cell renewal and reduce the appearance of wrinkles, fine lines and age spots. Clinically proven to visibly firm and plump skin in just 14 days*, it's the ultimate solution for mature skin.

Thanks to these advances in cosmetic formulations and science, we can create natural products that are clinically proven to deliver results.



The Best Products for Mature Skin


Our Purely Ageless Range is an efficacious range to use in your late 20s to mid-30s to address the early signs of Ageing. Sukin's Purely Ageless range is ideal for those who want affordability, effectiveness, and a natural ingredient list - rich in natural powerhouse ingredients such as Pure Ribose, Paracress Extract, Crambe Oil, White Hibiscus and Baobab - clinically proven to:
Reduce the appearance of fine lines & Wrinkles
Hydrate
Refresh the complexion
The
Purely Ageless Pro Range
is an efficacious range for those in their late 30s and up. Ever since retinol landed on shelves, we've been on a mission to find a plant-based, natural alternative that is gentler on the skin, but just as effective as retinol – to effectively instil confidence in embracing a naturally ageing complexion.
Formulated with Bakuchiol - nature's best-kept secret - delivers retinol results with less irritation. Our Purely Ageless Pro range is clinically proven to deliver smoother and plumper looking skin in just 14 days*.
Reduce the appearance of fine lines & Wrinkles!
Improve skin tone & condition.
Refine texture and rejuvenate the complexion.
Purely Ageless 
Given mature skin's tendency to dehydrate, using hydration serum is vital. Sukin's Purely Ageless Hydration Elixir hydrates the skin immediately upon application.

To target a loss of elastin, work the Purely Ageless Intensive Firming Serum into your regimen. Pure Ribose, Acacia Gum and Rosehip Oil work to improve skin elasticity, with Cocoa Butter to lock in moisture and help protect skin from environmental conditions.

The delicate eye area, at any age, produces naturally less oil than the rest of our skin, so it's essential to choose a targeted eye treatment to help restore moisture to the skin around our eyes. The Sukin Purely Ageless Reviving Eye Cream is rich in Green Coffee, which reduces the appearance of dark circles for a more youthful complexion, while Pure Ribose, Rosehip and Sunflower Oils soften the appearance of fine lines.

As a light-weight daytime moisturiser, choose the Sukin Purely Ageless Rejuvenating Day Cream, which contains White Hibiscus, Baobab and Pure Ribose to plump up and firm the skin while minimising the appearance of wrinkles.

The richer Purely Ageless Restorative Night Cream also contains White Hibiscus, Baobab and Pure Ribose, and Macadamia Oil and Cocoa Butter to improve elasticity while you sleep.
Purely Ageless Pro

Our Purely Ageless Pro range is an active ageing godsend. Starting with the best serum for mature skin, apply our Intense Rejuvenating Serum to your face, neck and décolletage using a gentle upward motion. The serum is enriched with Bakuchiol to reduce fine lines and wrinkles. Yellow Calla Lily Extract for refining appearance, and Hyaluronic Acid boosts skin moisture content and defends against moisture loss. Once fully absorbed, it's time to move onto the eyes.

Utilising the tip of our Intensive Firming Eye Cream, apply gently under the eye and to the outer corner. Using a combination of Bakuchiol, Hyaluronic Acid, and Red Algae Extract, you can restore vitality to the delicate skin around your eyes while also reducing the appearance of puffiness.

If you're starting your routine in the morning, follow up with the best face cream for mature skin, our Intensive Firming Day Cream contains Red Bell Pepper extract that protects against blue light. Powered by Bakuchiol, a natural alternative to Retinol and Hyaluronic Acid, this high-performance moisturiser is clinically proven to visibly firm and plump skin in 14 days*.

For night-time regiments, apply our Intensive Revitalising Overnight Mask. Featuring Australian Kangaroo Paw Flower Extract, this rich and hydrating mask visibly firms, plumps and helps smooth fine lines and wrinkles and even out skin tone overnight.


Take care of your mature skin the right way using the best skin care range for mature skin in Australia. We hope you love using it for your mature skin just as much as we loved producing it!

Please share your stories with us at @sukinskincare.


*DATA SOURCE: OZDERM 'FOUR WEEK STUDY TO EVALUATE THE EFFICACY AND SAFETY OF A COSMETIC RANGE TO IMPROVE SIGNS OF SKIN AGEING' 2020
See our Purely Ageless Range here
---