The Sukin Journal
Discover the world of natural through our eyes! From skincare tips, lifestyle and environmental hacks to inspirational interviews! Explore it all.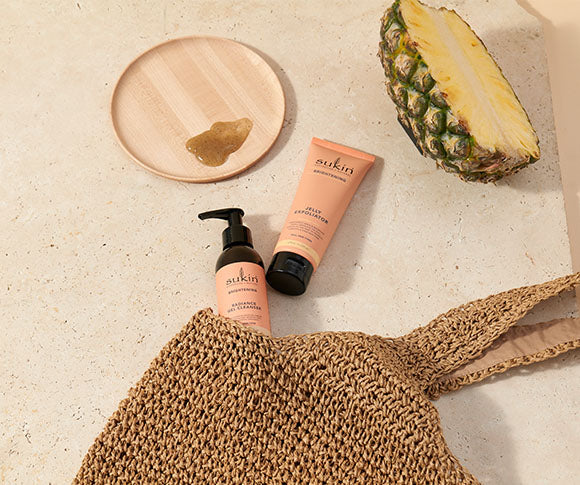 The warmer months are finally upon us, and with long, lazy days and balmy nights comes a chance to update our beauty routine for the new season.

Higher humidity requires a slightly different approach to skincare, while dips in the ocean or the pool mean our hair needs a little bit of extra attention.

Ready to master that naturally healthy summer glow? Here are our tips for really looking after your skin and hair this summer.



Simplify Your Skincare

The increased humidity that we are hit with during the summer months comes as a welcome change, however it does alter the state of your skin. Where the environmental stressors of winter, like cool wind or harsh indoor heating, can dry out the skin, humidity and sweat can leave the skin feeling slightly oily.

To combat this shift, we recommend keeping your skincare simple, opting for clean and effective products rather than layering texture upon texture. To ensure the skin doesn't become congested and the pores remain clear, try using a gentle foaming cleanser like Sukin's Signature Foaming Facial Cleanser in both the mornings and the evenings.


If your skin is feeling slightly oily in the summer, don't give into the temptation to skip your moisturiser. Oil and true hydration are very different, so depriving your skin of a daily moisturiser can actually cause your skin to produce more oil. To ensure your skincare doesn't feel uncomfortable or heavy, choose a lightweight, natural moisturiser like Sukin's Signature Facial Moisturiser.

Another of our favourite summer skin tips is to keep a natural facial mist on hand, like Sukin's Hydrating Mist Toner. A true beauty multitasker, this mist will cool the skin down on a hot day, refresh your makeup if sweat causes it to separate with wear, as well as delivering a host of hydrating ingredients like Chamomile and Rosewater to the skin.

Update Your SPF

Sun protection is essential year round, but never more so than in the summer. The best sunscreen is the one you actually want to wear, so the trick is finding a formula that feels comfortable on the skin, keeps you protected, and looks great!

For this reason, we love using Sukin's SPF30 Sheer Tinted Sunscreen. It can feel uncomfortable wearing foundations, concealers and powders when the summer heat is at its peak, so this tinted sunscreen works to even out the skin tone without the need for makeup - plus it feels completely weightless!

Also, make sure that you cover up and avoid the sun during peak hours 😊

Hydrate Your Hair

The humidity, plus dips in the ocean or the pool, can lead to dry and damaged tresses. If you aren't doing so already, the summer months are the perfect time to work some products beyond your regular shampoo and conditioner into your haircare routine. We love working the Sukin Hydrating Treatment Oil through the lengths of the hair (damp or dry!) whenever we need a little lustre, and treating ourselves to a Sukin Hydrating Replenishing Hair once or twice each week to deeply nourish and condition dry hair.


 Be sure to let us know and share your sustainable living ideas with us on social by tagging @sukinskincare