The Sukin Journal
Discover the world of natural through our eyes! From skincare tips, lifestyle and environmental hacks to inspirational interviews! Explore it all.
What Causes Sensitive Skin & How To Care For It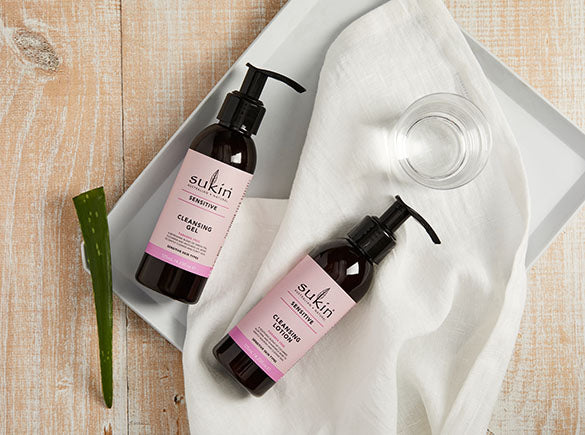 Sensitive Skin & How To Care For It

You've probably overheard a friend of yours sharing personal stories about sensitive skin. From seeking out remedies, to even suggesting skincare solutions, it's clear that many of us are impacted by sensitive skin. Understanding the various factors that lead to irritation prone skin is an essential first step in caring for your skin. Things like genetics, environmental conditions, and even the skincare products we use can dramatically impact your skin's sensitivity.

Understanding what can irritate your sensitive skin and how to care for it is an essential step in any skincare regime. Read on to learn more about sensitive skin and our helpful tips for nourishing and reinvigorating irritation prone skin, plus a practical skincare routine for those with sensitive skin.



What is Sensitive Skin?

Sensitive skin is a skin concern that affects people all over the world. While some will have experienced the symptoms of sensitive skin from an early age, some won't even know they have sensitive skin until they have a reaction. Fortunately, sensitive skin can be easily managed with only a few simple changes to your skincare routine and a bit of education about what products are best suited to sensitive skin.


Skincare For Sensitive Skin

Creating a skincare routine for sensitive skin can be super simple thanks to the fantastic range of natural body products, gentle creams, cleansers and lotions from Sukin Naturals. Our skincare products for sensitive skin are easy to use, delivering a soothing feeling to your skin while boosting skin complexion and hydration, cleaning, softening, and improving the skin's appearance. Using key active ingredients like Chamomile, Cucumber, Aloe Vera and Green tea, our sensitive skin products will help keep your skin looking better than ever, no matter how sensitive it may be.

Give the sensitive skin around your body a real treat with our Soap Free Body Wash. Bursting with a blend of gentle botanicals, our Natural Soap Free Sensitive Body wash will leave you feeling refreshed, without irritation.


Once out of the shower, our all-natural Soothing Body Lotion will restore your skin for a rejuvenated and nourished feeling that lasts all day. For best results, massage gently whilst the skin is still moist. After your massage, it's time to gently clean, refresh and purify your skin with our Natural Gel Cleanser. Follow it up with our Hydrating Mist Toner for that dewy complexion. Finally, use our Calming Night Cream to relieve redness and dry skin for your nighttime skin regime.

You can't look past our best moisturiser for sensitive skin for even more hydration during the day. Our Sensitive Facial Moisturiser is formulated without essential oils, making it gentle on even the most sensitive skin but still able to deliver moisture to your face from a delicate blend of Vitamin E, Cocoa & Shea Butters. It's the perfect addition to your daytime skincare routine.

Looking for the best exfoliator for sensitive skin? Be sure to try our Signature Revitalising Facial Scrub. This cream-based exfoliator favours more gentle granules of biodegradable Bamboo Extract and Walnut Shell Powder to lightly exfoliate the skin, removing unwanted dirt and impurities. Perfect for normal to drier skin types, you can even add some Natural Cream Cleanser to your scrub to soften the level of exfoliation.


For more natural and effective skincare that's good for sensitive skin, your wallet, and the environment, check out the rest of our selection of Australian made skincare products. Sukin products are 98.8% naturally derived and are certified 100% cruelty-free committed to creating products that are free from all animal testing. Boasting a wide range of 100% Vegan products free from animal derivatives of any kind, Sukin Naturals is the ideal choice for your next skincare purchase.



What Causes Sensitive Skin?

The leading causes for sensitive skin are dry skin, allergies, sunlight, temperature, wind or chemicals, dyes, and fragrances included in skincare products. However, some of us have a natural disposition to sensitive skin without any underlying health condition.

If you find yourself frequently dealing with sensitive skin, it could be a sign of an underlying health condition such as eczema, rosacea, psoriasis or contact dermatitis. Make sure to see a dermatologist if you begin to notice more pronounced symptoms.