The Sukin Journal
Discover the world of natural through our eyes! From skincare tips, lifestyle and environmental hacks to inspirational interviews! Explore it all.
Better Bathrooms: Body Talk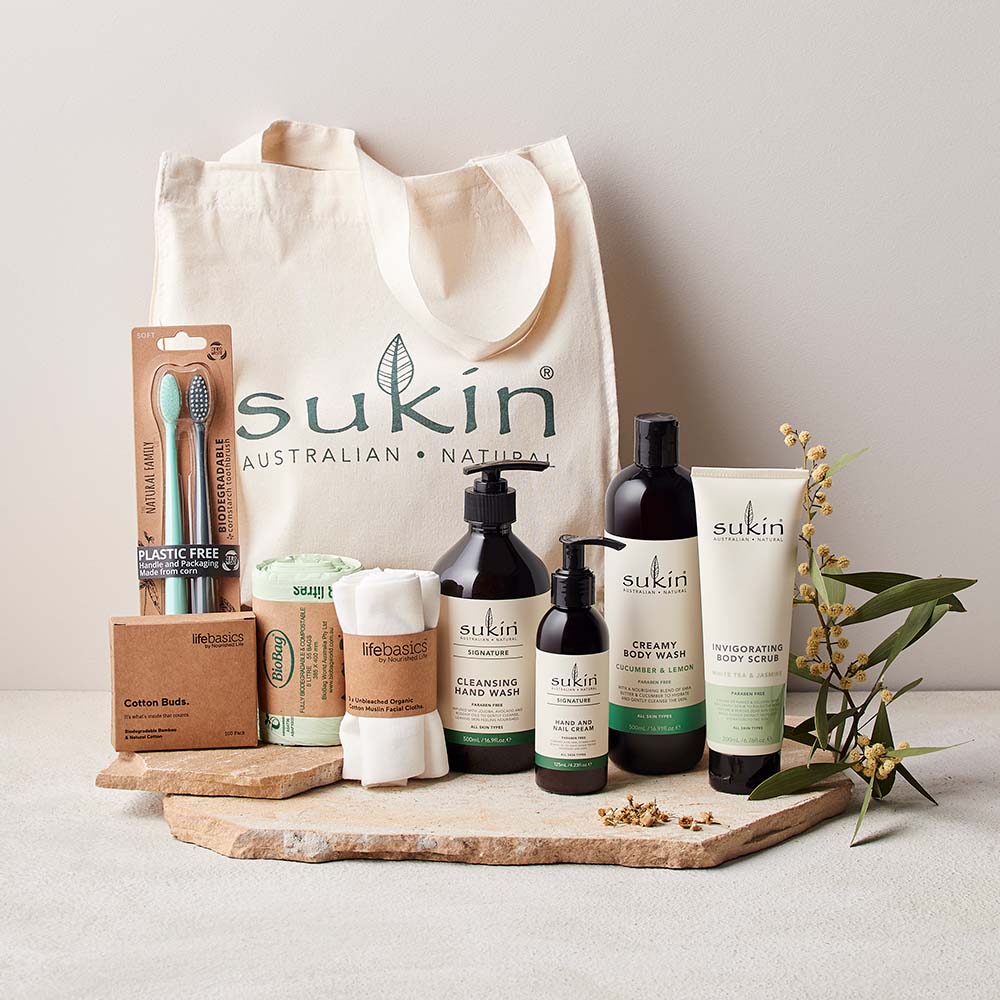 We place a huge emphasis on our facial skincare - and with good reason! Our face is constantly exposed to environmental stressors and, in turn, is one of the first areas for our skin to show visible signs of ageing.

But what about the rest of our body?

When we consider that our skin really is our largest organ, it's worth treating it all with the same respect we give our facial skin. Looking after the skin on our body really isn't difficult- all you need is to have your bathroom cupboard and shower caddy stocked with a few simple, effective products. Here are our top picks for looking after the skin on your body, naturally.

Step 1. Cleanse

We cleanse our face to remove dirt, bacteria and impurities from the skin, so we need to extend that same courtesy to the body. Some traditional soaps can strip the skin of its natural oils and compromise its protective barrier, so we prefer a natural, gentle body wash instead.

Sukin's Botanical Body Wash is soap free, so it won't dry out the skin while it cleanses, plus it's rich in botanical ingredients like Rosehip, Jojoba and Avocado Oils to soften the skin and lightly hydrate. Hop in the shower, wet your skin, then apply your body wash before lathering and thoroughly rinsing.

Step 2. Exfoliate

Our skin cells turn themselves over naturally, but it's worth speeding up the process by exfoliating your skin a couple of times per week (over exfoliation can, once again, compromise and damage our skin's natural barrier function). Using a natural body scrub will give your skin a deeper clean, removing dead and dull cells from the surface of the skin as well as removing blockages from within the pores.


We love Sukin's Renewing Body Scrub as it contains Jojoba Beads, Green Tea Leaves and Ground Walnut Shells to gently but effectively polish the surface of the skin and stimulate cell turnover, however those physical exfoliants are combined with Aloe Vera, Coconut and Jojoba Oils, Green Tea Extract, Rosehip and Vitamin E to deliver moisture to the skin and strengthen that skin barrier.

Step 3. Hydrate

Body lotions are an oft neglected part of our skincare routine, but rehydrating the skin daily is essential in keeping it healthy. Many people forgo body lotions as they hate the sticky, tacky feeling many moisturisers leave in their wake, so it's best to opt for a lotion that absorbs swiftly into the skin.

Sukin's Hydrating Body Lotion is intensely hydrating thanks to a blend of Rosehip, Avocado, Jojoba Oils, Shea Butter and Cocoa Butter, however it absorbs rapidly into the skin leaving no heavy feeling in its wake. Body lotions are best applied after showering, when the skin is still slightly moist (not wet!), to allow for greater absorption.

Step 4. Hand Care

One of several big lessons we've taken from the last 18 months is the importance of hand care. To keep your hands as clean as can be, without drying them out, choose a natural, botanical-packed hand wash like the Sukin x Reef Aid Cleansing Hand Wash. Follow it up with the Sukin Hand & Nail Cream to restore any lost moisture and rebuild the skin barrier, keeping your precious hands nourished and protected.