The Sukin Journal
Discover the world of natural through our eyes! From skincare tips, lifestyle and environmental hacks to inspirational interviews! Explore it all.
An Easy, Parent-Friendly Skincare Routine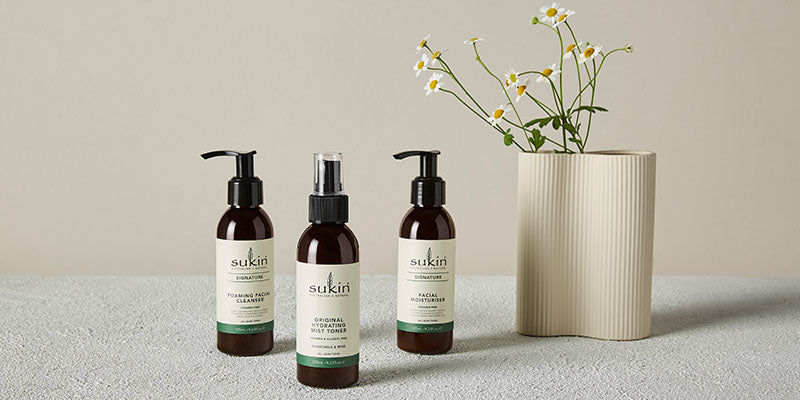 Only a few years ago, complicated 12 step skincare routines took the internet by storm. Today, we're saving time by stripping things back, focusing on routines consisting of just a handful of products that really nourish and care for the skin in as few steps as possible.

For parents (and anyone short on time!), it's all about skinimalism. A minimalistic skincare routine places the emphasis on quality over quantity, favouring simple, effective products over steps for the sake of steps.

Who has time for a 12 step routine?! Here are our favourite, easy-to-use, natural skincare products for a parent-friendly routine.

A Natural Cream Cleanser

Cleansing the skin is a skincare non-negotiable. The skin needs to be cleaned of an evening to remove skincare residue, grime, makeup and any excess oil, and while a morning cleanse can be highly beneficial too, some drier skin types can actually benefit from cleansing just once per day!

For a simple, effective clean, we love the Sukin Signature Natural Cream Cleanser. This botanical cleanser effectively removes makeup, oil and dirt, while a blend of natural oils including Rosehip, Avocado, Sesame and Wheat Germ Oils leave the skin feeling pillowy soft and lightly hydrated. This creamy cleanser will give your skin an essential, deep clean, without stripping it of its natural oils and leaving it feeling tight and dry.


A Refreshing Facial Mist

While a facial mist isn't necessarily a skin essential, we love recommending the Sukin Hydrating Mist Toner to parents (and anyone on the go!) as it's such a powerful multitasker. This alcohol free toner works to soothe, purify and cool the skin, helping to prep freshly cleansed skin for the rest of your routine (products are more easily absorbed into damp skin!), cooling and refreshing a tired complexion, or to give your makeup a beautiful, dewy finish. This beauty multitasker will save you time and space in your bathroom cabinet!


A Concentrated, Hydrating Oil

Oils and serums are the heavy lifters of your routine, delivering concentrated ingredients and, in turn, visible benefits, to the skin. To save yourself from time, it's important to choose an oil or serum with concentrated, high quality ingredients, rather than using multiple products rich in filler ingredients in order to see comparative results.


We love the Sukin Certified Organic Rosehip Oil, as it contains no less than 70% essential fatty acids and nothing but pure, organic rosehip oil. This oil works to maintain a healthy skin barrier, soothe and hydrate the skin and reduce the appearance of scars, pigmentation and other visible signs of ageing.


A Nourishing Moisturising Lotion

To lock in all of that goodness, finish your routine with a nourishing, natural moisturiser. The Sukin Natural Facial Moisturiser is a great allrounder, suitable for all skin types and rich in natural hydrating ingredients like Rosehip, Avocado, Sesame Seed and Jojoba Oils. If your skin is feeling particularly dry, you can also add a few drops of your Certified Organic Rosehip Oil into the mix!



If you are trying a product or ingredient for the first time, we always recommend a patch test first.