The Sukin Journal
Discover the world of natural through our eyes! From skincare tips, lifestyle and environmental hacks to inspirational interviews! Explore it all.
Soak up the relaxation - New Aromatherapy Bath Blends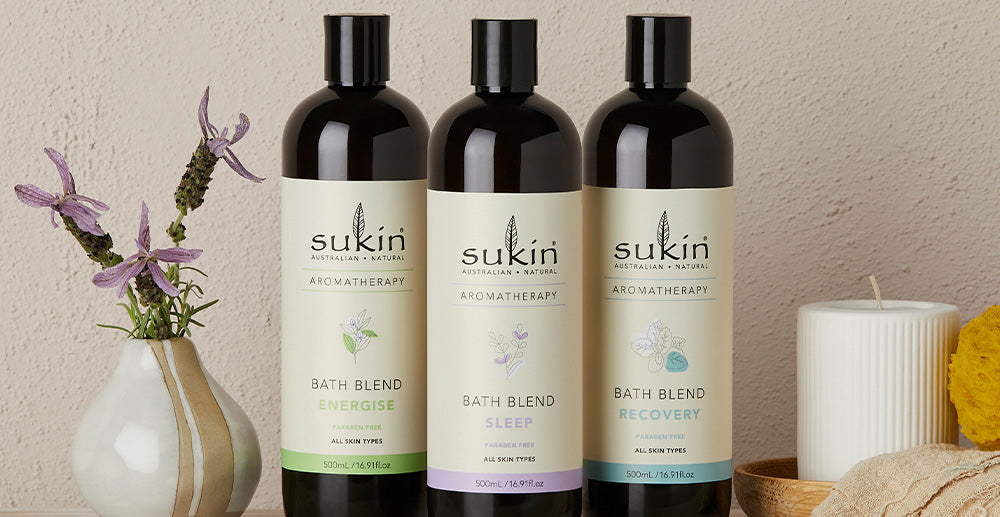 Creating an at-home spa experience for the ultimate relaxation has never been easier. With access to beautiful oils, skin care products with nourishing ingredients and candles with softly layered scents, it's safe to say bath time has had a renovation. Enter Sukin's new spa  Enter Sukin's new spa Aromatherapy Bath Blends, with three scents to suit your mood.
What is Spa Aromatherapy?
Relaxation comes from many sources and stimuli. But none more so than aromatherapy. Using essential oils and fragrances, the process of spa aromatherapy infuses the air with a specific blend of ingredients to promote physical and spiritual wellbeing. Plus, aromatherapy essential oils add oil-free hydration to the water for moisturised and nourished skin.

First used in ancient times, the Egyptians extracted aromatic oils from plants using early distillation machines, which were then pioneered in Ancient China. Today, both medical and clinical trials are demonstrating the relaxing benefits of aromatherapy, which is why we've decided to offer you the ultimate Sukin Bath Experience.
The Sukin Bath Experience
With three aromatic blends to choose from, this will be the most important decision at bath time. Which mood are you synergising with today? Whether you want to sleep, re-energise or need some recovery time, all three of our aromatherapy essential oil blends contain Magnesium to aid in the relaxation of tired muscles.

Sleep: Lavender and Mountain Pepper Berry calms and soothes the body in preparation for rest.

Energise: Lemon Myrtle and Wild Orange essential oils invigorate and give your body an energising boost.

Recovery: Peppermint and Tea Tree essential oils refresh and restore the body.

Now it's time for a bath.

1. Set the scene
Creating the space you want is the first step to a relaxing bath experience. We recommend clearing the bathroom of any clutter. A nice clean room will allow you to relax more easily in your environment. You can also try adding some fresh flowers or candles to help create the ambience of a spa environment.

2. Choose your temperature
Whilst a nice toasty bath is tempting, especially when the weather gets cooler, too hot of a temperature is drying for the skin. Choose a warm and pleasant temperature to relax but perhaps avoid making it hot enough to create steam rising from the water! We like to save the steam for shower time.
4. Read or Netflix
Whether you unwind with a good book or your favourite TV show, have a side table or bath tray to hold your accessories so they don't get wet.
5. Multi Mask
A relaxing bath is a perfect time to nourish your skin and hair. Make the most of the tranquillity with a multi-mask! Select the best base masque for your skin type, whether cream for dry skin or clay for oily, and don't forget to choose the perfect hair masque.
6. Moisturise
Finally, don't forget about locking in your hydration from head to toe! Select a hydrating moisturiser once you are out of the bath. Because hot water can zap moisture from your skin, you'll want to restore it once you've dried off.


Now we've given you our favourite tips to relax and unwind; the rest is up to you! Create your ultimate bath experience, and don't forget to choose one of Sukin's new Aromatherapy Bath Blends to compliment your routine!
Make sure you share your stories with us @sukinskincare.
If you are trying a product or ingredient for the first time, we always recommend a patch test first.