The Sukin Journal
Discover the world of natural through our eyes! From skincare tips, lifestyle and environmental hacks to inspirational interviews! Explore it all.
Meet our Teen Skin range! Natural skincare in 3 super-easy steps.
Introducing our new Teen Skin range, a positive and proactive approach to teen skincare!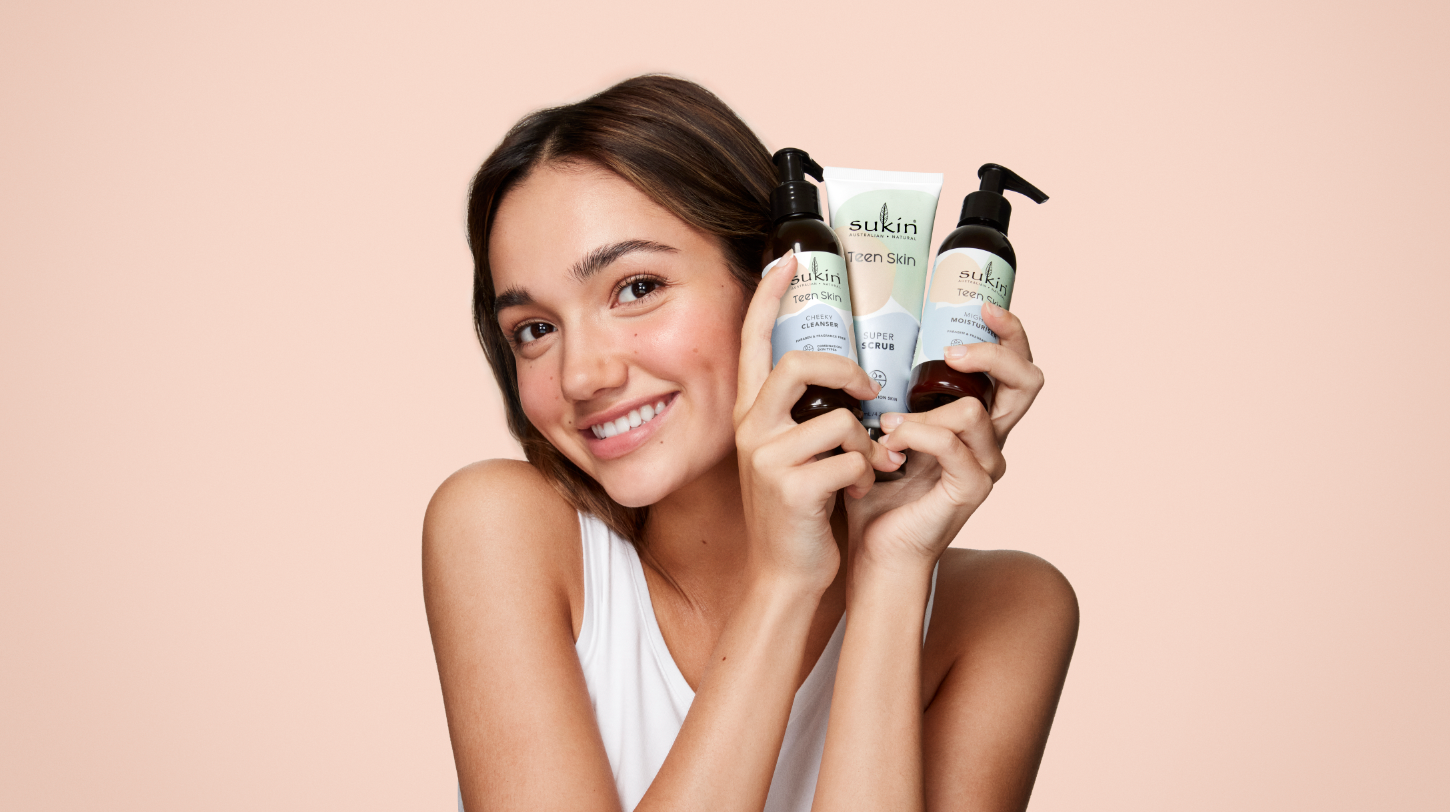 Skin changes over time, but during the teenage years it can experience more extreme ups and down's due to the high levels of hormones coursing through developing bodies. This means it's the perfect time to set up healthy skincare habits to keep skin clean and balanced in order to help it function at it's best.  
 
That's why we are super excited to introduce our new Teen Skin range! We've developed a gentle skincare regime, jam packed with natural, nourishing ingredients for a positive and proactive approach to teen skincare.  
Marshmallow Root, Strawberry Gum and antioxidant-rich Lemon Aspen, help to soothe, balance and protect skin against environmental stressors. While Aloe Vera, Quince and Passionfruit seeds help to buff away dreaded dry skin, keeping skin happy and hydrated.  
So, say goodbye to the dreaded dry and dead skin cells and limit the shine on your t-zone, with the easy 3-step routine that gently washes away makeup and excess oil whilst also keeping teenage skin hydrated and complexion clear. 
Natural skincare. 3 super-easy steps.
 
Step 1: Cheeky Cleanser
Face washing made gentle and easy! Cleanse twice a day with the Teen Skin Cheeky Cleanser (am and pm) to gently wash away excess oil, makeup and other potential causes of blemishes. With the added power of Strawberry Gum and Aloe Vera can help keep teen skin hydrated for a clearer-looking complexion. 
 
With a blend of Passionfruit Seeds and Strawberry gum, gently buff away those dreaded dry and dead skin cells with our Teen Skin Super Scrub once (or twice) a week! Instant softness, you say?  
 
Balance oil levels while maintaining healthy hydrated teen skin with our Teen Skin Mighty Moisturiser. This super lightweight, oil-free moisturiser helps limit shine to the t-zone, while helping strengthen and hydrate the skins moisture barrier.  
We would love to see how you are using your Sukin products. Tag us in your pictures of self-care with Sukin @sukinskincare.

If you are trying a product or ingredient for the first time, we always recommend a patch test first.