The Sukin Journal
Discover the world of natural through our eyes! From skincare tips, lifestyle and environmental hacks to inspirational interviews! Explore it all.
Meet our new Skin Relief range, nourishing ingredients for sensitive skin!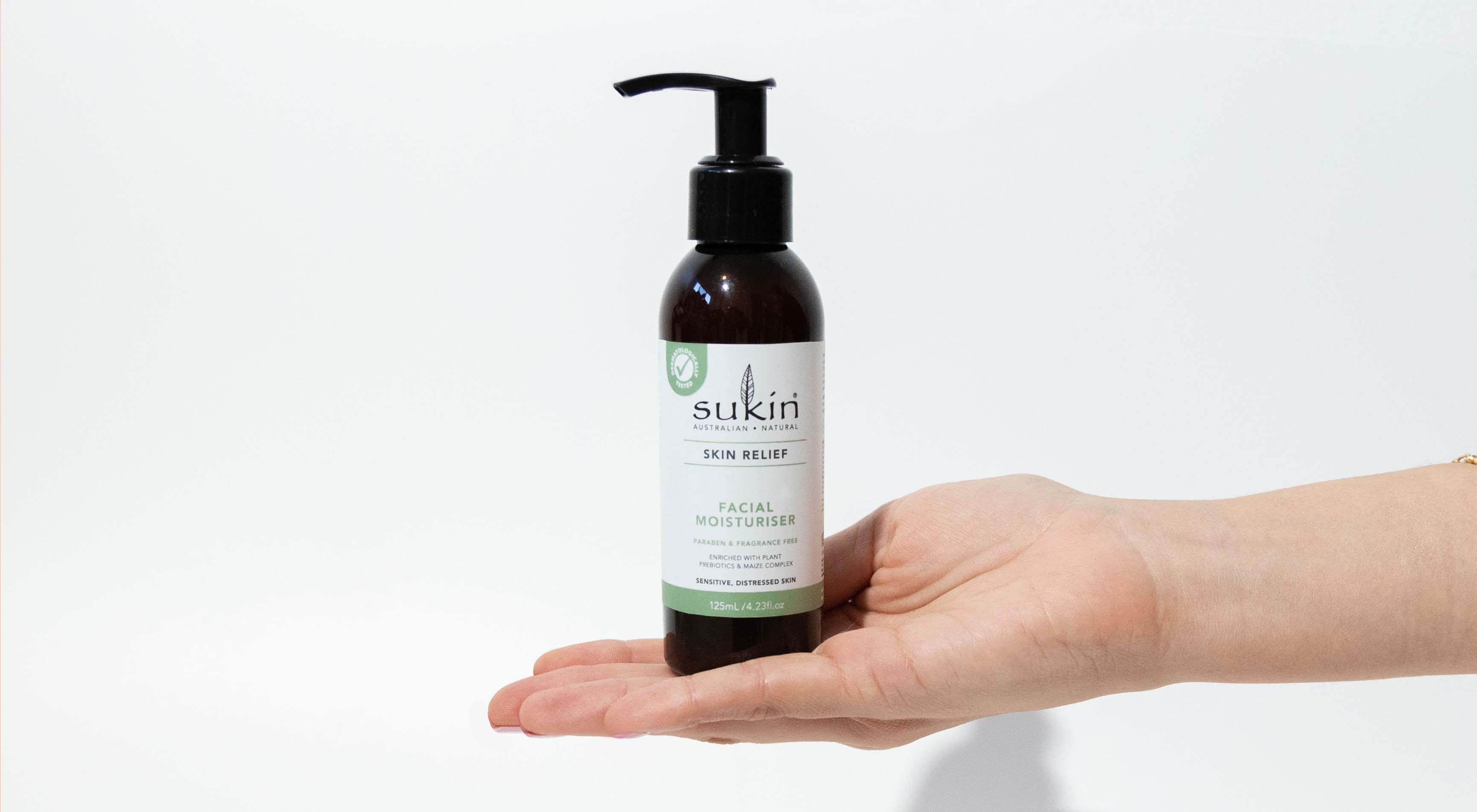 Sensitive skin can be influenced by so many factors, such as changes in your skincare and weather, to name a few. Sensitive skin can often be hard to manage, especially when you have an unexpected flare up.

Protecting the skins microbiome is a great way to protect against sensitive skin. Our new Skin Relief range features the power of plant prebiotics to help strengthen the skins microbiome. The range heroes' skin nourishing ingredients like Maize Complex, to help deliver soothing hydration to excessively dry skin. With this range you can expect to feel a reduction in feelings of itchiness and signs of flakiness by 50% in just 14 days*.

When your skin is feeling a little weary and on the path to a sensitive meltdown, put down the actives and embrace a simplistic, nourishing routine with Sukin's Skin Relief range.

Step 1: Cleanse
Our Skin Relief Cream Cleanser helps to gently cleanse away excess oils and dirt, whilst re-hydrating your skin with an antioxidant rich Native Apple blend and Plant Prebiotics.

Plant prebiotics are considered food for the good bacteria on our skin, with the theory being that essentially the more you feed the good bacteria the stronger it may become, which may assist in developing a balanced microbiome and clear complexion. 

Step 2: Tone

A great step to refresh and soothe tight and dry skin is to lightly mist with the Skin Relief Facial Mist over your face. This lightweight mist utilises the hydrating power of Maize complex, to help bind moisture to your skin. The best part is that you can reapply throughout the day when you need a burst of hydration. 

 Step 3: Moisturise

The key step to completing your routine is to lock in hydration with your moisturiser. The Skin Relief Facial Moisturiser is a beautiful lightweight consistency that is a calming favourite. The Maize Complex is the hero ingredient in this story. It's a humectant, that helps to attract and bind moisture within the skin, resulting in a smoother, hydrated appearance.  Whilst a Native Australian Apple blend protects the skin against free radicals caused by environmental pollution.

 We wish you the best on your sensitive skin journey, its not always easy but when you find the perfect blend of ingredients and products for your dry, irritated skin it's a relief. Be kind to yourself and your skin.
View the full Skin Relief range here. 

*Based on Maize Complex (Saccharide Isomerate) ingredient study report

We would love to see how you are using your Sukin products. Tag us in your pictures of self-care with Sukin @sukinskincare.

If you are trying a product or ingredient for the first time, we always recommend a patch test first.