The Sukin Journal
Discover the world of natural through our eyes! From skincare tips, lifestyle and environmental hacks to inspirational interviews! Explore it all.
Meet our NEW Natural Actives Serum range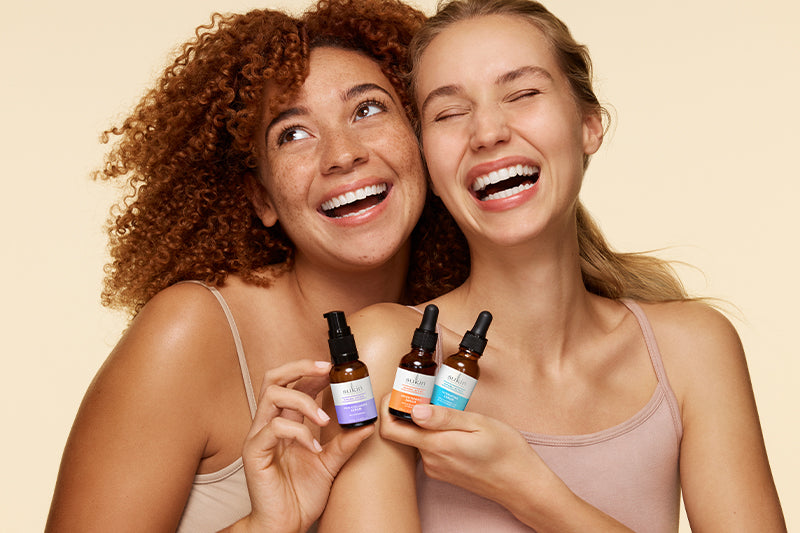 A comprehensive guide to our NEW Natural Actives Serum Range.
We've innovated a NEW results-driven and advanced range of serums that feature targeted formulations to Hydrate, Brighten, Plump & Firm the skin, naturally.
Our Natural Actives Serum Range is the next evolution in our commitment to clinically proven skincare, powered by nature. These highly effective serums have been crafted in The Sukin Lab, utilising our expertise in chemistry to provide you with targeted solutions for your skin concerns, leveraging both active and botanical ingredients together for maximum results.
The team have researched, tested and curated each formula to include a clinically proven hero ingredient, alongside several complementary powerful natural botanicals to achieve your best skin results ever.
So how exactly do our serums work for your skin?
Natural Actives Hydrating Serum
This Hydrating Serum contains a concentration of
Hyaluronic
and
Polyglutamic Acid
, these acids are known humectants and work to attract and bind moisture to the skin for long-lasting hydration. The clinically proven
Australian Hibiscus
is the unsung hero of this skin-quenching range, with its clinically proven ability to hydrate the skin rapidly and deeply*.
Our formula is boosted with hydrating heroes
Betaine
and
Snow Mushroom
, for a serum that is not only natural but efficacious. All of these curated ingredients work seamlessly to intensely hydrate your skin and assist in the ongoing preservation of moisture levels. After use, fine lines and wrinkles are visibly reduced and skin appears plump, bouncy, and youthful. This serum is a gift to all thirsty skin types.
*Based on in-vivo ingredient study (n=10), results after a single application. 
Natural Actives Brightening Serum
This multi-tasking Brightening Serum is a meticulous balance of both active and soothing ingredients, working together to gently calm redness and enhance skin radiance.
Our oil-based serum has been created with all skin types in mind, with a lightweight base to allow the serum to smoothly absorb into the skin. In addition to the powerful clinical claims, it's packed with skin-nourishing antioxidants to give you an enviable glow.
Ultra-stable Vitamin C
is your complexion superstar, reducing dark spots, preventing signs of ageing, and enhancing radiance. For an extra healthy complexion boost, we have added clinically proven
Tomato Fruit Extract
to the formulation for its ability to improve skin radiance.
Finally, this serum uses a combination of natural botanicals,
Bisabolol
,
Borage
&
Flaxseed
Oil, selected for their ability to keep your skin deeply nourished and prepped to enjoy instant brightening, with long-lasting benefits.
*Based on an in-vivo ingredient study (n=26), twice daily use after 4 weeks.

Natural Actives Pro-Collagen Serum

Our Natural Actives Pro-Collagen Serum is here to re-energise your complexion.
This skin-loving serum is a beautiful silky soft texture that glides easily over the skin. It's a must-have product if you are wanting a firmer, more youthful complexion. Suitable for all skin types, here is what you can expect from using this serum.

Combining the best of science and nature, this natural formula will re-energise your complexion and target fine lines. Clinically proven Tri-Peptides work to visibly improve skin firmness and elasticity*, whilst the unique combo of Acai Berry Extract, Hyaluronic Acid, and Vegan Squalane work together to reduce signs of ageing, giving your skin that fresh, firm feeling.
The results? A smoother, hydrated, and more youthful-looking complexion.

*Based on in-vivo ingredient study self-assessment (n=31). Results visible after 4 weeks.