The Sukin Journal
Discover the world of natural through our eyes! From skincare tips, lifestyle and environmental hacks to inspirational interviews! Explore it all.
9 Skincare tips every teen should know!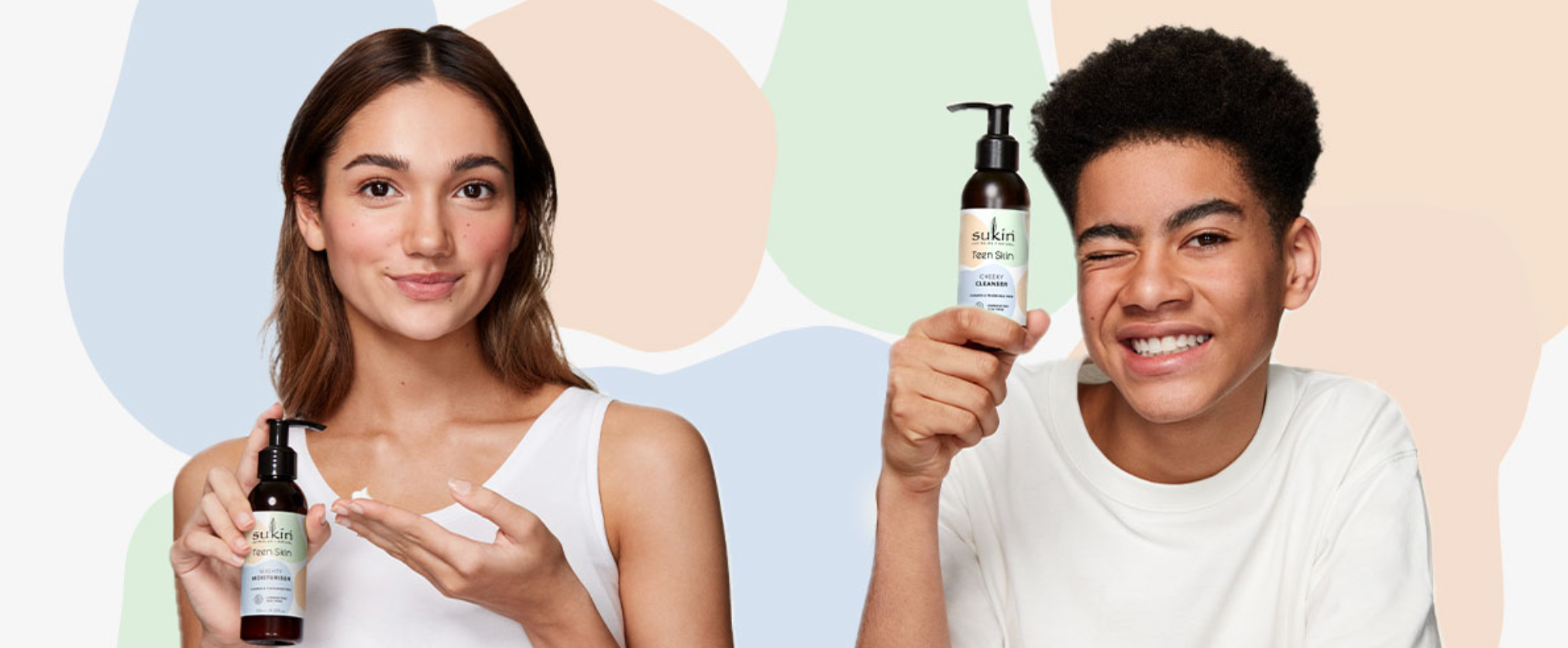 We all know that teenage skin can often experience flare-ups or breakouts and it can put a real damper on things. To try and keep skin functioning at it's best (and clearest), we've put together some tips to help set up great skincare habits for the future. Your face will thank you for it!

1. Natural vs Synthetic Ingredients
There are hundreds of different ingredients used throughout the skincare industry. Understanding what you're putting on your skin is an essential step in selecting a quality skincare routine. At Sukin, we believe that everything we need to nourish our bodies can be found in nature. To learn more about the ingredients we use in our products, check out our Glossary for more information. 

2. Cleansing is key
An everyday cleanser is the first step to keeping our skin clean, and choosing the right one is key. In the past, cleansers targeted at teens have been heavily focused on acne treatment and prevention. Those types of products quite often strip the natural oils from the skin, leaving the skin very dry and with an impaired skin barrier (which in turn, creates more problems!). The key is to find a gentle cleanser that provides necessary hydration to help skin function at it's best. Give teen skin a Cheeky Cleanse twice daily to clean away excess oils and dirt. Crafted with Marshmallow Root and Lemon Aspen, use this cleanser to help gently wash away excess oil, makeup, and other potential causes of blemishes. Plus, the added power duo Strawberry Gum and Aloe Vera can help keep teen skin hydrated for a clearer-looking complexion!

3. Eat Well
Developing bodies need a lot of energy. Feed teenage cravings with a healthy mix of food. Try not to chow down on too much fast-food, and load up on those nutrient-rich fruits and vegetables. Healthy gut = healthy skin. 

4. Sleep Well
Research has shown that adolescents require roughly 10 hours of sleep every night. Unfortunately, the average amount of teens get is around only 7 hours. The closer you get to 10 hours, the better you'll feel, and the more rejuvenated your skin will appear.

5. Use a Moisturiser
As mentioned earlier, hydrated skin is healthy skin. A moisturiser is a must for all skin types, it helps to lock in our natural hydration and, depending on ingredients, can even add a little more. What happens when we don't use a moisturiser? Our skin reacts to the loss of moisture and tries to replace it with what it has readily available…oil! This can result in an endless hamster wheel of oil production. Selecting the right moisturiser will help keep the skin hydrated and result in less irritation to the moisture barrier. Help balance oil levels and hydrate the skin with our Mighty Moisturiser. This super lightweight, oil-free formula is enriched with Lemon Aspen and Quince to help limit shine to the t-zone area.  

6. Change your pillowcase regularly and clean your phone screen
Our pillows and phone cases are touching our faces every day. If they are not cleaned regularly, a build-up of dirt and bacteria from our daily lives can land on our phones and pillows, and then is transferred to our skin. Remember to change your pillowcase weekly and try wipe your phone screen down once a day. 

7. Keep your hands clean
An important way to keep your skin healthy is to keep your hands clean. During the day we are touching all sorts of things, and then touching our face without realising. By washing your hands regularly, if you do happen to touch your face, you are helping protect it from dirt and bacteria. This is also your friendly reminder to not pick at pimples, as it can help spread infection and damage your skin tissue which leads to further inflammation and scarring. 
8. Don't share makeup and remember to wash it off
It is not uncommon to go to jump into bed and forget to wash off your makeup from the day, however sleeping in makeup can lead skin to a build up of dirt and oil, which can result in break outs. You also want to make sure you are avoiding the transfer of bacteria from other people, so it's advised to avoid sharing any makeup products or brushes that have had direct contact with skin. Our Super Scrub is a great once (or twice) per week scrub to naturally help buff away dirt and oil build up on skin to uncover the smooth skin below. 
9. Stick to a routine
Healthy skincare habits should be for life, that is why it is important to stick to a routine and be consistent with your skincare. Cleanse twice a day (morning & night) using the Cheeky Cleanser, try a scrub like our Teen Skin Super Scrub  once a week, and lock in that moisture after every cleanse with the Mighty Moisturiser!

Instil healthy skin habits with the complete Teen Skin range, which contains all 3 products to help maintain healthy looking skin. 
Shop online or instore with Sukin Naturals to discover natural skincare for teenage skin in Australia. Tell us about your adolescent skin solutions, take a video of your skin care routine for teens and share your stories with us at @sukinskincare.