The Sukin Journal
Discover the world of natural through our eyes! From skincare tips, lifestyle and environmental hacks to inspirational interviews! Explore it all.
Hop your way with Sukin's Brightening range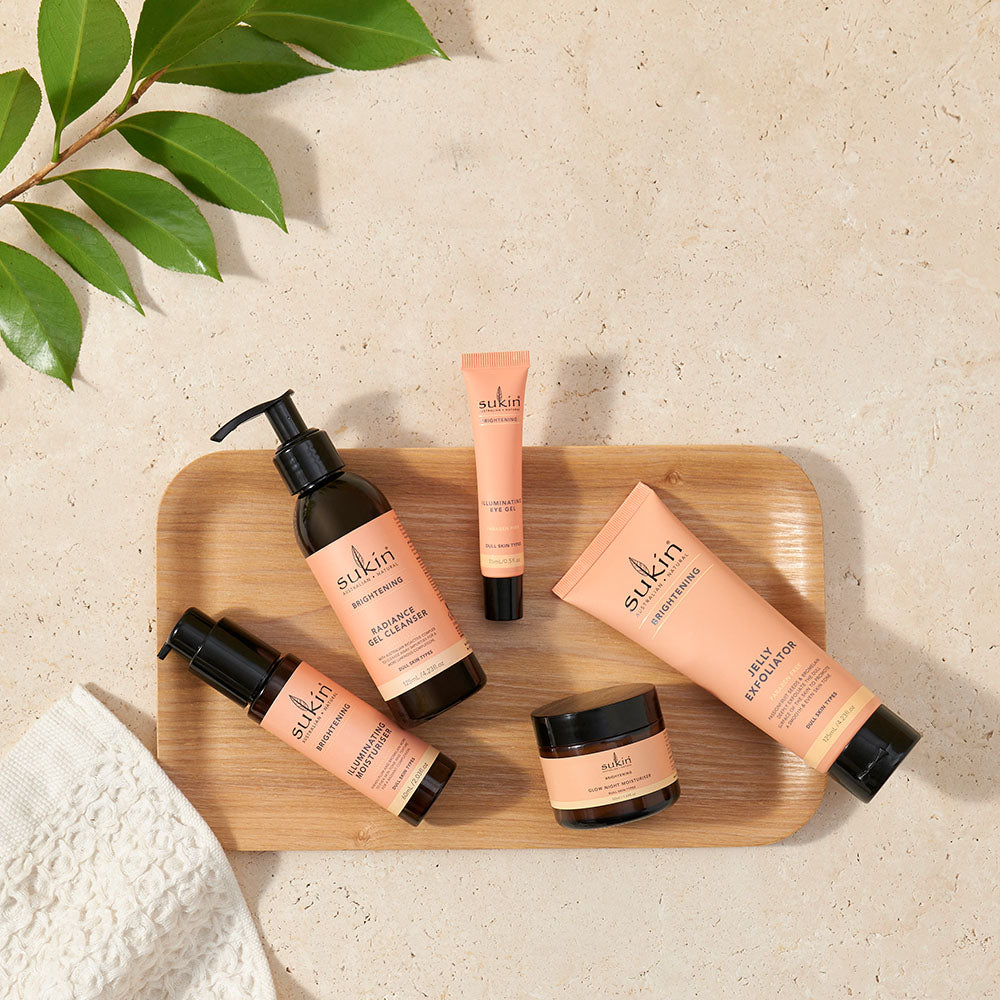 Now that Easter has passed and colder days are coming, it's time to find something else to brighten your day other than a choccy egg (or two). Autumn and winter months mean cold weather, cloudy days, and less sunshine. To help you hop along towards that bright complexion, we've put together a simple guide for keeping your skin happy and bright through this season.

Packed full of Native Australian Kakadu Plum, one of the world's richest sources of Vitamin C, enjoy a brighter complexion during autumn & winter with Brightening Skincare from Sukin Naturals.

Keep reading to learn more about our Brightening skincare regime.

1. Stay Consistent

A regular skincare routine is a pathway to happier and healthier skin. And consistency is crucial. Start by cleansing morning and night. It's a great way to ensure your skin is refreshed and clear of unwanted breakout-causing bacteria.

Look no further than the Radiance Gel Cleanser for a refreshing yet light cleanse. Not only does this cleanser uplift the spirits with its refreshing scent, but a harvest of fruit enzymes also sweeps away dull skin cells for a complexion that glows.

How To Use: Apply a small amount with moist hands and lather with water, then gently massage into the skin. Rinse thoroughly with water to finish. Use morning and night.


2. A Brightening Exfoliator For Your Face

Aside from keeping your skin refreshed and clear of build-up, an exfoliant helps your skin with the weather transition into cooler months. Our Easter pick has to be the Jelly Exfoliator. This exfoliant is a glow-promoting formulation that combines enzymes from Pineapple fruit and lightly ground Passionfruit Seeds to leave you with a smooth and creamy complexion.

How To Use: Dampen skin and gently massage in light, circular motions. Remove with warm water to finish. Use once or twice a week, either morning or night.


3. Treat your eyes

Sweet treats don't just come in the form of easter eggs. Treat your delicate eye area to some much-needed love over the Easter break with our brightening eye cream. The Illuminating Eye Gel, is an eye contour treat blended with Green Coffee and Kakadu Plum. With this in your arsenal, dark circles are one less thing to worry about at 9 o'clock in the morning.

How To Use: Using the tip of the tube, gently apply to the eye area by gliding from under the eye toward the outer corner and across the brow bone. Gently pat around the eye area using your ring finger.


And then finally, it's time to relax. Get out there and soak up the long weekend (and other weekends to come) however you choose. We recommend grabbing some vegan goodies to enjoy, because why stop at vegan skincare?

Shop online or in-store with Sukin Naturals for that natural glow and even more winter skincare tips. Tell us about how you keep your skin looking happy and bright. Take a video of your brightening skincare routine and share your stories with us @sukinskincare.
Oh, and we'd love to see how you are celebrating your Easter weekend with Sukin.
If you are trying a product or ingredient for the first time, we always recommend a patch test first.