The Sukin Journal
Discover the world of natural through our eyes! From skincare tips, lifestyle and environmental hacks to inspirational interviews! Explore it all.
Eco-friendly party tips for a naturally awesome birthday!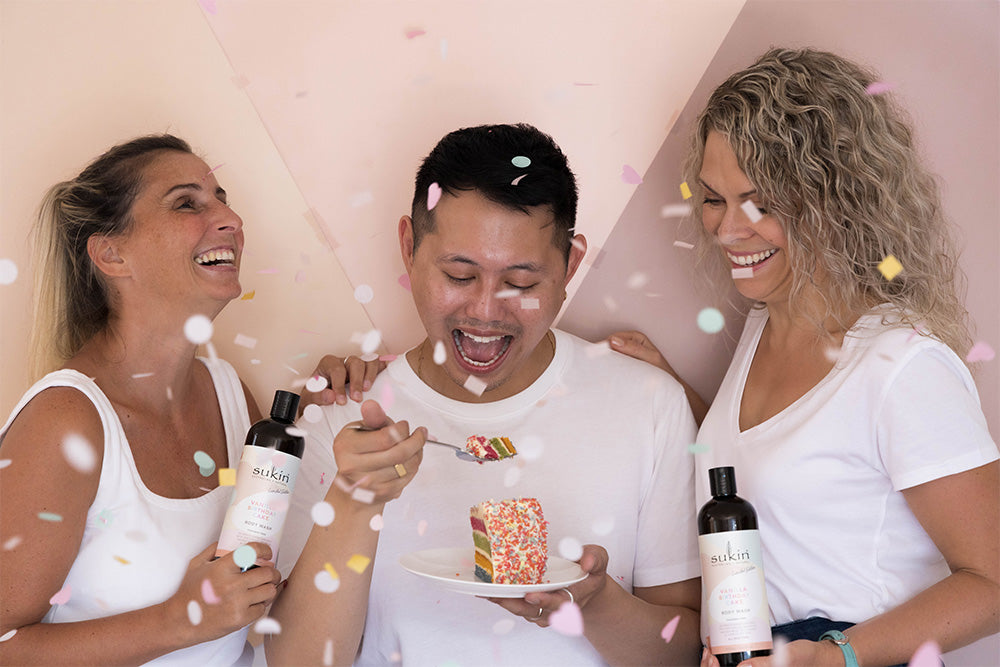 In case you haven't heard the news, Sukin's turning 15! To help you revamp your next party in an eco-friendly fashion, the team over at Sukin HQ sat down and thought of some eco-friendly party tips to celebrate sustainably. Read them below! 
Make eco-friendly confetti - This is a fun activity if you have small children at home. Gather some of those lovely crunchy autumn leaves that have fallen in your yard and use a metal stamp puncher to cut out different shapes to use as confetti! Make sure you collect a few different colours for a beautiful array of natural multi-coloured confetti. 
Waste less paper with Digital Invitations -

A quick and environmentally friendly way to send invites is using the world wide web. Sending digital invitations is a fast, easy and usually a wallet-friendly alternative to handwriting letters yourself. And while we love receiving fan mail, there's a time and place for writing to secret admirers versus getting your friends around for mid-year festivities.

Skip the Wrapping paper - Speaking of wasting less paper, skip the wrapping paper and cover your gifts in something else like old newspapers, old boxes or gift bags. Get creative with your wrapping for an even more memorable gift.
Make DIY fruit and veggie trays - Save on excess plastic trays and plastic wrap by sourcing your fruit and veg from your local fruit shop, and serve them on platters you have at home. You may even like to use some cookie cutters to cut your fruit into fun party shapes!
Upcycle your Sukin empties - A fun and inexpensive centrepiece option for your tables are empty Sukin jars and bottles to hold flowers, tealight candles, or other bright ornaments to suit your party's theme. 
Ditch the plastic straws! Replace & Reuse – Ditching plastic is given these days. If your favourite fast food joint has gotten rid of their single-use disposable utensils like plastic straws and cutlery, then so can you. We love reusable straws such as aluminium or bamboo!
Natural party favour bags - Skip the chocolate and candy, and offer your guests a plant to take home, or perhaps a bag of seeds. Little kids and adults alike will enjoy looking through their goody bags to find what type of plants they've been gifted to grow at home.
Donate extra or unused party supplies to your Local community centre - You may need to check with your local council for what is available around you, but try opting for donating rather than ditching to help your community and limit what ends up in landfills. 
Shop local for party supplies and food - Supporting locals is a great way to spread the party cheer with your favourite cafes and shop owners
Replace balloon decorations with homemade bunting - They're lots of fun to get the whole family involved, plus the options are limitless. Go wild and see how creative you can get! 
Compost food scraps - Your earthworms will do a happy dance, and your bin won't smell as bad. Double win!
Hire > Buy - 

You don't need to buy brand new for every party supply. Make hosting an eco-friendly party easier by hiring the supplies you need. Don't have enough seating? Hire it. Need extra candle holders? Hire it. Missing that all-important centrepiece? Hire it.

What About Leftovers? - Waste less means you need a plan for any leftover food. The first step in this process is to cater accordingly. Overcooking means a lot of food wastage. Ensure you know exact guest numbers ahead of time for portion control. Then if there is anything leftover, offer guests to take it home or pack it up yourself in Tupperware containers.
Eco-friendly Cleaning Solutions - When the day or evening is done, it's time to clean up. Avoid using harsh detergents and chemicals and choose eco-friendly cleaning solutions.
HAVE FUN! - It's a party! Enjoy yourself and have the time of your life
We hope you enjoy our eco-friendly tips! If you have your own or have hosted an eco-friendly party before, we'd love to hear from you and see your pictures. Tag us sharing your eco-tips and decorations @sukinskincare.