The Sukin Journal
Discover the world of natural through our eyes! From skincare tips, lifestyle and environmental hacks to inspirational interviews! Explore it all.
Banish blemishes naturally in four simple steps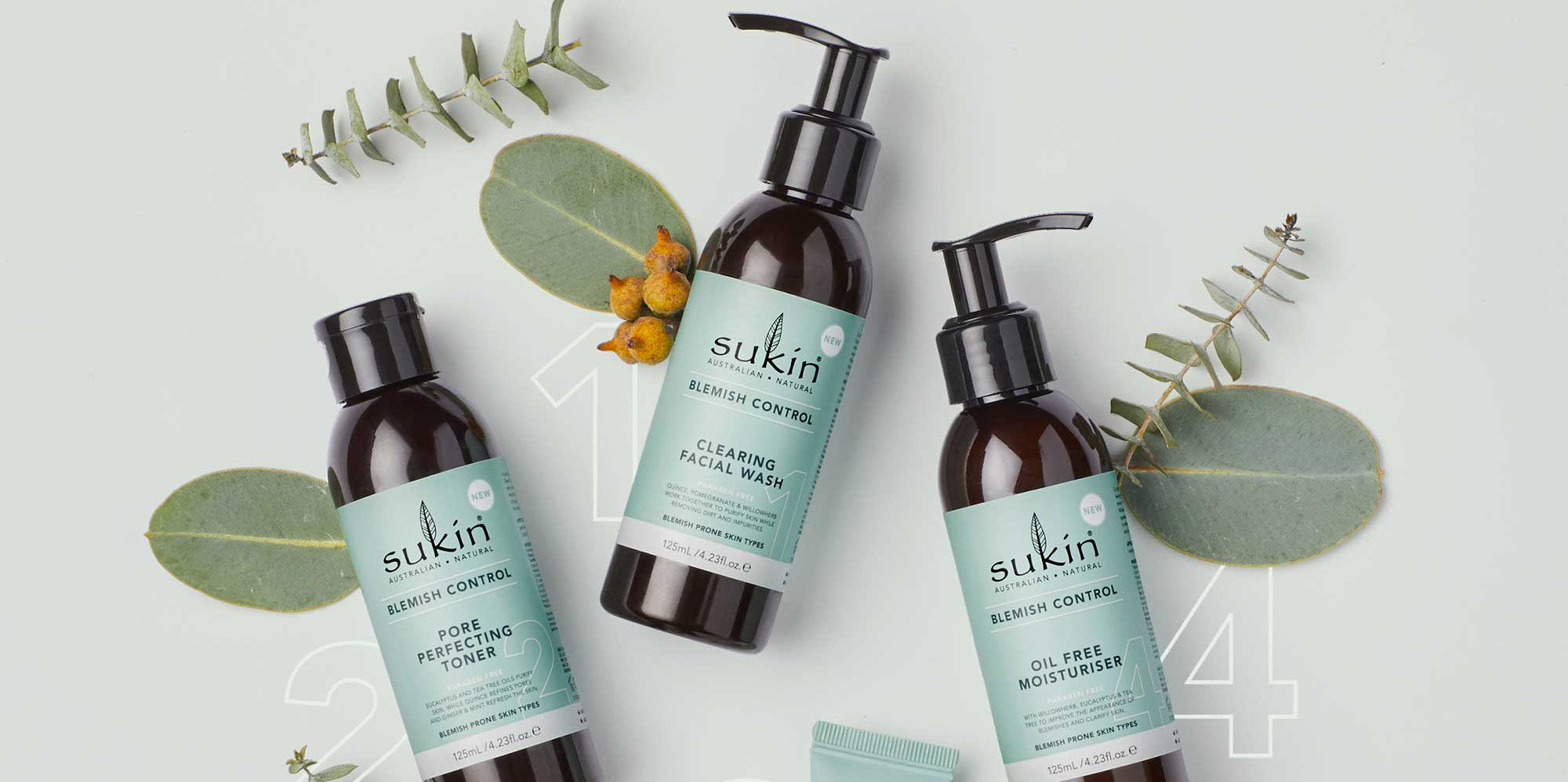 Blemishes are only natural, from hormonal teenage spots to pesky adult breakouts, we all get them. But how should we treat them?

The term 'blemish' can be used to describe a spot or bump on the skin and there are many different types of blemishes you can experience, but we can all agree they usually pop up at an unwelcome time. That's where we come in!

Our Blemish Control range helps reduce the appearance of blemishes thanks to blemish-busting ingredients Eucalyptus and Tea Tree. These natural, yet powerful ingredients help improve the appearance of blemishes and leave skin looking clear and feeling refreshed.

Read below for our four simple steps on how to create a fool-proof routine to naturally clear your complexion!


Step 1: Cleanse
Wash away dirt and impurities with our lightweight Blemish Control Clearing Facial Wash. Eucalyptus helps to fight the cause of blemishes, whilst Tea Tree helps to refresh the complexion.

Cleansing tip: Make sure to cleanse morning AND night, even though we are sleeping at night our skin is still working. It produces sweat and oil and accumulates dirt (bacteria) from your pillowcase.


Step 2: Balance
Refresh your complexion and limit shine with our Blemish Control Pore Perfecting Toner. Formulated with Eucalyptus and Tea Tree oils to help purify the skin, while Quince helps to provide an even, matte complexion. This toner is best applied to a reusable cotton pad or cloth and swept over the skin after cleansing.


Step 3: Treat
Our Blemish Control Spot Clearing Gel is a skin treat for unwanted blemishes that pop up on the skin. Willowherb and Quince create the perfect botanical partnership to help improve the appearance of redness and blemishes.

Usage tip: For this product to work its magic on the skin, its best applied to a cleansed and toned complexion. To ensure you aren't adding further dirt and germs to the skin, apply the gel either with clean hands or a cotton tip, directly onto the blemish.


Step 4: Hydrate
It's important to keep your skin hydrated, especially oily skin types. When we don't keep our skin hydrated, it tries to accommodate for the lack of moisture by producing MORE oil! By keeping your skin nourished and hydrated, it helps to balance oil flow. Our Blemish Control Oil Free Moisturiser harnesses Quince and Moringa to gently hydrate the skin without adding extra shine.


A Blemish Control journey can often be a long one full of trial and error. Make sure to be gentle with yourself and your skin. If trialling products for the first time be sure to do a patch test first and make sure to be patient and give the products some time to work on your skin. Visible changes usually reflect on the complexion within 28 days of using new products.
Make sure you share your stories with us @sukinskincare.
If you are trying a product or ingredient for the first time, we always recommend a patch test first.