The Sukin Journal
Discover the world of natural through our eyes! From skincare tips, lifestyle and environmental hacks to inspirational interviews! Explore it all.
For long-lasting hydration, reach for our NEW Natural Actives Hydrating Serum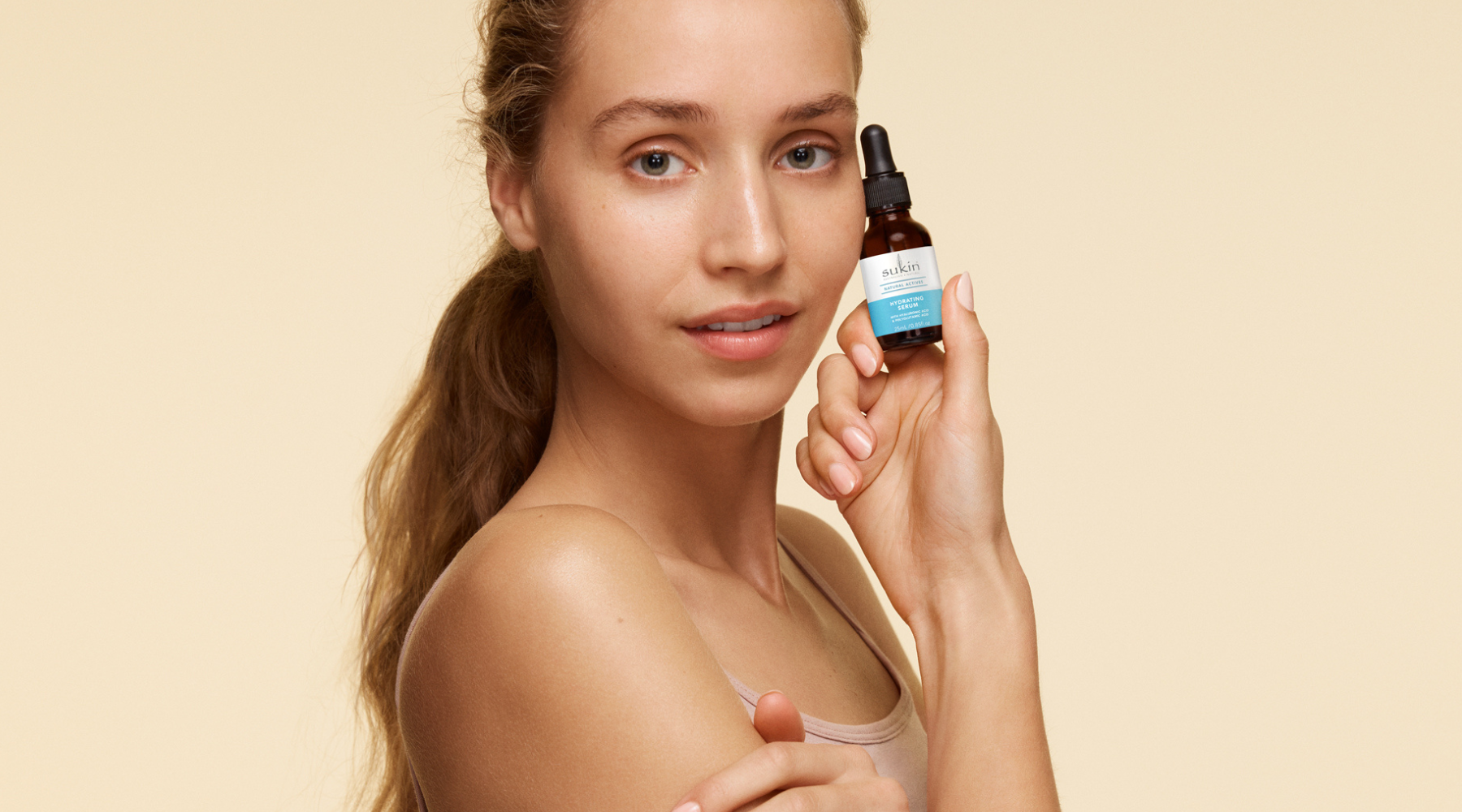 Dial up your skin dewiness with our NEW Natural Actives Hydrating Serum. A tall drink of metaphorical water for your skin, this lightweight Hydrating Serum keeps your skin deeply hydrated for a complexion that is plump and radiant.


If you're seeking refreshed and hydrated skin, look no further than our
NEW Natural Actives Hydrating Serum
. Thirsty skin types rejoice, this lightweight gel serum is about to become your new skincare saviour! Purposefully curated in our Sukin Lab, our
Hydrating Serum
has been blended to keep your skin plump and radiant, whilst promoting deep and long-lasting hydration.
When it comes to hydrating ingredients, it's no wonder
Hyaluronic Acid
is at the top of our search bar. It's a juicy humectant that's small in molecular size (easy for your skin to absorb!) and big in its water retention abilities. It works by absorbing into the epidermis to increase hydration and provide visible improvement to fine lines and wrinkles. When it comes to providing you with advanced formulas, we've left no crumbs, that's why you will also find
Polyglutamic Acid
in our hydrating formulation. Not only does it maintain the level of
Hyaluronic Acid
in your skin, but it also has a high hydration power that improves your skin's moisture, elasticity, and appearance in a synergistic way.
Our unsung hero in active botanical form will have you saying goodbye to past Hydrating Serums. We've included
Australian Hibiscus
for its clinically proven ability to prevent skin dehydration* and its ability to support your skin barrier function, whilst reducing water loss throughout the day.
Last but not least, hydrating heroes
Snow Mushroom
and
Betaine
seal in moisture, ensuring your skin feels nourished and hydrated all day long.
Expect a complexion that is
plump, juicy, bouncy,
and
youthful
.
Suitable for all skin types, our
Natural Actives Hydrating Serum
is a smooth gel consistency that glides effortlessly over the skin. It can be used either morning and/or night and has been designed to work in conjunction with the other
Natural Actives Serums
in a multi-layering routine. For best results, massage 3-4 drops of our Hydrating Serum into your skin, post-cleanse, and mist.
Did you know: The water-binding ingredients in our
Hydrating Serum
LOVE water! Get your dewiest skin yet by leaving your skin slightly damp after cleansing. This allows for said water-binding ingredients to work their magic and amplify your daily hydration.
(Note: No actual magic went into this serum, just incredible chemistry expertise from the Sukin Lab)
*Based on in-vivo ingredient study (n=10), results after a single application.