The Sukin Journal
Discover the world of natural through our eyes! From skincare tips, lifestyle and environmental hacks to inspirational interviews! Explore it all.
Choosing a Men's Body Wash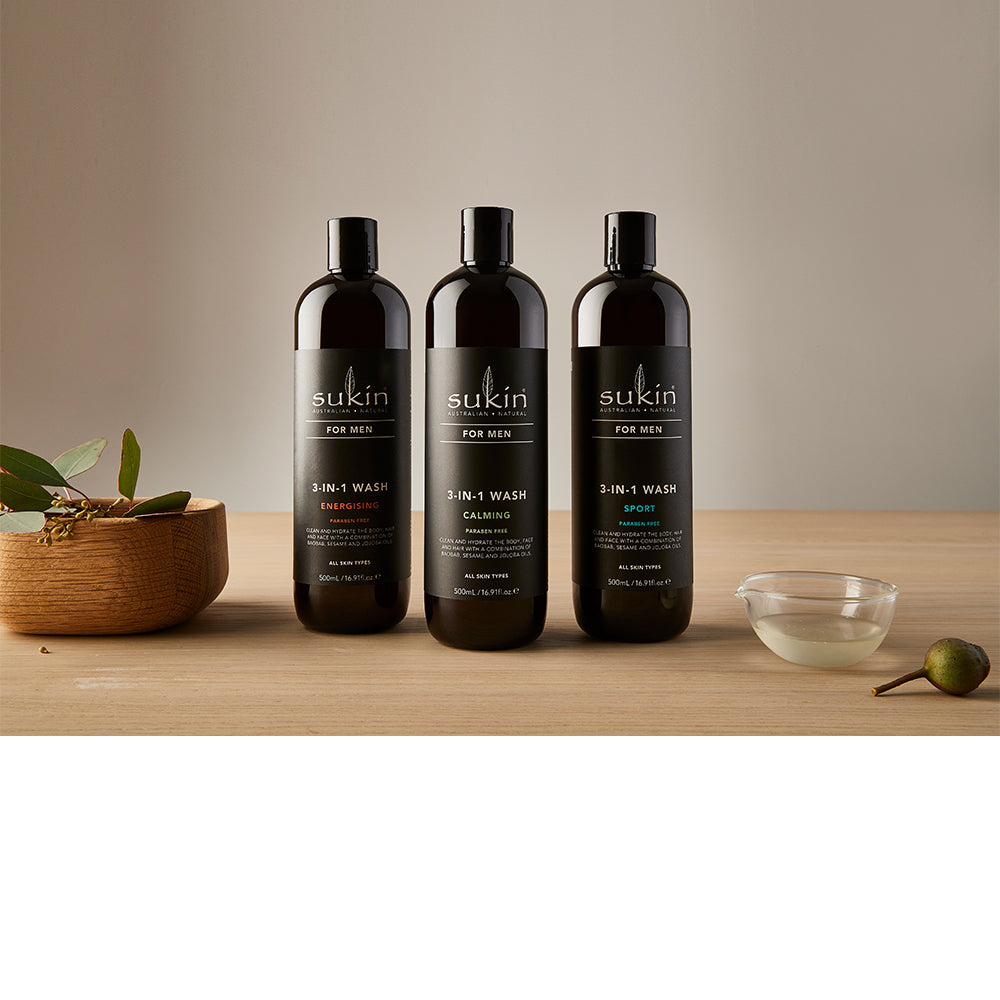 We place such an emphasis on facial skincare that the body is often left by the wayside. Although it's our face that is most often exposed to the elements, the body is a constant source of sweat and oil build up and surface for grime. The solution? A regular, thorough body care routine.

We find that the men in our lives are often a little reluctant to work a body wash into their routine as they don't want to add another step to their self care routine or are overwhelmed by choice- however the right body wash can deliver cleaner, clearer skin, a subtle scent, and lasting hydration.

Choosing the right men's body wash need not be overwhelming. To demystify this essential skin step, we've put together this quick guide to our favourite, natural, men's body washes.

For the Early Riser
Those who wake at the crack of dawn, ready to take on the day, will love the Sukin Naturals 3-in-1 Energising Body Wash. This multi-use product performs impressively as a body wash, facial cleanser and shampoo, is paraben free, and contains a blend of Aloe Vera, Baobab, Sesame and Jojoba oils to deeply hydrate the skin and scalp while it thoroughly cleans.


This particular body wash is naturally scented with cinnamon, mandarin, lime and black pepper to give you a burst of energy and really invigorate the senses- perfect for morning showerers who want to get up and go.

For the Athlete
The Sukin Naturals 3-in-1 Sport Body Wash is perfect for men who make a visit to the gym part of their daily routine, or those who work in a physically demanding field. Just like the Energising iteration, this men's body wash contains ingredients that hydrate whilst cleansing, and has been formulated to be used on the body, the face and the scalp.

This 3-in-1 Sport Body Wash contains a cooling fragrance, ideal for use after physical activity, spiked with citrus and menthol and boasting rich woody undertones.

For the Go-Getter
Is your (or the man in your life's) routine all a bit go-go-go? Use your body care routine as an opportunity to breathe deep and wind down. Those who are constantly on the go and are feeling the stress of the everyday will appreciate the calming aroma of the Sukin Naturals 3-in-1 Calming Body Wash. Infused with a calming cedarwood scent, this lightly fragranced, multi tasking cleanser will afford you a moment of peace and relaxation while you wash.

Shop the entire Sukin Body Wash range here, or explore Sukin for Men here.
Make sure you share your stories with us @sukinskincare.
If you are trying a product or ingredient for the first time, we always recommend a patch test first.