The Sukin Journal
Discover the world of natural through our eyes! From skincare tips, lifestyle and environmental hacks to inspirational interviews! Explore it all.
Better Bathrooms: Our Eco Bathroom Tips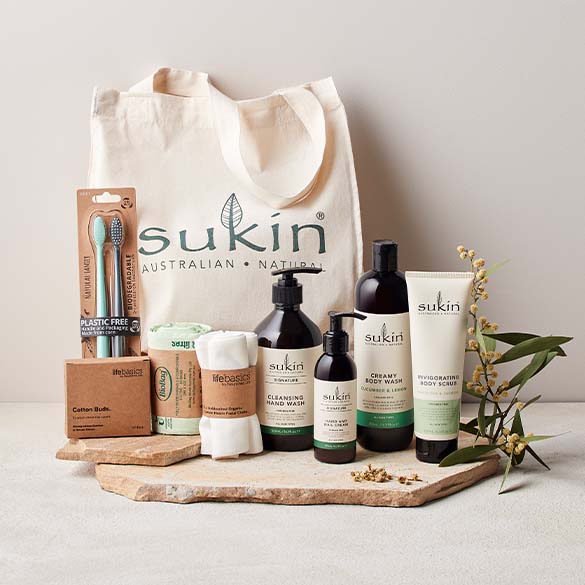 Sukin have long said that natural shouldn't come at a compromise.

This ethos extends well beyond Sukin's formulas. Yes, natural skincare shouldn't mean a compromise on budget nor efficacy, but it also shouldn't come at a compromise to the planet. Sukin's formulas are entirely vegan and cruelty free, but we're also 100% carbon offset and have made a commitment to developing 100% reusable, refillable, recyclable or compostable packaging by 2025.

We're committed to creating better bathrooms, and there are so many ways you can make that very same commitment too. Here are our top 5 tips for what to swap in and out to make your bathroom more sustainable and, in turn, to make our planet a better place.

Bathroom Swap 1. Reusable cotton pads

Bathroom items like cotton rounds/wipes, cotton balls and cotton buds/Q-tips may seem small, but they create a lot of waste. These single-use items also require a lot of chemicals (namely pesticides) to physically create them, so they're wasteful to use and to produce! The simple, eco-friendly solution is to make the switch to reusable cotton bathroom items, like microfiber cotton rounds. These environmentally-sound alternatives are gentle on the skin, kinder to the planet, can be washed with ease during your regular wash cycle, and will end up saving you a ton of money otherwise spent on single use items!

Bathroom Swap 2. Bamboo toothbrush

Toothbrushes (if you're replacing them as often as you should!) can contribute a huge amount of plastic to landfill. Both the handle and bristles of traditional toothbrushes are made of plastic, so it's worth making the switch to a bamboo toothbrush as bamboo is a biodegradable material. We recommend looking for a bamboo toothbrush that also comes in fully recyclable packaging (a bamboo toothbrush wrapped in plastic is counterproductive!) and has charcoal infused bristles to deliver additional antibacterial properties to your teeth.

Bathroom Swap 3. Mouthwash or toothpaste tablets

While we're looking at the environmental impact of your daily dental routine, why not consider making the switch from traditional mouthwash to mouthwash tablets? Mouthwash (and toothpaste!) tablets are perfect for travel, providing a plastic free alternative to mouthwashes and toothpastes that come in plastic tubes or bottles. They're also far more economical, so they'll save you money as well preventing the amount of waste you output. Again, make sure you look for a brand that houses their products in compostable packaging.

Bathroom Swap 4. Eco-friendly razor

We all know razors need replacing regularly, but did you know your standard razor is yet another bathroom item that is ending up as landfill? Reusable razors with replaceable blades are wasteful enough, let alone single use plastic razors! A great way to work towards a better bathroom is to switch to an eco-friendly razor. Eco friendly razors are plastic free and include recyclable blades, so neither the handle nor the blade will end up in the rubbish!

Bathroom Swap 5. Carbon Offset beauty brands

There is no better time to make the switch to a carbon offset beauty brand. We know that natural doesn't have to come at a compromise, and neither does the efficacy of your beauty routine. Sukin have created natural, effective self-care products spanning across shower products, haircare and both facial and body skincare, offsetting every single carbon emission to bring you a better bathroom.

Find out more about Sukin's commitment to sustainability here.