The Sukin Journal
Discover the world of natural through our eyes! From skincare tips, lifestyle and environmental hacks to inspirational interviews! Explore it all.
5 Tips for a Brighter Complexion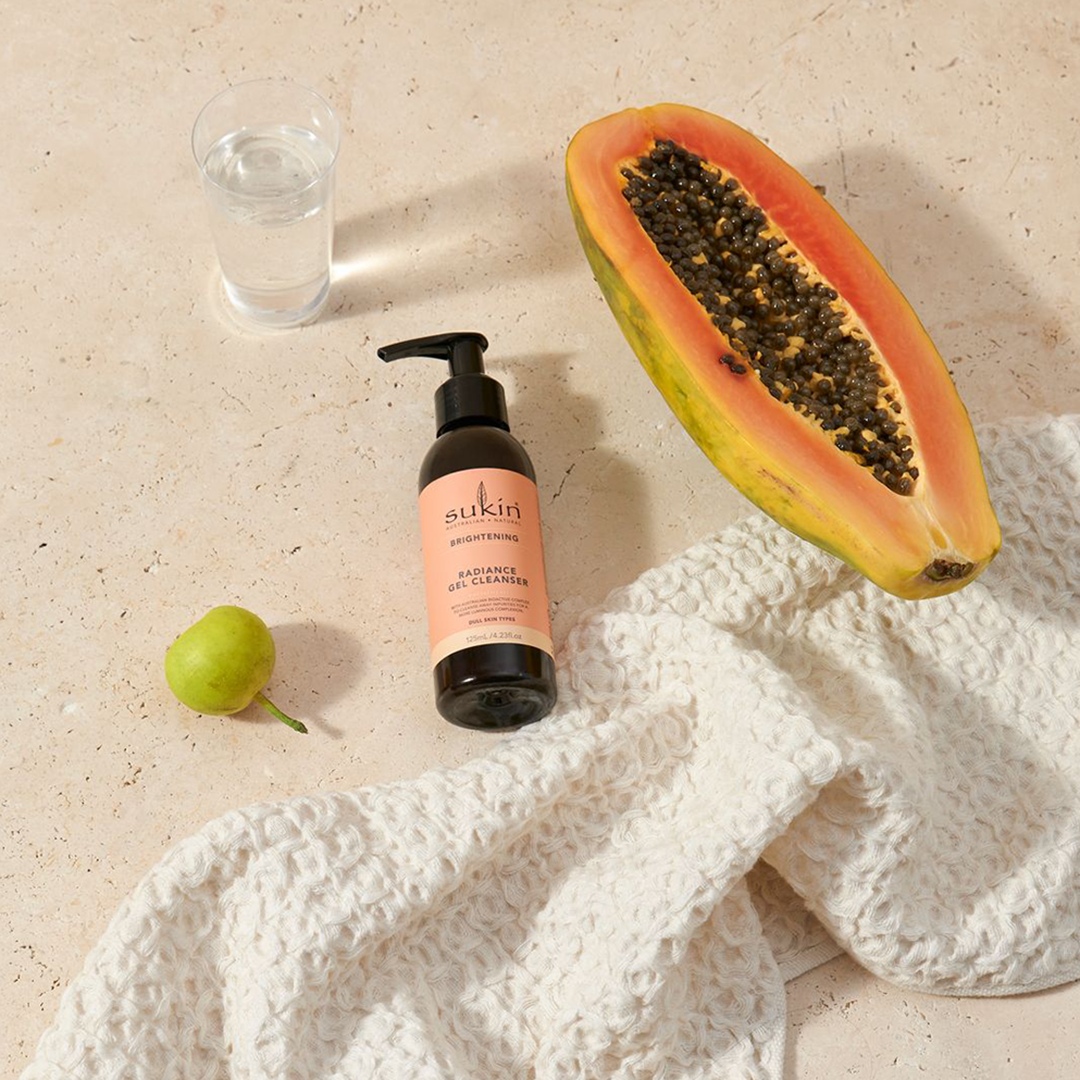 Hi Sukin community,

Some of you may have read my articles before, but if not, let me take a moment to virtually introduce myself (something I've become quite accustomed to in recent times).
My name is My-kaela, commonly referred to as "Myk" by my colleagues and family and I am the Brand and Product Educator here at Sukin HQ.

Not only do I have a passion for imparting product and ingredient knowledge to achieve the best complexion results, but I also have a very energetic 2-year-old at home. So, you may ask, how does my 2-year-old tie into this article? Well, I have become very familiar with searching for ways to revive my own dull/tired complexion – and I've narrowed it down to 5 super simple steps, just for you. So please go ahead and enjoy my tried-and-true tips to achieve a complexion that simply glows.

1. Cleanse regularly, with cool water
It's important to cleanse twice a day, both morning and night. This ensures you have effectively cleansed your skin from the pollution, dirt, and environmental stressors that our skin is consistently exposed to. Products containing antioxidants like the Sukin Radiance Gel Cleanser, help to promote a bright and clear complexion.

Note: Try and avoid cleansing with hot water as it will draw out your natural moisture and lead to a drier complexion.


2. Ensure your skin care contains ingredients that can help to brighten your complexion
The concept sounds simple enough, but when shopping for skincare it's important to look out for ingredients that will help to add that much needed luminous glow. Look out for natural ingredients such as Kakadu Plum, Pineapple & Squalane next time you're reading the back label of a product.

3. Keep your skin hydrated from the inside & outside
It's probably the oldest phrase in the book, but you need to drink more water! Drinking water is so important, but the skin can always use an extra burst of hydration from the outside as well. Ensure you are using a moisturiser that will help lock in your natural hydration throughout the day and evening. A more hydrated complexion leads to a happy, healthy, glowing complexion.

4. Face massage is a must!
Admittedly this was the easiest for me to get on board with. By taking two minutes to give your face a gentle massage, you promote increased circulation to the skin. This essentially allows your skin cells to take a big breath of fresh air thanks to the influx of oxygen carried through the circulation.

5. Include your face, neck, and chest
A good skincare routine doesn't begin and end at the forehead/chin, ideally, we should be applying all our products down our neck and across the chest. Don't we all want glowing skin from head to toe? If you are a perfume wearer, avoid misting directly to the neck, as perfumes can draw the sun to your skin, resulting in pigmentation later down the track.

Happy reading Sukin community, and don't forget, face massage is a must!
Stay in touch with the world of natural @sukinskincare 
Other products you may like
---