The Sukin Journal
Discover the world of natural through our eyes! From skincare tips, lifestyle and environmental hacks to inspirational interviews! Explore it all.
How to Repair Dry, Damaged Hair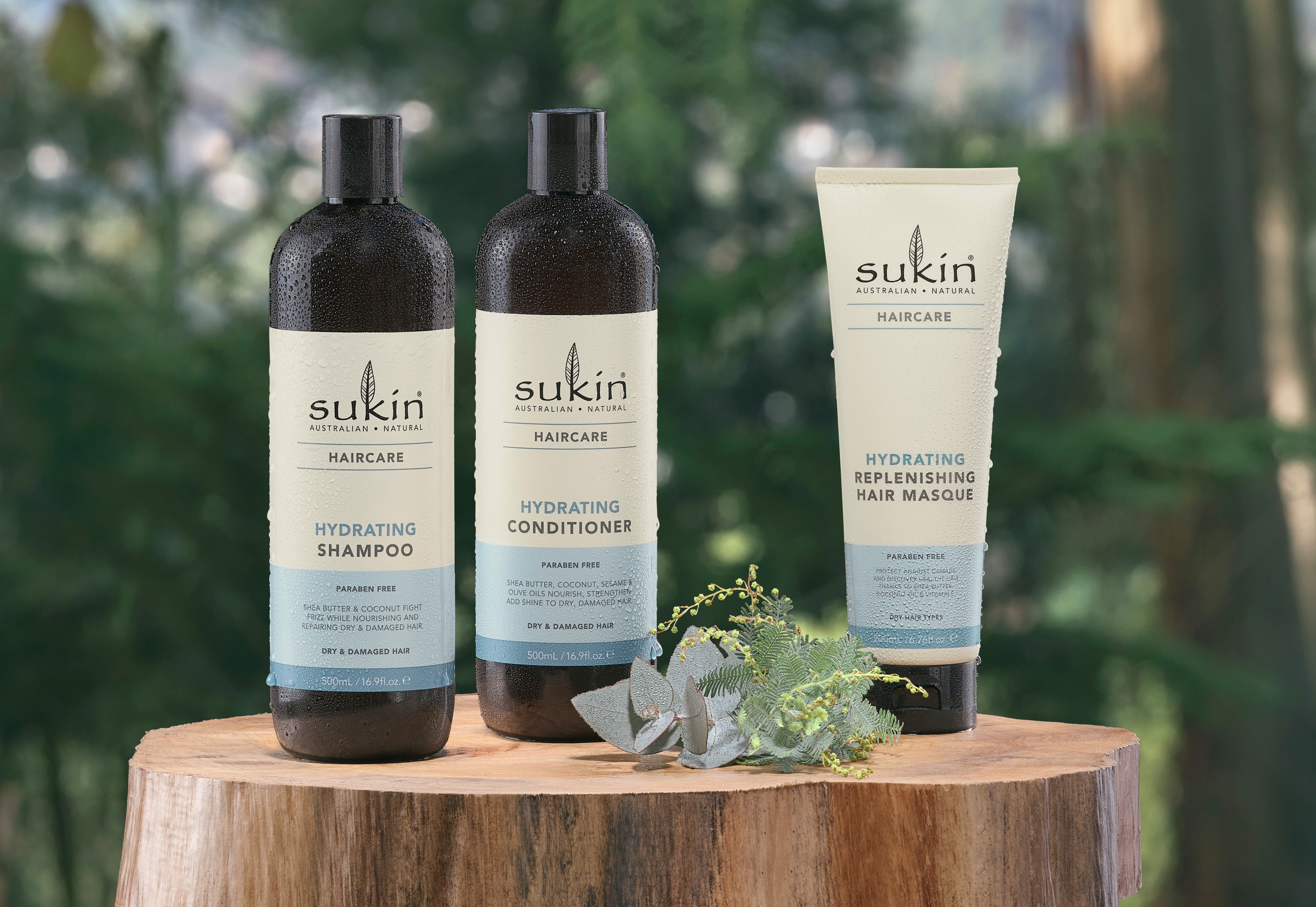 Get shiny, nourished hair, naturally


Dull, frizzy, damaged hair can be quite the handful! The good news is that there are ways to rehydrate brittle and parched hair, restoring it to its former silky-soft glory. Keep reading to find out what they are.


Why do I have dry, brittle hair?

Before we can soothe our dry scalps and restore its shine and lustre, let's take a minute to understand what makes hair dry and brittle.

There are two main reasons for thirsty hair. The first is when the structure of the hair allows moisture to escape. The second is when not enough natural oils are produced to keep their hair hydrated and moisturised.

Moisture escape is often caused by issues like:

A fragile hair shaft, which makes the hair vulnerable to damage, frizz, and split ends
Damage to the cuticle, the hair's protective armour. It is the cuticle that shields the hair from environmental and styling damage. Therefore when the cuticle's layers are damaged they do not lie tightly together it allows the natural oils and moisture to escape

Cuticle damage also tends to be worsened by additional factors such as:

Extreme environmental and weather conditions like rain, snow, harsh sunlight
Excessive heat styling with hair dryers, straighteners, and curling irons
Chemical treatments such as relaxing, perming, bleach, and dye

A lack of moisturising natural oils can be caused by:


Overwashing your hair: Either washing it too much or using shampoos that are too strong and strip all the natural oils from the hair. In particular, shampoos that contain sulphates can be particularly damaging to dry hair. You can read more about that on the Sukin Journal.
Changes in hormones and ageing can also have a drying effect on the scalp and hair, meaning that less oil is produced to naturally condition the entire hair shaft.
Scalp dryness: Both a cause and problem associated with dry hair. If your scalp is dry it means the roots of your hair aren't getting enough natural oil. It also means as well as brittle and straw-like locks, you may also suffer from dandruff.


How to fix dry, damaged hair

Now we understand the cause of dry hair, it's time to look at the solutions. The good news is there are many steps you can take to rehydrate and fortify even the driest and most damaged hair.


Step 1: Change your shampoo

The first step to repairing dry, frazzled hair is to swap out your shampoo. The important thing here is to look for a shampoo formula that is milder than your usual products. In particular, shampoos that are designed for hydration or formulated specifically for dry hair are usually the best choice.


Step 2: Find a moisturising conditioner

One of the best hair products for damaged hair that you can use is a hydrating conditioner. Hydrating conditioners are designed to nourish and moisturise the hair and should help to flatten out the cuticle, the protective layer on the outside of your hair. Once the cuticles are repaired, the moisture you add to your hair can be retained much more effectively. Therefore the right conditioner can make a massive difference to the overall condition of your hair.


Step 3: Wash your hair less frequently

Another answer to the question of how to treat damaged hair is to wash it less frequently. This step will require patience, but fewer washes can provide your hair with a much-needed chance to recover.



Step 4: Make the switch to natural hair care
Often the best hair treatment for damaged hair is to embrace the power of nature. Natural products can be gentler on your hair, and won't strip it of the oils it needs to protect itself.

Look for products without sulphates, as sulphates can dry out your hair. That's why the hair products we craft here at Sukin are sulphate free, and are free of many other harsh chemical nasties too. We craft natural products that are gentle on your hair, and the environment. You can read all about what we do and don't include in our products on our Sukin No List.


Step 5: Get serious with a hair masque

If your mane is still not as shiny as you would like, try a hair treatment for damaged hair Using a hair masque delivers deep hydration to your hair. Look for deep conditioning and hydrating masques to rid your hair of frizz.
Other products you may like
---