The Sukin Journal
Discover the world of natural through our eyes! From skincare tips, lifestyle and environmental hacks to inspirational interviews! Explore it all.
Why Natural Body Care Matters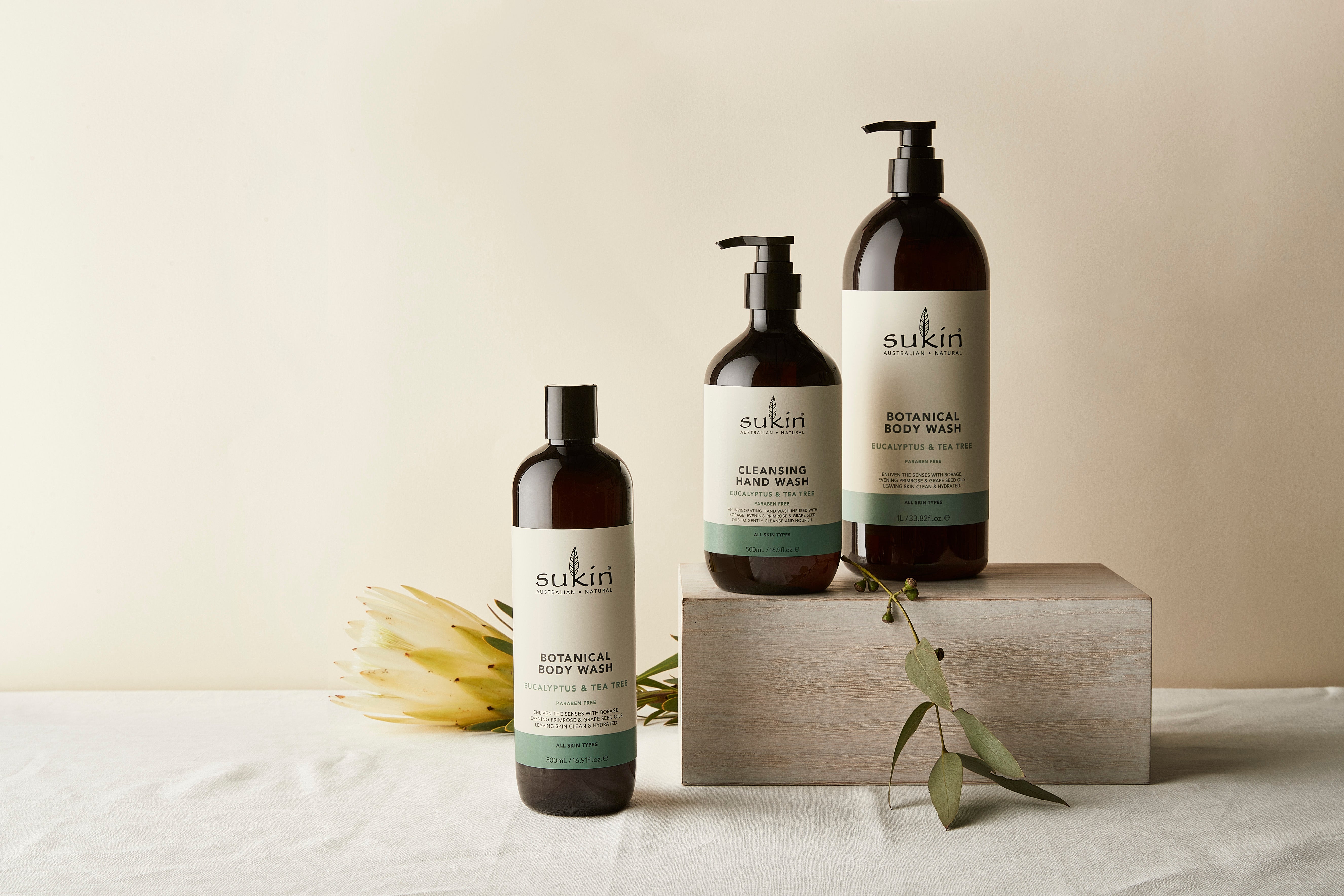 How Natural Body Care Can Heal And Revitalise
When it comes to body care, brands tend to fall in one of two camps. Either they seek to use all-natural ingredients where possible, or they rely more on synthetic ingredients.

But which should you choose?


The Difference Between Natural And Mainstream Body Care Products

Body care products such as deodorant, lotions, moisturisers and body washes are very different from each other. Some are "mainstream" and some are "natural," but what do these terms actually mean?

Generally, body care brands fall into two categories. In the past, brands sourced the vast majority of ingredients for their body care products using scientific and lab-based methods. They would start with some basic minerals (compounds extracted from the ground or atmosphere), and then play around with them in a lab, combining them with other chemicals to create substances with the desired properties.

This approach came to dominate the industry. But in recent years, we've seen the rise of "natural" body care product brands that seek to use more eco-friendly and plant-based ingredients. These ingredients are incredibly effective, and are gentler on the environment.

Synthetic body scrubs in Australia, for instance, will often contain potentially harmful products, such as petrolatum, parabens, propylene glycol and synthetic colours and fragrances, mostly derived as byproducts from the petrochemical industry. Natural body wash and scrubs, by contrast, avoid these potential hazards and rely less on synthetically-derived ingredients, and instead use naturally derived surfactants such as Jojoba Esters and Walnut scrub, among others.

When you see a body wash labelled "natural," it implies that the ingredients inside come primarily from plant sources. That's why you'll often find Tea Tree, Aloe, Sesame Oil and Eucalyptus in natural body scrubs and vegan deodorants.


How Brands Make Natural Body Care Products

Because there is very little regulation of natural body care products, brands are at liberty to apply labels such as "natural," "safe" and "green" to products that wouldn't pass a common-sense test for "naturalness." Fortunately, though, many companies are genuinely committed to the cause. They adopt procedures that ensure that their products contain as many nature-derived ingredients as possible.

Making natural body care products usually involves adding natural ingredients with skin-enhancing properties to a base. A sea salt scrub, for instance, often requires adding sea salt from a proven and auditable source to an oil and essential oils for added aromas and flavours.

You can see this approach in Sukin products. We make an invigorating body scrub from Pumice, Volcanic Sand and Bamboo Stems to smooth and exfoliate the skin. We then add some Ginkgo, White Tea and Goji extract for added benefits.

If you take a look at the ingredients list for the product, the vast majority of ingredients come directly from nature.

The same principle applies to our body washes. We combine a host of natural ingredients with a base to gently nourish and hydrate the skin. Our Cucumber and Lemon body wash, for instance, contains Cucumber, Thyme and Desert Leaf Extract.


The Types Of Natural Body Care Products

Here's a rundown of some of the types of natural body care products available from us, and some of the gentle, effective natural ingredients they use:


Deodorants: Our natural deodorants don't use aluminium, and instead use ingredients such as Aloe Vera, Burdock and Nettle Extracts.
Body washes: Sukin's natural body washes avoid sulphates, parabens, artificial colours and animal derivatives. Instead, you can find natural ingredients such as Cucumber and Lemon, Eucalyptus and Tea Tree, and Lime and Coconut, among others.
Body scrubs: Natural body scrubs incorporate natural ingredients, such as Jojoba, White Tea, and Jasmine.
Body lotions: Natural body lotions hydrate the skin, offer a buttery consistency, and use gentle natural ingredients like Bergamot and Patchouli, or Aloe Vera, Cucumber and Chamomile.

Wrapping Up

You can feel good about making a switch to Sukin's natural body care products, knowing that you're choosing products that are gentler on the environment, and are vegan and cruelty free. And, best of all, you don't have to sacrifice effectiveness. Nature has provided us some amazing ingredients to care for our skin. Isn't it time to make the switch?



Stay in touch with the world of natural @sukinskincare 
Other products you may like
---