The Sukin Journal
Discover the world of natural through our eyes! From skincare tips, lifestyle and environmental hacks to inspirational interviews! Explore it all.
Why Natural Skincare Matters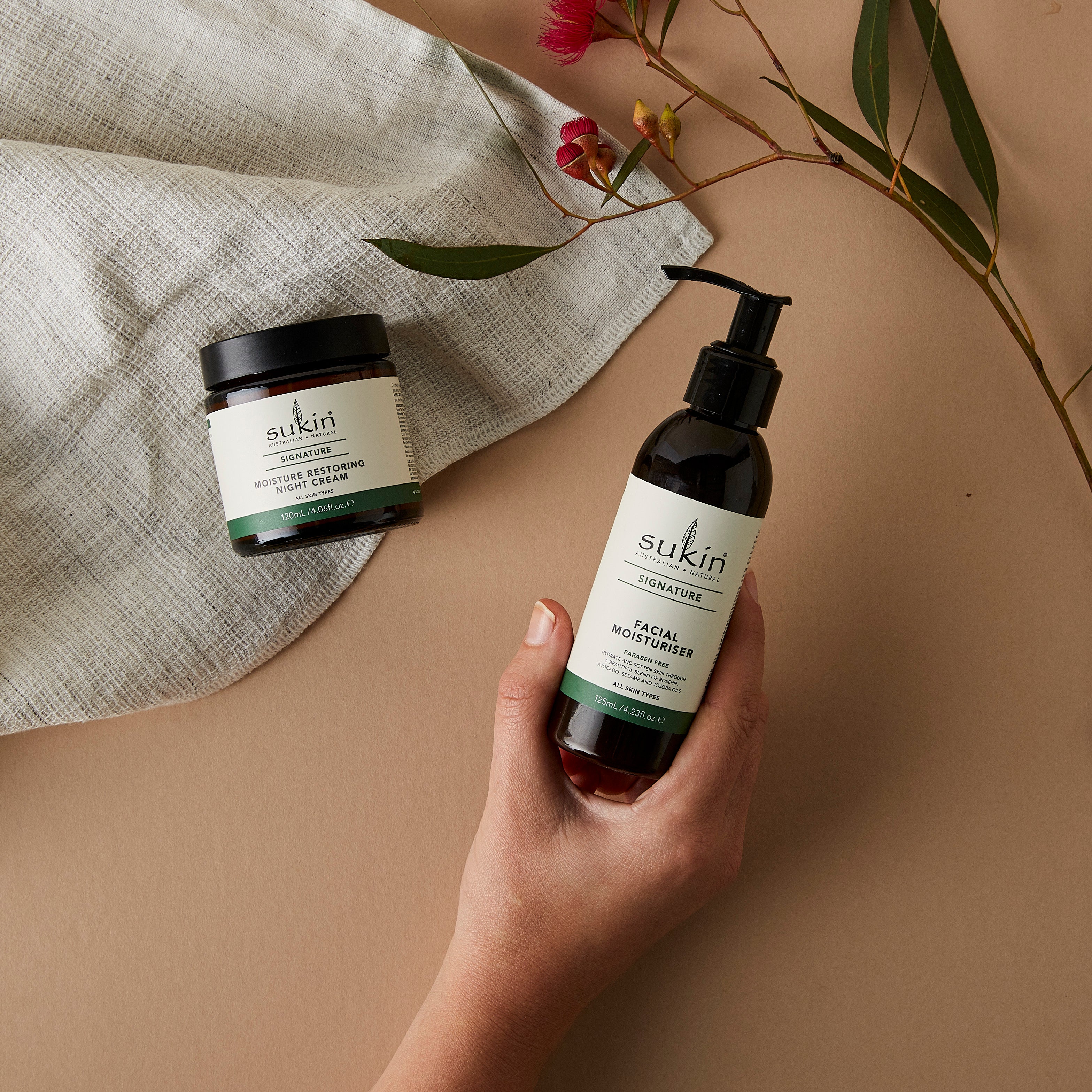 What is Natural Skincare and Why Does It Matter?
When it comes to skincare, ingredients tend to lie on a spectrum. There are those that are derived from natural ingredients, and those that are made with synthetic chemicals. It's up to you which you choose for your skincare, but first it's important to understand the distinction between the two.

The degree of "naturalness" of skincare products varies wildly from product to product, depending on your perspective. Some brands, such as Sukin, derive active ingredients from plants, minerals and other natural sources, and combine them in a way that creates an effective natural skincare product. In many cases, the chemical properties of the active ingredient are exactly the same as when they were in the natural source, but the concentration and purity are much higher.

The lines between "natural" and "chemically-engineered" however, can become quite blurred. It's possible, for instance, to extract vitamin C from plants and concentrate it into a vial. But it's also possible to make vitamin C in the laboratory. In both instances, the final product is identical, making it difficult to tell natural products from synthetics. Skincare can be natural, even if some of the ingredients are made entirely in a lab.

The crucial point is this: natural skincare involves using skincare products that you can derive from nature in principle, without any "unnatural" or "lab-facilitated'' chemical processes. But at Sukin, we believe that the best active ingredients come directly from their natural sources.


The Benefits Of Natural Skincare


The benefits of natural skincare are quite extraordinary.


Vegan: Vegan skincare in Australia is taking off right now. Vegan skincare means brands do not test their products on animals before selling them to market, and contain no animal-derived ingredients. Not all natural skincare products are vegan, but Sukin prides itself on creating only vegan, cruelty-free products.
No harsh preservatives: While some harsh preservatives are natural, the majority are synthetic. For this reason, most natural beauty brands try to avoid them where possible. Natural skincare products are generally less irritating than their conventional counterparts.
Better for the environment: Natural makeup and other products are less harmful to the environment because a larger proportion of their ingredients break down naturally in the ground. Brands will also often ensure that their ingredients are grown organically, avoiding potentially hazardous herbicides or pesticides. 

How Brands Make Natural Skincare Products


Many cosmetics manufacturers make skincare products by extracting minerals from the ground (often crude oil) and then refining them into derivatives at high heats and pressures. Then they mix them with other synthetic compounds to create their products.

The process of making natural beauty products look for naturally-derived alternatives to synthetic ingredients. Natural skincare producers harvest, process and isolate naturally-occurring ingredients from basic plant crops. In other words, natural skincare relies on finding plant-based sources that have been shown to be effective in caring for the skin, isolating the active ingredients and adding them to a product base. In Sukin's case, that base is mostly naturally derived. Brands in the segment will usually disclose all their ingredients to put people at ease.


Types of natural skincare


Natural skincare was once quite niche. But now the market has expanded into practically all segments, once dominated by the mainstream synthetic manufacturers. You can choose natural skincare for nearly any skincare product you need, including those below:

Face serums: Natural skincare face serums contain the same naturally-occurring Hyaluronic Acid found in all skin cells, helping you top up your levels naturally.
Cleansers: Many cleansers now include ingredients such as Aloe Leaf Juice and Sesame Seed Oil instead of synthetic derivatives.
Hand washes: Natural handwashes like Sukin's use naturally derived surfactants, such as Tea Tree, combined with naturally-occurring and moisturising oils, like Evening Primrose and Borage.

Exfoliators: Natural oil-balancing facial scrubs include Rooibos Tea and Coconut extracts to leave the skin feeling fresh and smooth. What's more, natural exfoliators contain ingredients like Jojoba Esters and natural scrubs rather than synthetic beads, which can harm the environment.
Stay in touch with the world of natural @sukinskincare 
Other products you may like
---