The Sukin Journal
Discover the world of natural through our eyes! From skincare tips, lifestyle and environmental hacks to inspirational interviews! Explore it all.
10 Great Valentine's Day Gifts for Men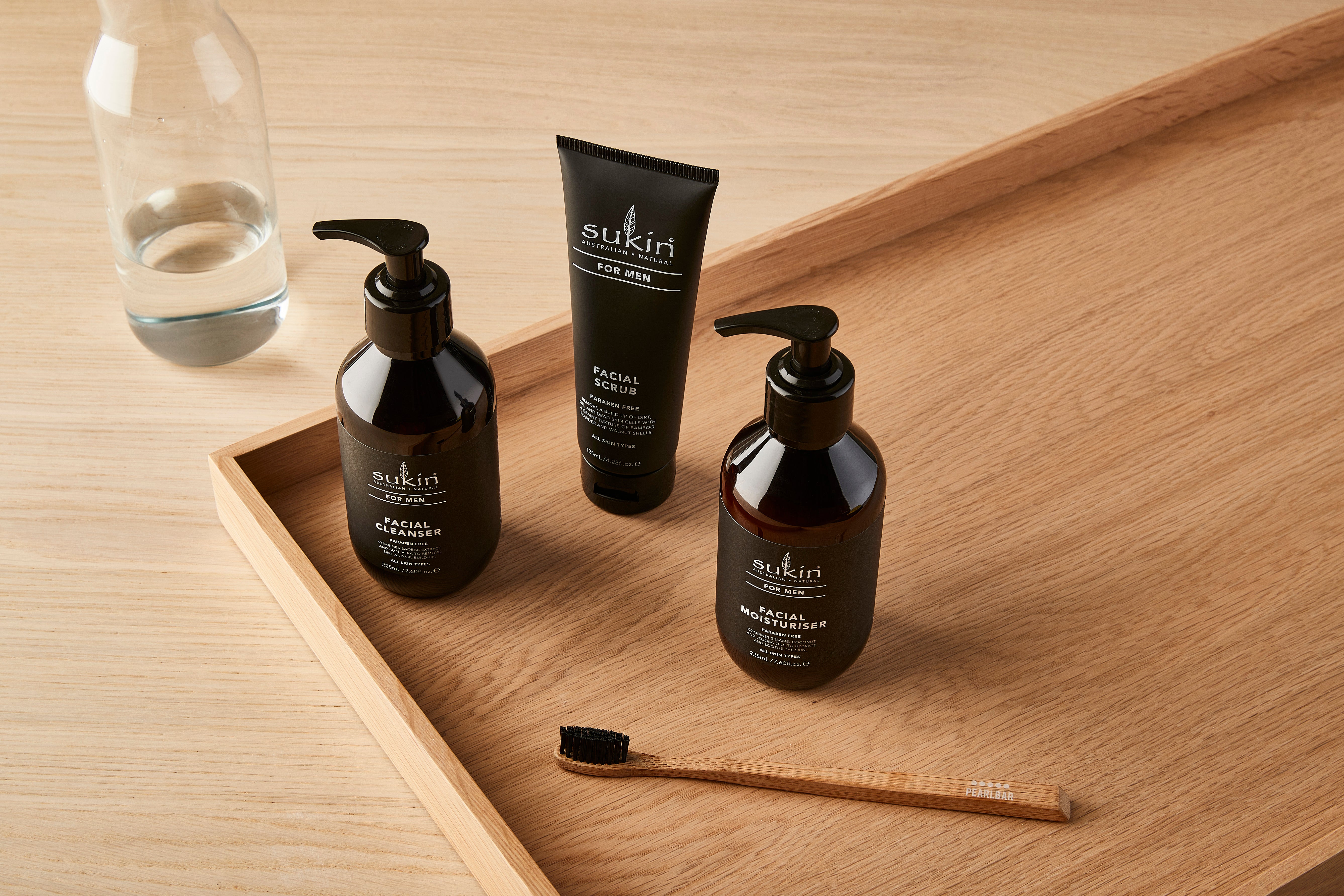 Choosing the Perfect Valentine's Day Gift for the Man In Your Life
Valentine's Day will soon be upon us. If you're struggling to find the perfect gift for the man in your life ahead of February 14th, a grooming gift will go down a treat.

More men are taking care of their skin and appearance than ever before. Plus, after the trials and tribulations of 2020, self-care is more important than it ever has been.

With that in mind, we have compiled 10 of the best men's Valentine's Day gifts, covering all budgets to ensure you can find the perfect present for your other half.
BEARD OIL - $14.95
So long as your other half has a beard, this hydrating oil would make a great gift. Not only is it affordable, but it will hydrate and strengthen his beard while helping to reduce itching and flaking. It contains natural Crambe, Almond, and Argan oils, and it is infused with the Sukin For Men classic scent of menthol and citrus with woody undertones. 

Skincare Essentials For Men - $32.95


This bundle contains everything needed for clean, radiant, and nourished skin. This includes a daily cleanser to remove the build-up of oil and dirt on the skin, a revitalising facial scrub to remove dead skin cells, and a facial moisturiser to promote healthy skin.
3-in-1 Calming Body Wash - $13.95



We could all do with some peace and serenity in our lives. If you're looking for Valentine's Day gifts for your husband or boyfriend that won't break the bank, this calming body wash is ideal. Infused with a calming cedarwood scent, it is a hydrating and multi-tasking wash for the body, hair and face.



Sukin Gift Card, up to $100


If you've been searching for Valentine's Day gifts for guys, and nothing is appealing to you, play it safe with a gift card. All you need to do is choose the value and your partner can have fun shopping themselves.



Natural Shaving Gel - $11.95


This product won The Best Male Hair Removal Product in beautyheaven's 2019 Glosscar Awards. It is a natural gel that contains Baobab Extract, which lubricates the skin for a comfortable and close shave, as well as Tasmanian Pepper for soothing the skin.




If you've been searching online for creative Valentine's Day gifts for boyfriends, your other half will certainly be pleased with this facial scrub, especially if he has a job in manual labour! This product can help eradicate the build-up of dead skin cells, oil, and dirt, ensuring a softened and radiant finish.


Beard Grooming Essentials - $21.95


This combo includes the beard oil we mentioned earlier, as well as a natural facial cleanser. You can save 25% by bundling the products together. Male Valentine's Day gifts like this are perfect for any man who is proud of his beard.


3-in-1 Sport Body Wash For Men - $13.95

This 3-in-1 Sport Body Wash is a face, hair, and body wash in one. It is infused with a cooling scent of menthol and citrus, with woody undertones. Helpful natural ingredients to hydrate and cleanse include the likes of Aloe Vera, Baobab, Sesame, and Jojoba oils.


This is our final suggestion when looking for Valentine's Day gifts for boys. Baobab Extract, Vitamin E and Tasmanian Pepper are incorporated, promoting healthy skin, while a masculine blend of citrus and cinnamon refreshes the scenes.

Hopefully, from these cute Valentine's Day gifts for him, you have come across the perfect gift for your partner this Valentine's Day. If you're still struggling, why not take a look at our new arrivals for some inspiration?
Stay in touch with the world of natural @sukinskincare 
Other products you may like
---