The Sukin Journal
Discover the world of natural through our eyes! From skincare tips, lifestyle and environmental hacks to inspirational interviews! Explore it all.
Eco-Friendly Gifting with Sukin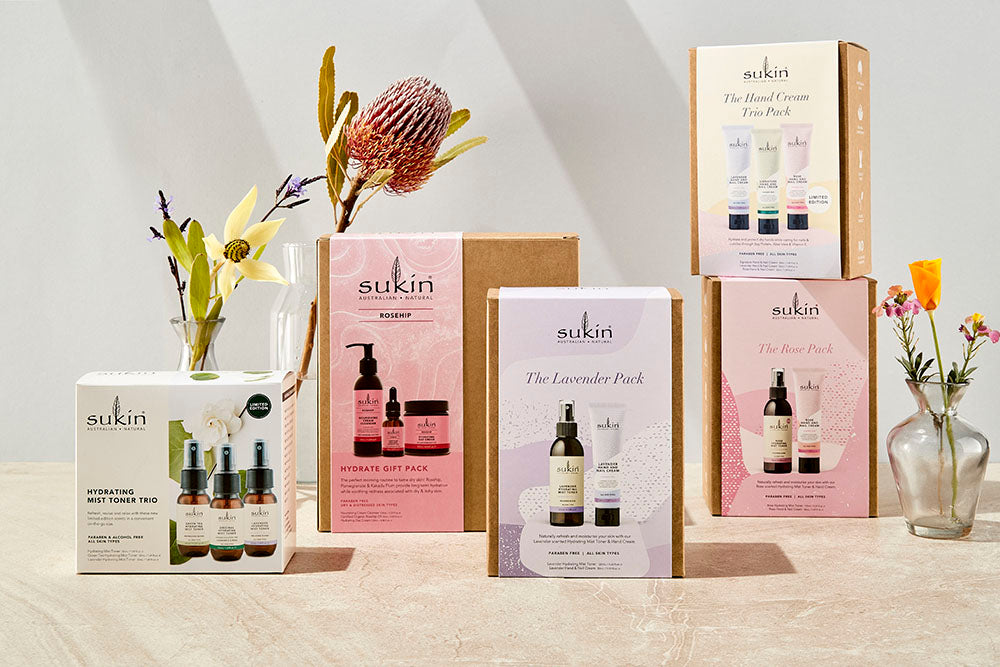 The festive season is officially upon us and, given the year we've all had, we're more excited than ever to celebrate.

Amidst such excitement, it can be easy to throw caution to the wind, breaking habits and routine and forgetting the wider impact our spending habits can have on the planet. From gifts purchased on a whim that may not be used to non-recyclable gift wrapping, so much of what we purchase over the holidays often winds up contributing to our growing landfill and carbon crisis.

The good news is that it's surprisingly simple to have a sustainable Christmas without having to sacrifice on fun! Read on for our tips on minimising your waste and giving sustainably this Christmas.

Choosing sustainable gift wrapping
Each Christmas, Australians use roughly 150,000km of wrapping paper- that's enough to wrap around the Earth nearly 4 times. Most of that waste is either non-recyclable (for example, things like plastic cellophane, tinsel decorations or foiled papers), and much of the rest isn't disposed of and recycled correctly, meaning it ends up in landfill.

This Christmas, let's act sustainably wherever possible and keep our precious environment at the forefront of our minds. Instead of contributing to our ongoing waste crisis these holidays, opt for an eco-friendly gift wrapping alternative, like hessian wrap, calico, 100% recyclable brown paper or even newspaper! You can also bundle up your gifts in hampers or baskets which can be repurposed in the recipient's home (a double gift!) or even wrap a gift inside another gift- think scarves, tea towels or beach and bath towels! Your local op shop will have PLENTY of options here, meaning you're helping to recycle an item and saving money!

Conscious gifting

One of the traps many of us fall into over the Christmas period is impulse buying. It's hard not to be tempted by bulk coloured eyeshadow palettes and cellophane wrapped bundles of bath bombs! This Christmas, rather than opting for a bargain without much thought (that will likely end up pushed to the back of the bathroom cupboard, expiring, then wind up in the rubbish bin and in turn, you guessed it, landfill), gift consciously this year.

Choose products that work, that you know will get used, and that are formulated and packaged sustainably. To help, we've put together a few eco-friendly gift packs to make sustainable gifting easy this Christmas.

Sukin x Anna Cole Hand Duo

Designed in collaboration with Australian artist Anna Cole, this duo includes a Limited Edition Hand Wash and Hand Cream duo to provide the ultimate natural experience in Hand Care. This duo is the perfect gift for those who have recently moved, new homeowners OR those who love beautiful bathroom and kitchen decor!

Hand Cream Trio Pack

Featuring three of our Hand & Nail Creams in three beautiful scents (Signature, Lavender and Rose), this pack will work to hydrate and protect dry hands while caring for nails & cuticles through Soy Protein, Aloe Vera & Vitamin E. The perfect stocking stuffer and a great gift for those on-the-go who love to keep a hand cream in their car, handbag and on their bedside table!

Lavender Pack & Rose Pack

Featuring our best-selling Hydrating Mist Toner and Hand & Nail Cream in Lavender or Rose scents, these packs contain our multi-use mists (perfect after cleansing, before and after makeup application or any time your skin is feeling tired, stressed, or overheated) and signature hand and nail creams. Both lavender and rose are known for their calming qualities, making these the perfect 2020 wrap up gifts!
Hydrating Mist Trio

Containing our best-selling Hydrating Mist Toner in three mini 50ml versions in Original/Signature, Green Tea & Lavender scents, these on-the-go sized mists are ideal for an instant burst of hydration and freshness, especially on those hot summer Aussie Christmas days! Our tip? Pop them in the fridge for extra cooling benefits!

The Essential Face Pack

The perfect gift for friends or family who want to make the switch to natural skincare but don't know where to start, this pack includes three of our all-time best selling signature products- Foaming Facial Cleanser, Hydrating Mist Toner and Facial Moisturiser, all of which are suitable for all skin types.


Rosehip Nourish Your Skin

Featuring our best-selling Rosehip Hydrating Day Cream and 100% Certified Organic Rosehip Oil, this gift set will be loved by skincare enthusiasts with dry, dehydrated and distressed skin. Rosehip, Pomegranate and Kakadu Plum work to nourish and hydrate dry skin, making this the perfect Kris Kringle gift- particular as we enter into the Summer months!
Other products you may like
---