The Sukin Journal
Discover the world of natural through our eyes! From skincare tips, lifestyle and environmental hacks to inspirational interviews! Explore it all.
3 Tips for Treating Uneven Skin Tone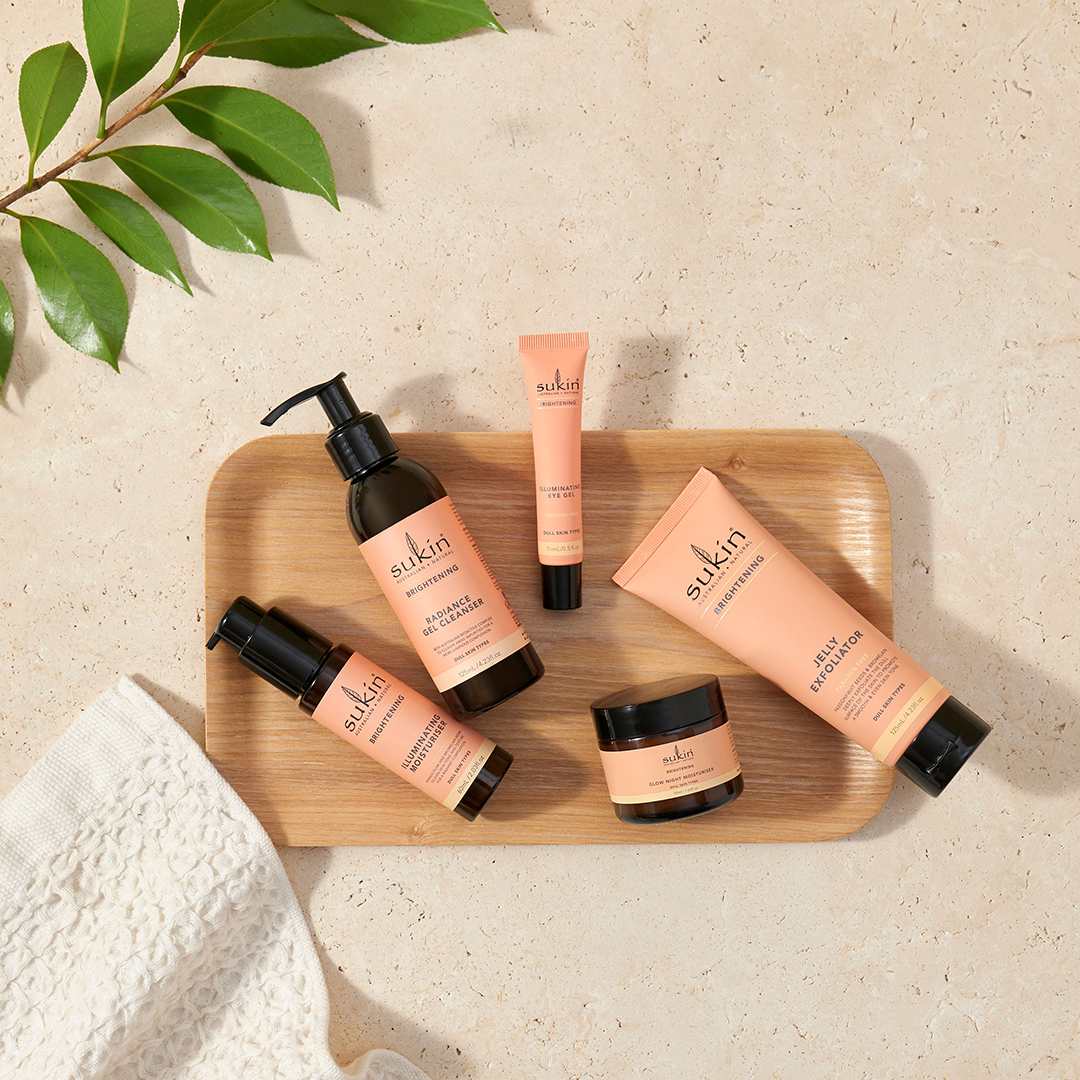 A dull complexion usually occurs when we have a build-up of dry, dull, skin cells that gather on the surface of our skin. This can be attributed to the slowing of our cell cycle as we age and when our cell cycle slows down, so does our skin renewal! Naturally, this means we're left dealing with a complexion that needs a little extra TLC.

Luckily, you don't need to chase waterfalls to find TLC, simply look to Sukin's new Brightening range! As Australia's #1 Natural Skincare brand we want to ensure that your skin can reap the benefits of all the natural goodness we enrich our products with. That's why we formulated our range with Kakadu Plum (one of our Native Australian super-fruits), and a Native harvest of Pineapple, Mango & Papaya to give you glowing skin all year round.

So, let's naturally brighten up that complexion with the following simple steps.


Step 1: Cleanse

Say goodbye to dull skin and protect against environmental stressors by starting your skincare routine with our glow-promoting Radiance Gel Cleanser.

Lightly wet your face and emulsify a small amount of the cleanser in your hands. Gently work over your face in small, circular motions to remove dirt, impurities and/or makeup.

Sukin HQ Tip: Don't forget to cleanse in the morning! Start your day the right way by removing unwanted particles that have gathered overnight. Doing so will prep your skin better and allow your morning products to penetrate deeper into your skin, thus working more effectively.


Step 2: Treat

Brighten and hydrate your delicate eye area with the Sukin Illuminating Eye Gel.

Use the tip of the eye gel tube to gently apply to the eye area, glide from under the eye towards the outer corner and the across brow bone. Then gently pat around the eye area using your ring finger, so the product is evenly distributed and can absorb nicely into the skin.


This lightweight but targeted treatment is essential in treating the fine skin around the eyes given that more often than not, the signs of a dull complexion present themselves more prominently around the eyes. The native Kakadu Plum is the brightening hero of this formula, coupled with Squalane to restore moisture for a refreshed glow!


Step 3: Hydrate

Get your daily hydration fix with Sukin's glow promoting Illuminating Moisturiser.

After cleansing, gently apply moisturiser to your face, neck and decolletage. Homegrown Australian bioactive complex and enzyme-rich Bromelain help even your skin tone and texture for a radiant complexion.

Throughout the day we are exposed to various environmental stressors that often dull our shine - that's why it's just as important to complete a night-time routine as well.
After following steps 1 & 2, complete your evening routine with a small amount of Sukin's Glow Night Moisturiser. This velvety overnight formulation heroes Kakadu Plum and Mango Butter for an enriched complexion that glows.

If you're wondering how you work in a scrub within these steps to gently buff away the aforementioned skin cells that are dulling your shine, the product you've been waiting for is here.

Designed to use once or twice a week (between steps 1 & 2), Sukin's glow-promoting Jelly Exfoliator is formulated with Kakadu Plum, a natural source of Vitamin C, and Bromelain, a natural fruit enzyme, to gently remove impurities revealing a smoother, more radiant complexion. Simply dampen skin and gently massage the exfoliant in light, circular motions and let the Passionfruit Seeds and Jojoba gently buff the skin, to promote an even and dewy skin tone.

Thanks for reading, we hope you enjoy a brighter week … and complexion!
Stay in touch with the world of natural @sukinskincare 
Other products you may like
---