The Sukin Journal
Discover the world of natural through our eyes! From skincare tips, lifestyle and environmental hacks to inspirational interviews! Explore it all.
What should be in your gym bag? 4 beauty must-haves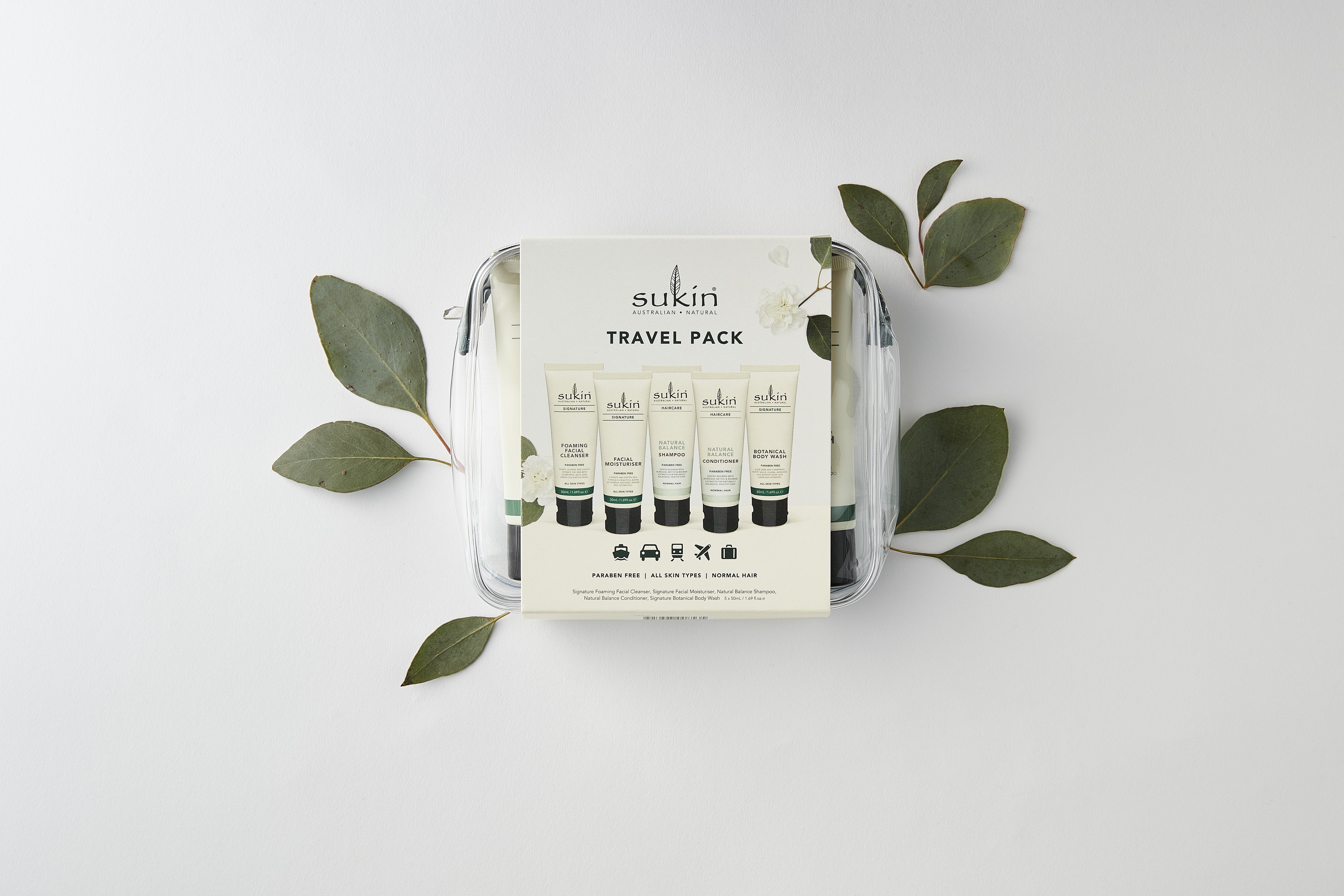 Ready, set, glow: 3 must-haves for every gym bag


Before you head to the gym to conquer cardio, weights or a fitness class, make sure you have all of the essentials in your gym bag. As amazing as it is to break a sweat, it's even more satisfying when you have all of the essentials to feel healthy, fresh and clean after a workout.

Here are our 3 gym bag must-haves to feel on top of the world after a workout!

#1 A beauty travel pack

You don't need to sacrifice your skincare or hair care routine when you're at the gym. Instead, invest in mini versions of your favourite natural beauty products with a travel skincare and haircare pack! The Sukin Essentials Travel Pack contains everything you need to take care of your skin and hair any time you're away from home, and easily slips into a gym bag.

While we love feeling those endorphins start to flow, we're not a fan of unwanted odours after a workout - so don't forget to spritz on a deodorant before and after exercising! Unfortunately, most commercial deodorants contain aluminium. No, thanks! To feel fresh after your workout, pack a Sukin Natural Deodorant - it's free from aluminium and synthetic ingredients and contains Aloe Vera, Burdock and Nettle Extract to cool and soothe the delicate skin under the arms, and zinc to stop odours in its tracks.


Our beauty top tip: Once you wrap up your session, try to wash your face right away to prevent breakouts and clogged pores and add moisture back to your skin. The Sukin Signature Foaming Cleanser deeply cleans the skin and lifts impurities, dirt and sweat, and the Sukin Signature Travel Moisturiser strengthens your skin's protective barrier to keep it feeling soft and supple.


#2 Salt Lab's magnesium body spray

There's a reason they call magnesium the 'magic mineral.' It's amazing for muscle recovery, so it's a good idea to treat yourself to a little magnesium oil massage after your workout. Salt Lab's Magnesium Oil Spray is a lightweight blend of magnesium chloride and water, and works wonders in soothing tired, tense and aching muscles. Just spray it on any sore areas, then massage it in using circular motions until it's fully absorbed.

The 100% natural magnesium oil is suitable for all skin types, even sensitive. It's Vegan, 100% natural, Australian owned and made in Melbourne. Plus, it comes in a nifty spray nozzle (and a beautiful bottle!), you don't need to worry about it ever leaking in your gym bag.

Our top tip for the best recovery: Salt Lab's Magnesium Spray also calms dry skin and helps with stress and restful sleep, so it's also great to apply before bed to optimise your recovery!


#3 A healthy post-workout snack

After working hard at the gym, it's only a matter of time before your hunger starts to kick in. If you're going to be out and about after your morning workout, it's a good idea to plan ahead and make sure you have a healthy snack with you. After all, you've just put in hard work to feel fit and healthy, so the last thing you want to do is to hinder your progress by reaching for all kinds of unhealthy snacks.

Make sure you fuel your body with a healthy snack like fresh fruits and nuts or seeds. Our go-to post-workout combo is a banana and a handful of almonds, but you can also find plenty of healthy energy bars in stores - just make sure you pick one with natural ingredients and no nasties!

Our health top tip: Don't forget to rehydrate after your workout too! Even slight dehydration can hinder your focus and make you more tired throughout the day, so don't forget to drink plenty of H2O to feel on top of the world after your workout.

Make sure you have all of the essentials!

With these essentials in your gym bag, you'll leave your workout feeling fresh, clean and soothed — and your body will love you for it! Browse our natural skincare and haircare online, and head to Salt Lab's website to stock up on magnesium oil. Happy sweating!
Stay in touch with the world of natural @sukinskincare 
Other products you may like
---