The Sukin Journal
Discover the world of natural through our eyes! From skincare tips, lifestyle and environmental hacks to inspirational interviews! Explore it all.
Sukin's Eco friendly must haves for Summer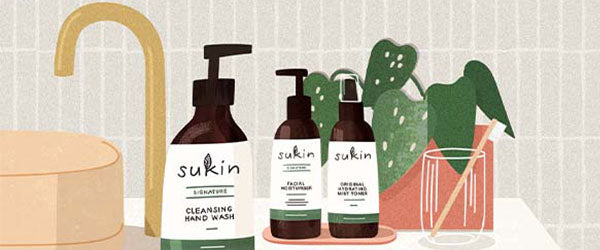 As we begin to enjoy the warmer weather Summer brings, it's important to keep in mind how our actions and choices impact our environment. It's safe to say that it can be a little daunting embarking on living a more eco-friendly lifestyle, but with a list of go-to eco accessories on hand, enjoying an environmentally friendly Summer can be super easy!
Tote Bags
A re-useable tote bag has a wide range of benefits. Typically, available in an array of different patterns and some cute festive prints, you will always have a carrier for your summer treats and never get caught out at the shopping centre again!
Eco wraps for food
Have you ever wrestled with a watermelon and plastic cling-wrap for an insane amount of time, to end up extremely flustered with a half-wrapped watermelon? Enter eco-friendly food wraps! Designed to be re-used and to last for 6 – 12 months, these wraps are available in lots of fresh prints and sizes, keeping your fridge nice and vibrant. This alternative also means you no longer have the turmoil of battling with your roll of cling-wrap and its unkind ways.
Refillable Bottle
Switching to a glass or bamboo water bottle not only helps to reduce the negative impact of increased plastic that ends up in landfill, but they also look great next to your carefully curated picnic displays too.
Stainless steel containers
Gone are the days of arriving to a destination and realising your food has leaked out of your somewhat unstable plastic container. By making the switch to stainless steel containers, you help to reduce the plastic impact environmentally whilst keeping your food in a leak proof, durable container. Not to mention if you are storing pasta sauce, no more orange-stained containers!
Reusable straws
We've all seen the horrifying statistics around the long-lasting effects of plastic straws on our environment. However, if you are a parent of a toddler and have dealt with the heartache of a half-drunk milkshake and a soggy straw, I can guarantee you've been looking at alternative options. Stainless steel straws are an environmentally friendly blessing to all who have suffered from a soggy straw worldwide. They're portable, easy to use and easy to clean. Not to mention on those really hot days it feels as though it keeps your ice-cold beverage perfectly chilled all the way to your lips.

We would love to see your eco must haves this summer, tag us on Instagram @sukinskincare