The Sukin Journal
Discover the world of natural through our eyes! From skincare tips, lifestyle and environmental hacks to inspirational interviews! Explore it all.
How to Lead a Sustainable Lifestyle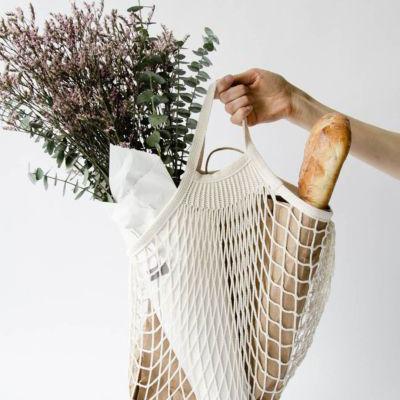 A rapidly increasing number of Australians are making the switch to a natural lifestyle, whilst becoming more conscious about how our choices directly affect the environment we live in. Roughly 50% of Australian female beauty consumers have voiced a preference for natural products, and even the Australian government are getting involved as evidenced by the recent enforcing of single use plastic regulations in major supermarkets.
Whether you're looking to increase the number of natural products you use or are brand new to the concept of "cleaner living" and are unsure of where to start, there are some really simple changes you can make to embrace a more natural & sustainable lifestyle.
Here are a few of our favourite natural living tips, plus why you should go natural today.
Why natural?
Across beauty, period and home products, we expose ourselves to roughly 130 chemicals every single day. Parabens are particularly common in beauty products, as they work to mimic natural hormones and have the potential to produce adverse effects on the body. Along with parabens, synthetic fragrances, plastics, artificial colours, sulphates, silicones and mineral oils are commonly used in the products we use as a part of our daily routines. While skin was once thought of as a near-impenetrable barrier, it has since been proven that up to 64% of the products we apply topically are absorbed into the bloodstream, so by eliminating unnecessary toxins here, we go a long way to reducing overall chemical exposure.
As we become more educated about the benefits of limiting our exposure to synthetics, chemicals and plastics, it's important to understand that what we put inside our bodies is just as important as what we put on our skin. A similar principle applies to the products we use in and around the home. If we're using harsh, chemical-packed home cleaning products, we end up breathing them in- plus, in the case of fabric softeners and washing detergents the residual chemicals end up on our skin, and when we look at dishwashing liquids, the remnants of the products are often ingested.
Beyond what chemicals are doing to our own bodies, chemicals, toxins and waste are damaging the planet. Australians are making the move away from single use plastics, like straws and plastic shopping bags, as plastics can take up to 1000 years to decompose and end up as landfill, emitting dangerous greenhouse gases. Sukin products are housed within 100% recyclable and BPA free PET packaging or glass vessels.
The products we use (not just their packaging) can also be of detriment to the planet, as any harsh-chemical filled liquids that are washed and rinsed down the drain end up in our precious waterways.
Choosing more natural, sustainable products, for cosmetic use, health care, and around the home, can dramatically reduce your exposure to chemicals and impact on the environment.
How to embrace a natural beauty routine
Skin, hair, and general beauty products can be a great starting point in the move towards leading a more natural lifestyle, particularly if your intention is to begin with the products that cover the majority of your body (i.e. body washes, lotions and self-tanners) before gradually working through to home products.
Start by identifying the harsh chemicals that you want to work to avoid. Sukin makes this process really simple thanks to their 'No' list - an extensive list of the most common chemicals, toxins and irritants found in beauty products.
To ensure that your beauty and self-care routine is as safe for your body as it is for the environment, look for brands that:
● Formulate Carbon Neutral, grey water safe products.
● Use biodegradable, compostable or recyclable packaging.
● Support organic and sustainable production and farming methods.
● Are transparent with their ingredients and labelling.
Rather than overhauling your entire routine in one hit, make the process less intimidating and easier on the hip pocket by swapping out your products as you reach the end of what you're currently using.
How to go natural around the home
To start living a more natural home life, look for home cleaning products that are also free from harsh toxins and chemicals. Of the chemicals we expose ourselves to each day, approximately 62 of those are found in the home. Any products you spray become airborne, thus ending up in your airways, while anything you scrub, or wash will likely come into contact with your skin, so making more natural choices around the home can be the safest option for you and your family.
The most common toxins found in home cleaning products are Phthalates, Butoxyethanol, Perchloroethylene, Ammonia, Chlorine, Triclosan, Sodium Hydroxide and Quaternary Ammonium, so look for products that include natural alternatives to these traditional foaming agents and disinfectants.
As per your beauty routine, swap out your home cleaning products as you finish what you're currently using, rather than a one-hit overhaul.
Outside of the home, there are some simple choices that you can make to minimise your environmental impact. Steer clear of straws if you're ordering a drink while you're out, and if you need to use a straw for something like a thick smoothie or juice, choose a recyclable paper alternative (for use within the home, you can even purchase reusable stainless-steel straws!). Bring your "keep cup" with you to your local cafe to avoid throwing a plastic takeaway coffee cup into the rubbish and keep your canvas shopping bags on hand to keep your grocery shopping sustainable.
Should you opt for a natural diet?
You're making the move towards natural skincare and home products, so will a predominantly natural diet round out your new natural lifestyle?
If you're avoiding placing harsh chemicals on your skin so they don't end up in your bloodstream, it makes sense to avoid ingesting chemicals and potentially toxic ingredients in your diet too.
Starting to cut out processed, pre-packaged foods from your diet can be a great place to start. This is often easier said than done based on time and convenience, so simplify the process by planning your meals at the beginning of the week, creating a shopping list to avoid any unnecessary food wastage and meal prepping where possible. Consider choosing organic produce to avoid coming into contact with pesticides – particularly with fruits and vegetables where you eat the skin of the produce and choose ingredients that are as close to their natural state as possible to avoid excess and artificial salts, sweeteners and preservatives. An easy sense-check for this is, do you recognise the ingredients listed on the pack? If not, it is likely to be processed!