The Sukin Journal
Discover the world of natural through our eyes! From skincare tips, lifestyle and environmental hacks to inspirational interviews! Explore it all.
15 most loved Sukin Products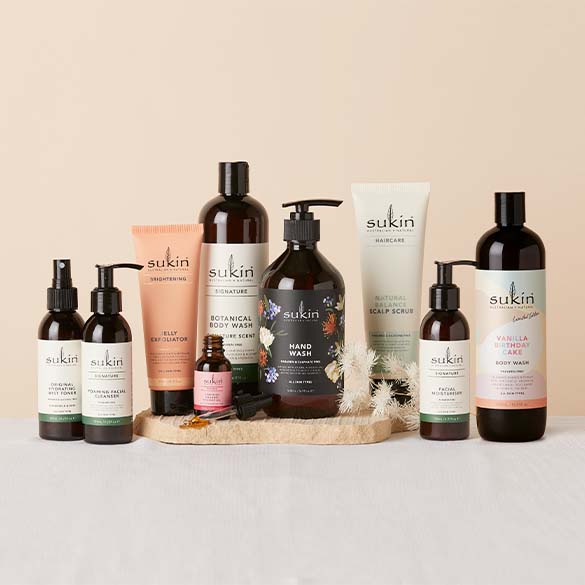 Skincare is more than just about a healthy glow. At Sukin, we take pride in looking after our planet by ensuring our skincare and beauty products do not negatively impact our earth. We've made it our mission to educate people about natural ingredients so that together we can make more informed choices about the products we choose to use. Because at Sukin, everything we need to nourish our body can be found in nature.

With this mantra guiding our way for the last 15 years, it's no surprise Sukin is still one of Australia's leading natural skincare brands, producing all-natural, vegan and cruelty-free for a cleaner, more natural and sustainable way to live.

Without further adieu, here are our top 15 best sellers to celebrate our 15th Birthday!

1 - CERTIFIED ORGANIC ROSEHIP OIL
Our Certified Organic Rosehip Oil is our most outstanding, multi-use product! It contains no less than 70% essential fatty acids (fantastic for maintaining the healthy building blocks of the skin) and has a cocktail of vitamins to help soothe, soften and hydrate the skin. These nourishing properties help reduce the appearance of scars and combat the signs of ageing. Big win!

"Wind and air conditioning was ruining my skin but this magic elixir combined with the other Sukin Rosehip products saved it. My skin has genuinely never ever felt better and softer." Anne H.


2 - NATURAL BALANCE LEAVE-IN CONDITIONER
Our lightweight Leave-In Conditioner, gently detangle and tame frizz, leaving hair smoother and more manageable than ever before thanks to the balanced blend of Horsetail, Burdock & Nettle that nourishes hair in between washes..

"I use this literally every day on my dehydrated curls and it's just perfect! No overpowering scent it also doesn't dry hard and crunchy love it!" Christie D.



3 - DEEPLY HYDRATING BIODEGRADABLE SHEET MASK

Get visible hydration deep into the skin with our concentrated serum. Your once-thirsty skin will look plump and radiant thanks to an active Bio-Marine Blend of Sea Algae, Hyaluronic Acid & Maize Complex that deeply rehydrates for 72 hours.

"This mask is the perfect way to replenish your skin, you can feel an active difference in your face. Definitely saw a glow." Marie-Claire C.


4 - RENEWING BODY SCRUB

Our gentle Renewing Body Scrub contains Jojoba Beads, Green Tea Leaves and Ground Walnut Shells to delicately polish the skin's surface. A blend of Aloe Vera, Coconut and Jojoba Oils replenishes the skin's moisture barrier, while Green Tea Extract, Rosehip Oil and Vitamin E impart a blend of antioxidants and essential fatty acids to promote a healthy, glowing complexion.

"The scrub feels amazing on your skin, the texture is great, I love how smooth my skin feels after using this product." Paulien V.


5 - INTENSIVE FIRMING SERUM

This light gel-cream consistency is rich in natural actives that will target fine lines to firm, refine and leave skin feeling smooth- win! Pure Ribose (our natural powerhouse anti-ageing active) and Acacia Gum work together to provide you with short-term and long-term anti-ageing effects, starting with reducing the signs of ageing after only 14 days!

"This product is beautiful… with ageing, oily skin, and not being one to use cosmetics, it took me a while to find a firming cream that worked for me… and a kind one at that! 5 stars" Sheri D.


6 - FOAMING FACIAL CLEANSER

Perfect for a normal to oily skin type, our Facial Foaming Cleanser is a non-drying, gentle gel cleanser that purifies the skin without stripping it of its natural oils. It works to remove makeup, daily dirt build-up, and excess oils to soothe and tighten the skin.

"My skin is a bit sensitive and when I use facial gel washes, they usually leave it too dry and a bit of stinging.
This foaming leaves my face clean and perfect." Irene C.


7 - COCONUT & PINEAPPLE HYDRATING BODY LOTION

Our Coconut & Pineapple Body Lotion refreshes and stimulates the senses while a nourishing combination of Rosehip, Avocado and Jojoba Oils and Shea Butter and Cocoa Butter hydrate and smooth skin.

"Light lovely fragrance, rubs in easily, not sticky or greasy! I love this lotion!!" Kathryn C.


8 - DETOXIFYING FACIAL SCRUB

An all time favourite at Sukin HQ is our Super Greens Detoxifying Facial Scrub! And not just because it's our scrubbiest Facial Scrub or the unique sweet fruity scent, but because it leaves the skin soft and glowy!

"I Swear by this product, it leaves my skin feeling so clean and soft and it smells really good! My favourite aspect is its so lightweight and you only need a tiny bit!" Paige D.


9 - REPLENISHING HAIR MASQUE

This deeply hydrating treatment conditions and manages dry and frizzy hair. A nourishing blend of Shea & Cocoa Butters, Coconut Oil & Vitamin E will leave thirsty hair quenched, soft and manageable. 

"Rich, creamy treatment hair mask. I use this in replacement of standard conditioner and it makes my hair feel so silky and healthy." Rebecca W.


10 - ART SERIES ANNA COLE HAND WASH

Infused with our Signature Scent of Mandarin, Tangerine, Lavender and Vanillin, our Cleansing Hand Wash gently removes impurities without drying or stripping the skin with a rich blend of Horsetail, Burdock & Nettle Extracts. Whilst soothing, Aloe Vera leaves the hands feeling clean, hydrated and supple.

"A small amount leaves hands feeling clean and not dry. A really nice smell. Have sensitive skin and other brands have not suited. Would highly recommend this one" Kathleen K.


11 - BIOMARINE FACIAL SERUM

Deliver visible hydration deep into the skin with our concentrated serum. Like our Biomarine Facial Mask, our Facial Serum features an active Bio-Marine Blend of Sea Algae, Hyaluronic Acid & Maize Complex to deeply rehydrate thirsty skin for a plump and radiant look for 72 hours*.

"I love this product! It's lightweight, easy to use and leaves my skin instantly hydrated. I highly recommend!" Danielle

*after 4 weeks of regular application


12 - HYDRATING MIST TONER

Did you know that every 40 seconds, we sell a Sukin Hydrating Mist Toner!? It's that popular. Why? Because our alcohol-free Mist Toner blends Chamomile and Rosewater to help soothe, purify and cool your tired skin.

"This by far is my favorite hydrating mist for my face. It wakes up my skin with a good feeling glow." Alecia B.
Fight premature ageing, as well as fine lines! This is all due to our new natural, anti-ageing miracle ingredient, pure ribose! The super sugar obtained from corn seed visibly reduces the appearance of wrinkles (total area) by up to 78%, making the skin more elastic after just 14 days.

"I love my new day cream from sukin. Has a lovely light fragrance. I really like the texture as it does not leave my skin feeling greasy. My skin feels a lot softer since using it." Jennifer C.


14 - HAND AND NAIL CREAM

Our non-greasy, light Hand and Nail Cream hydrates and protects dry hands while caring for nails and cuticles thanks to the added Soy Protein. Plus, Aloe Vera, Vitamin E and Borage Oil will leave your hands feeling nourished, soothed and soft.

"This is the perfect cream for on the go and during work. I can use it without it leaving an oily residue on everything I touch! So good". Ashleigh


15 - NATURAL BALANCE SCALP SCRUB

Our Balance Scalp Scrub removes product build-up and impurities with a refreshing Peppermint & Ginger Extract blend. Bamboo Powder gently exfoliates, whilst Horsetail, Burdock & Nettle helps maintain the scalp balance.

"I find this product very effective in removing product build-up and dandruff. It is easy to apply and scrub into your scalp. Also has a pleasant smell and minty freshness to it." Laura S.


Shop online or in-store with Sukin Naturals to discover our best selling and most loved skincare products. Tell us about your skincare routine, take a selfie, shoot a video, and share your stories with us at @sukinskincare.

If you are trying a product or ingredient for the first time, we always recommend a patch test first.