The Sukin Journal
Discover the world of natural through our eyes! From skincare tips, lifestyle and environmental hacks to inspirational interviews! Explore it all.
Stay hydrated from the inside out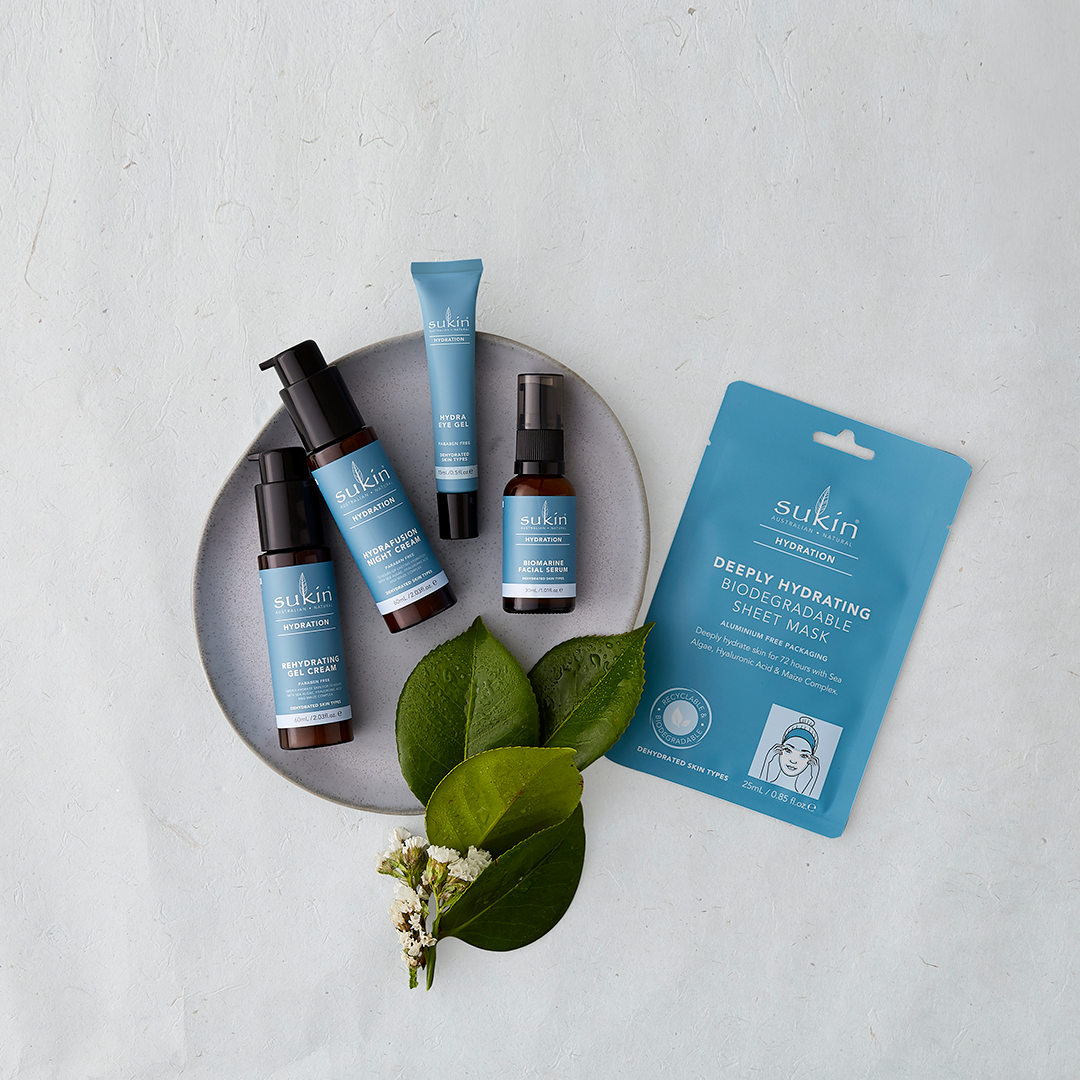 Stay hydrated from the inside out
Many people don't realize how easily dehydration can lead to dry, dull and damaged skin. Drinking plenty of water, especially coconut water and using specific beauty products that help add moisture back into your skin, can quickly remedy this - helping your skin to look more hydrated, healthy, and plump. Here are our top tips to always stay hydrated from the inside out.


How to rehydrate your skin
Wear SPF every day

The sun is particularly damaging for our skin - not just during the summer, but year round. To keep your skin healthy, you need to work harder at keeping it hydrated. Wearing skincare that contains Zinc Oxide will help naturally protect your skin from the sun, prevent premature ageing and help you maintain a healthy glow.

Look for sunscreen without Oxybenzone and Octinoxate, such as our Natural Face Sunscreens. Containing an antioxidant rich blend of Rosehip Oil, Green Tea and Cucumber they will nourish and hydrate your skin while the Zinc Oxide naturally protects your skin from harmful UV rays. Free from the harmful chemical absorbers which can be damaging to both our reefs and aquatic life, not only will you be looking after your skin, you will be taking an important step towards protecting our oceans.

Use hydrating products for skin

Boost your overall skin health by using products that add moisture to your skin. As we know, the sun quickly dehydrates your skin, causing it to look dull and tired - ensuring your beauty products are keeping your skin hydrated will keep it looking happy and healthy.

What are the best ingredients to hydrate the skin? At Sukin we have a wide range of products specifically focused on keeping your skin healthy and hydrated. All of our Hydration Range uses effective, gentle natural ingredients. To lock in moisturise and rehydrate thirsty skin, our products are formulated with our Sukin Bio-Marine blend of Maize Complex, Sea Algae and Hyaluronic Acid. Plus, all of our products are vegan and cruelty-free!


Drink coconut water

Because it's high in electrolytes, coconut water is great at keeping your body hydrated. Particularly during the heat of the summer, your body is likely to lose more electrolytes and fluid through sweating, drinking coconut water can help you stay cool.

Coconut water is a super hydrator: it replenishes your electrolytes lost through sweating, keeps your fluids up and provides your skin with some much needed vitamins like B2, B3 and vitamin C.

We love H2coco's 100% natural and preservative free Pure Coconut Water, which is sourced only from the freshest of coconuts, ensuring you're getting the best for you and your skin.

Our best hydrators for dry skin

If you're ready to include more hydrating products into your skincare routine, here are of four must-haves for hydrated, healthy and glowing skin:

Give thirsty skin the overnight treatment with our Hydrafusion Night Cream. A light cream that's comfortable to sleep in, you'll wake up with a smooth, soft and truly hydrated complexion.

Give your skin the luxury it deserves with our Biomarine Facial Serum. Locking in moisture for up to 72 hours, your skin will feel deeply hydrated and look utterly radiant.

Nourish your skin instantly with our Rehydrating Gel Cream. Perfect to use first thing in the morning on clean, dry skin - this is the perfect hydration boost your skin needs.

Stock up on hydrating skincare now

At Sukin, we know how important it is to keep your skin hydrated. Give your skin all the hydration it needs by drinking coconut water and applying hydrating skincare. Browse our hydrating skincare for dry skin, and check out our friends H2coco's range of delicious coconut water.
Stay in touch with the world of natural @sukinskincare 
Other products you may like
---