The Sukin Journal
Discover the world of natural through our eyes! From skincare tips, lifestyle and environmental hacks to inspirational interviews! Explore it all.
What Sunscreens are Safe for Reefs?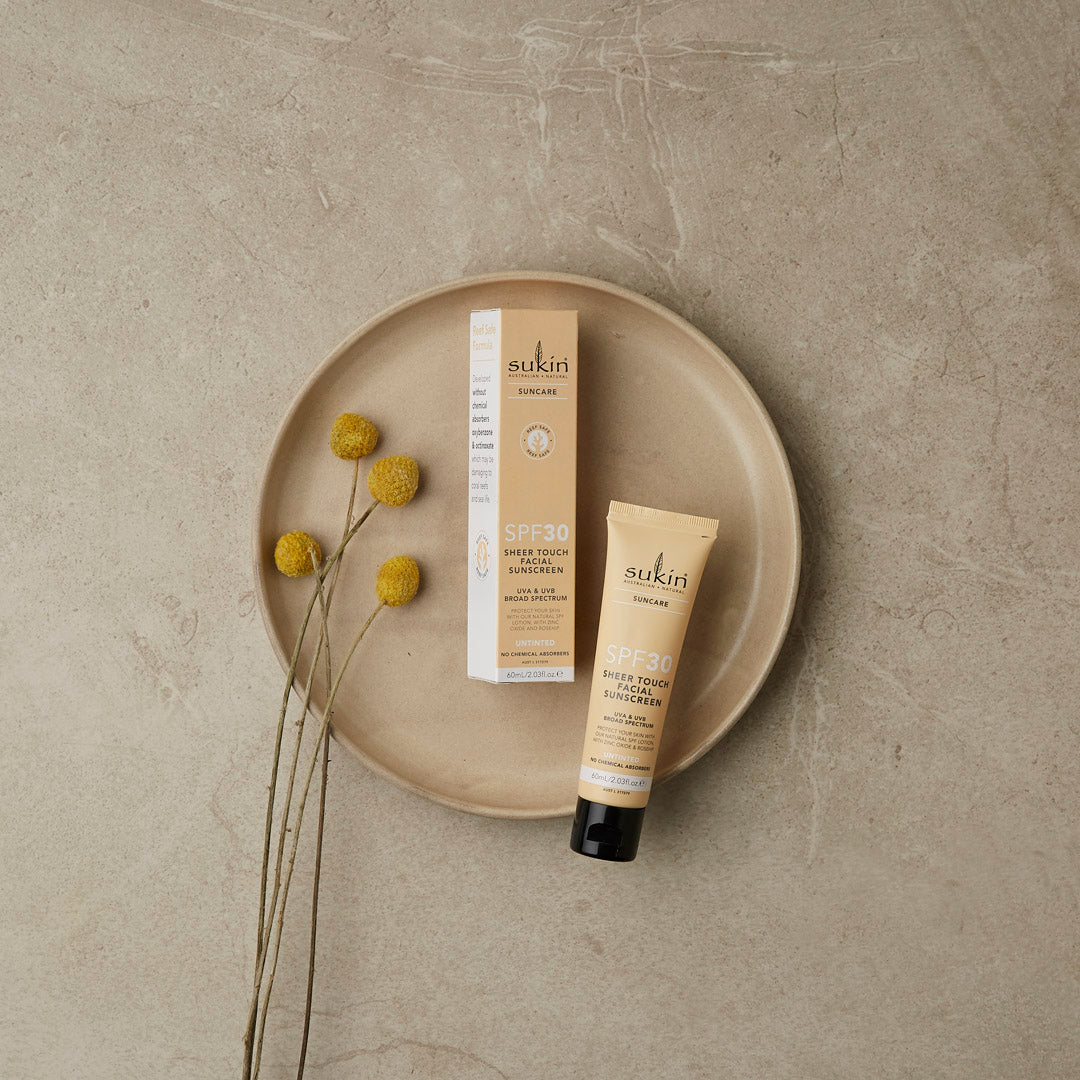 Choosing skincare that is genuinely good for our planet requires more than just finding brands that do not test on animals or products housed within sustainable packaging. There's so much to consider when it comes to finding truly cruelty free skincare. Where are the ingredients themselves derived from? Does the product contain any synthetics that could be of detriment to wildlife? Or to said wildlife's habitat? And what about the brand- are they partnering with any animal conservation programs?
Sukin are committed to taking the guesswork out of buying cruelty free skincare, which is why Sukin's new SPF30 Sheer Touch Facial Sunscreen is an eco friendly sunscreen that is as good for Australian fauna as it is for your skin.
A cruelty free ingredient list
Sukin are committed to never testing on animals and are completely cruelty free. This ethos goes well beyond testing, however, extending to the ingredients themselves.
Sukin products are 98.8% naturally derived and are 100% vegan, which means that they ingredients are never derived from animals. That means that you won't find an ingredient such as lanolin in a Sukin product, nor an animal by-product like honey or beeswax. Sukin only source from suppliers who also do not test on animals, and every Sukin manufacturing and testing process is completely free from animal testing. It's this strict attention to detail that has earned Sukin its certified cruelty free status, meaning that every element of the Sukin SPF30 Sheer Touch Facial Sunscreen is 100% cruelty free too.
What ingredients in sunscreen are harmful to coral reefs?
Many synthetic sunscreens use chemicals like oxybenzone and octinoxate as a UV filter. Oxybenzone has been known to be harmful to coral reefs and the marine life that call those reefs home.
Reef safe sunscreen 
Sukin's SPF30 Sheer Touch Facial Sunscreen relies on minerals to block the sun, not chemical absorbers. Sukin harnesses the natural UV blocking powers of ingredients like Zinc Oxide to ensure runoff from your sunscreen won't be of detriment to aquatic life.
Sukin is a reef safe sunscreen brand 
Sukin's SPF30 Sheer Touch Facial Sunscreen is 100% vegan but Sukin are committed to conserving wildlife through more than just safe skincare.
Sukin is a partner of Reef Aid, an initiative dedicated to saving Australia's Great Barrier Reef. Through working to conserve the reef, Sukin and Reef Aid are also working to save the six marine turtle species and 1,700 species of fish who all call the Great Barrier Reef home.