The Sukin Journal
Discover the world of natural through our eyes! From skincare tips, lifestyle and environmental hacks to inspirational interviews! Explore it all.
How To Choose The Best Sunscreen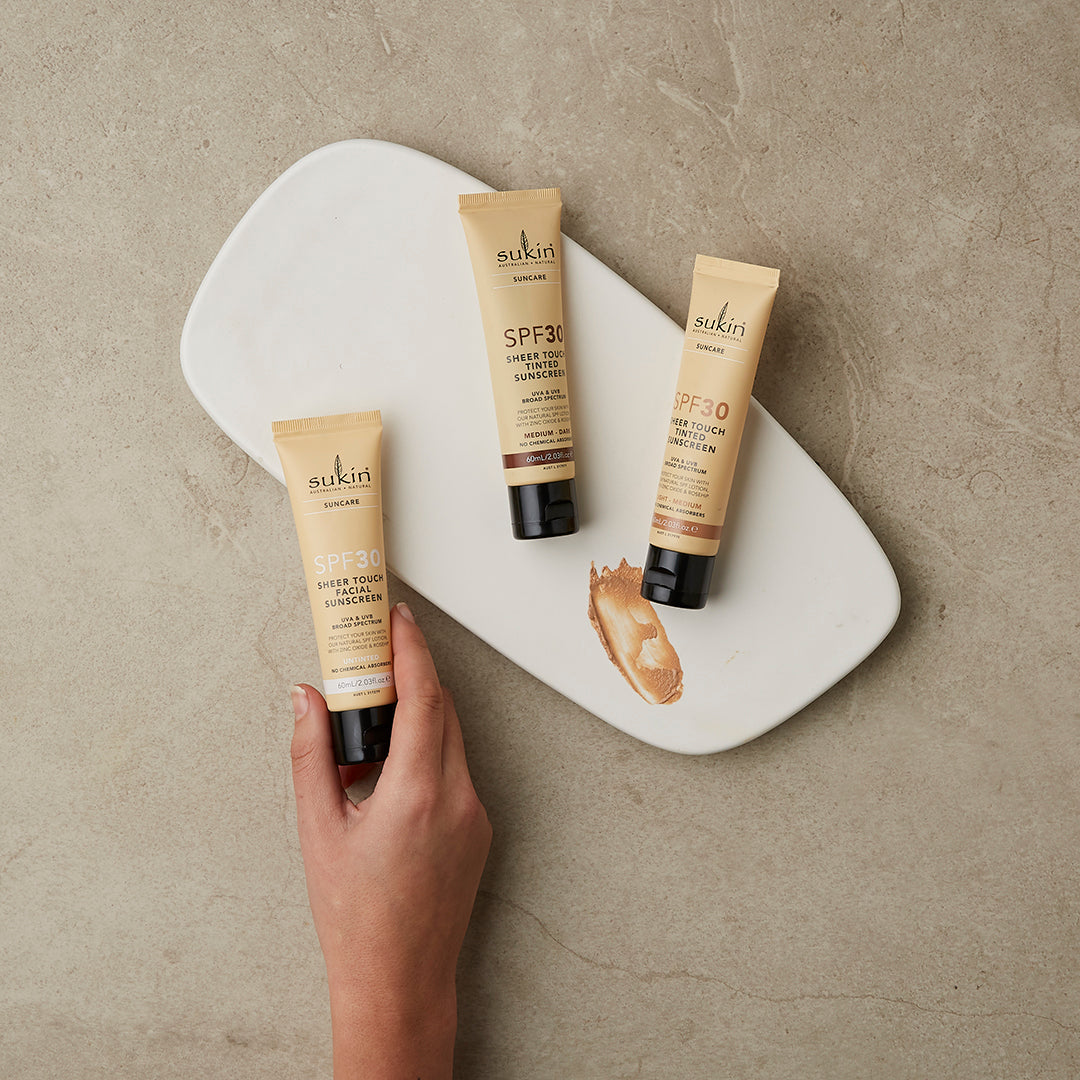 We've all been told, time and time again, that we should be wearing SPF each day. But why do we need sun protection year round? And how do we find a sunscreen that ticks every box - an SPF that feels beautiful to apply, doesn't leave a whitecast, sits well under makeup, cares for the skin it protects and effectively shields us from harmful UV rays?
Australia's leading natural skincare brand has, at long last, produced the answer.

HERE'S YOUR GUIDE TO SPF FOR ALL SEASONS:


What's the difference between Chemical & Physical sunscreen?
The main difference between Chemical and Physical sunscreen is the way they treat the UV rays. Chemical sunscreen absorbs the UV rays, whereas Physical sunscreen acts as a barrier and reflects the UV rays altogether. The most common ingredient used in physical sunscreens is Zinc Oxide. However, don't let this put you off as they have come a long way from the days of sportspeople adding stripes to their noses on the field. We have worked tirelessly to create a formula that is sheer-touch and will not leave any white cast. 
When should I apply sunscreen?
To effectively protect your skin from the dangers of UV rays, you need to apply SPF every day. While we're taught, from an early age, to apply sunscreen during long days spent at the beach or beside the pool, it's of equal importance to apply your SPF daily throughout the winter months. UV is still high when the weather is overcast, meaning the sun can still be damaging to your skin in the depths of winter.

UV comprises of UVA and UVB rays, both of which are of detriment to the skin- UVA is associated with ageing of the skin, while UVB is associated with sunburn. This in mind, it's important to choose a broad spectrum sunscreen (broad spectrum meaning the product protects against both UVA and UVB rays) with an SPF of at least 30 like Sukin's new SPF30 Sheer Touch Facial Sunscreens.


How much sunscreen should I use?
Apply your sunscreen to clean skin in the morning, leaving around 20 minutes between applying your sun protection and exposing your skin to UV rays. While there is no set rule on the specific amount of sunscreen you need to apply, you should use a generous amount- enough to cover your entire face, neck and decolletage, or any other areas exposed to the sun. We recommend to use 20c or 1 teaspoon! Don't forget your hands, as these are often the first area of the body to show signs of ageing and are almost always exposed to the sun- particularly if you are driving! 

What SPF sunscreen should I use?


We have a long checklist when it comes to a great sunscreen- it needs to block the sun using minerals, not chemicals, it needs to care for the skin as it protects it from UV rays, it needs to feel beautiful on its own and beneath makeup and it can't leave a whitecast.
Sukin uses minerals to block the sun, not chemicals. The SPF30 Sheer Touch Facial Sunscreen harnesses the broad spectrum sun protection powers of natural Zinc Oxide to protect the skin, rather than potentially harmful synthetics and chemical absorbers. Adhering to Sukin's strict NO List, the SPF30 Sheer Touch Facial Sunscreen is completely free from synthetic fragrances, harsh detergents, sulphates, parabens, mineral oils and animal derivatives.
While the Sheer Touch Facial Sunscreen protects the skin from the superficial ageing and skin conditions associated with UVA and UVB rays, it also cares for it with an antioxidant rich blend of Rosehip Oil, Green Tea and Cucumber.
As its name suggests, Sukin's Sheer Touch Facial Sunscreen feels weightless on the skin, serving as both the perfect base for makeup or a sheer coverage base on its own. This fluid sunscreen is available in a colourless formula and tinted shades ensuring all skin types are covered (literally)- with no whitecast.