The Sukin Journal
Discover the world of natural through our eyes! From skincare tips, lifestyle and environmental hacks to inspirational interviews! Explore it all.
Is Sunscreen Hurting the Environment?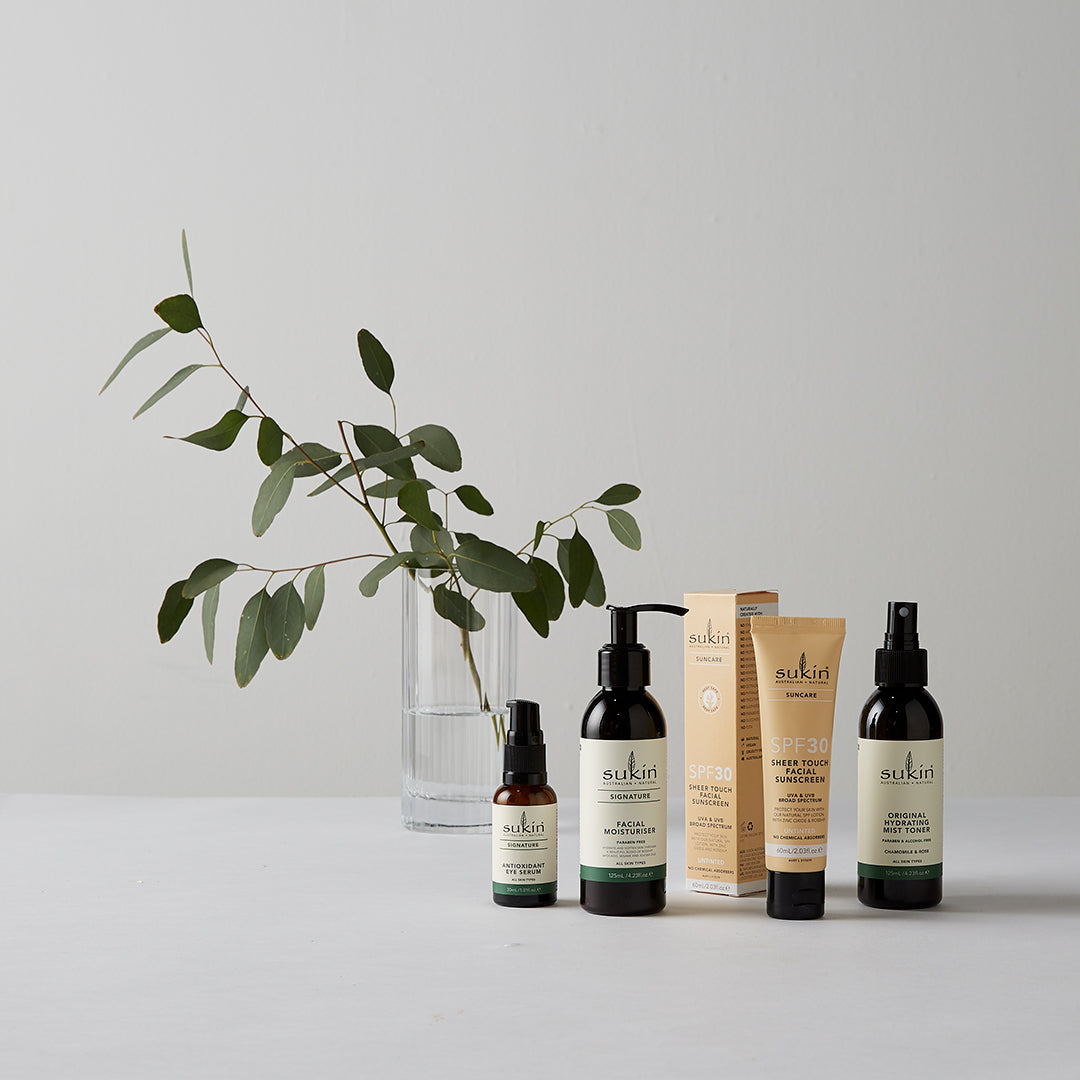 You've made a commitment to yourself to apply a sunscreen every single day. You've chosen a broad spectrum solution, you've selected an SPF of 30, and you've found a formula rich in skin-loving ingredients- but what effect are those ingredients having on the planet?
Many traditional sunscreens contain ingredients that may be a detriment to the environment, with our precious coral reefs taking the hardest hit. These chemicals are easy to erase from your skincare routine once you know exactly what to look for. Here's our guide to choosing quality SPF protection that works as hard to protect the planet as it does to protect your skin.
What are traditional sunscreens doing to our planet?
When choosing an SPF and considering the environmental impact your choice will have, the main ingredient we recommend steering clear of is "oxybenzone." Oxybenzone has already been banned in Hawaii thanks to serious efforts to protect our oceans, however the rest of the world is yet to follow suit.
Many synthetic sunscreens contain oxybenzone and octinoxate, both of which are chemical absorbers that are often used to filter ultraviolet light. Studies have shown that these particular synthetic chemicals may be highly toxic to developing corals and marine life, causing serious damage to our precious coral reefs. Rather than using synthetic chemicals in our SPF, Sukin's SPF30 Sheer Touch Facial Sunscreen rely on the natural broad spectrum UVA and UVB powers of Zinc Oxide to protect your skin, using minerals to block the sun- not chemical absorbers.
At Sukin, we're known for our strict "NO" List- a list of synthetic chemicals that you will never find in a Sukin product. The launch of our SPF30 Sheer Touch Facial Sunscreens has seen us add both oxybenzone and octinoxate to that list, with a belief that it's what we leave out of our formulas that makes us special.
Sunscreen that is good for the environment. 
Choosing a sunscreen free from reef-damaging chemicals like oxybenzone and octinoxate can have a really positive effect on our planet, it's worth looking beyond the formula and choosing a brand who support environmental conservation in multiple ways.
Sukin are a long time supporter of Greening Australia's Reef Aid initiative, a not for profit program committed to protecting Australia's Great Barrier Reef. The partnership helps to improve ocean water quality by stopping sediment at its source, minimising chemical runoff into our waterways. Through this Reef Aid partnership, Sukin are working with local landholders and communities across the Great Barrier Reef Catchment to rebuild eroding land and restore vital coastal wetlands.
Environmental impact goes beyond the formula…
Another important factor to consider when choosing an environmentally sound SPF is the brand's overall carbon footprint- not just the formula itself.
Sukin became certified carbon neutral in 2008 in an effort to slow climate change and help the planet. This means that we offset each and every carbon emission that we, as a company, produce, by investing in projects that produce renewable energy- projects that reduce energy poverty, create clean energy and support local employment. In the last 10 years alone, Sukin have successfully offset over 45,000 tonnes of carbon.