The Sukin Journal
Discover the world of natural through our eyes! From skincare tips, lifestyle and environmental hacks to inspirational interviews! Explore it all.
How to look after your skin sustainably this Winter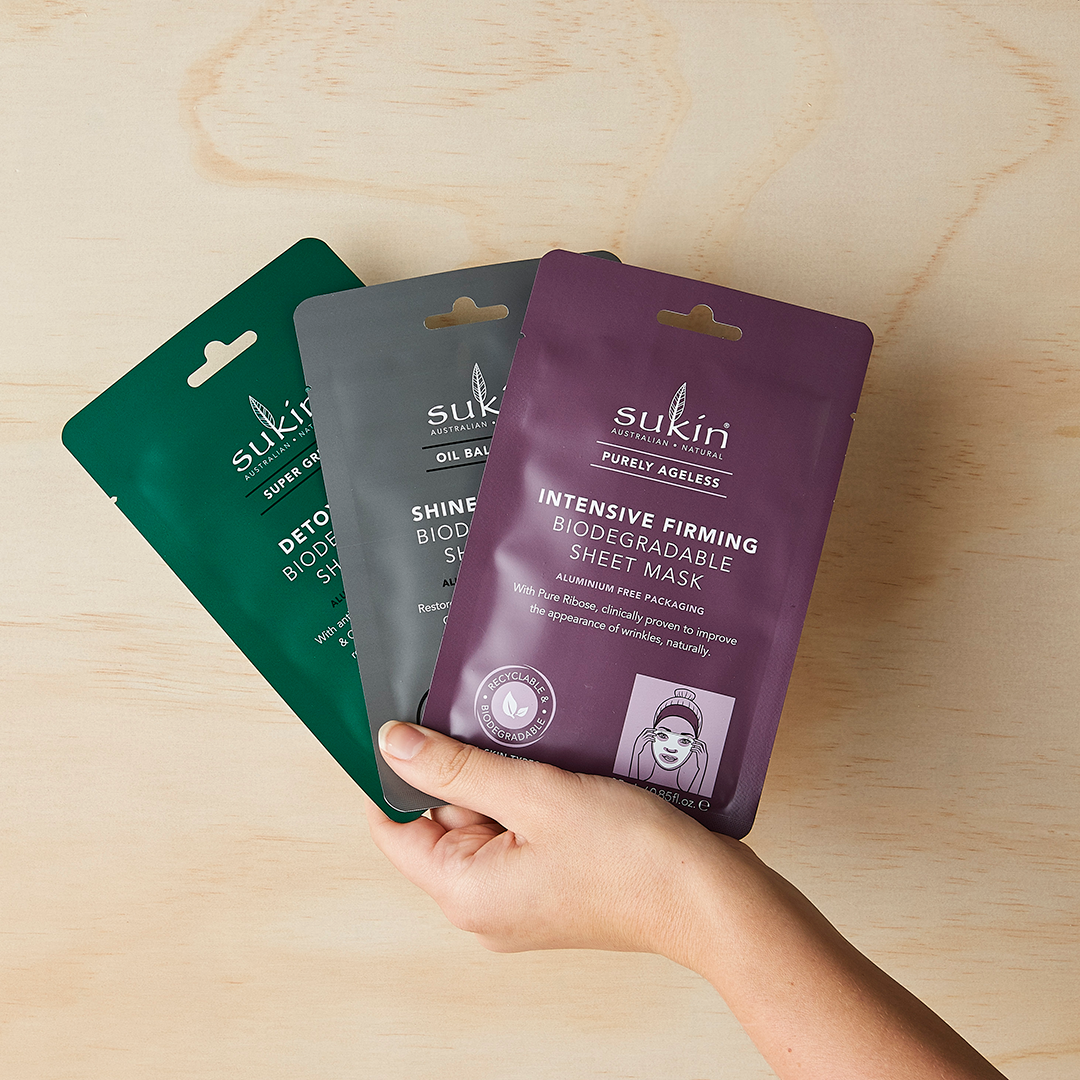 There are few winter luxuries greater than staying in on a cold night and indulging in a DIY facial. Our nourishing, winter skin combination of choice? A concentrated sheet mask followed by some facial massage, complete with a natural facial oil.

We're conscious, however, of how these little indulgences can impact our planet. From non-recyclable masks to questionably sourced ingredients, it can be difficult to navigate the beauty industry while remaining sustainably minded- but we're here to make life easier.

No matter your skin type or concern, Sukin has a natural face mask for you that's also great for the environment. Our range of natural sheet masks are biodegradable and made from 100% natural cotton fibres that biodegrade just six months after use, while our collection of rosehip oil rich skincare has been developed using sustainably farmed ingredients, so your winter pampering can take place with a clean conscience.


Biodegradable sheet masks- a first for Australian beauty

Sukin's COSMOS Natural, OEKO-TEX approved organic cotton masks are 100% biodegradable- but that wasn't quite enough. The challenge, from a sustainability perspective, was the sachet in which the masks are housed.

Rather than using a traditional aluminium sachet, Sukin's biodegradable masks are packaged with a combination of plastics, bonded using a new, more ecologically-friendly technology which uses a solvent-free adhesive. Solvent-free composite machine production temperature is low so the lack of a drying process reduces energy consumption.

After use, your biodegradable sheet mask can be composted, while the packaging can be recycled via your local Red Cycle bin at your nearest supermarket.

Your winter facial - choosing a sheet mask

If you're suffering from dry skin this winter, we recommend working the Sukin Deeply Hydrating Biodegradable Sheet Mask into your routine. This mask is infused with an active Bio-Marine Blend of Sea Algae, Hyaluronic Acid & Maize Complex to deeply rehydrate, keeping the skin looking plump and radiant for 72 hours after 4 weeks of use.


Those with oily skin will love the Shine Control Sheet Mask, rich in Bamboo Charcoal to help mattify and remove excess oil, while those with dull skin will find the complexion lifted and brightened after a treatment with the Detoxifying Sheet Mask, enriched with Sukin's Super Greens Serum.

If you have more mature skin, or just want a bit of a lift, opt for the Intensive Firming Sheet Mask to improve skin elasticity and reduce the signs of aging.
Complete your winter facial with natural Rosehip Oil

Rich in antioxidants, Rosehip Oil feeds the skin vital nutrients to support a radiant, hydrated complexion- making it a must for skin that's been subjected to the winter elements. Sukin's Rosehip Oil range is made using sustainably sourced rosehip oil and, just like the rest of the Sukin collection, is completely carbon neutral.


Our pick for dry, dull winter skin? Certified Organic Rosehip Oil. Known as our bottle of liquid gold, this holy grail oil contains no less than 70% essential fatty acids which are a must when working to maintain healthy skin, and it's rich in vitamins to help soothe, soften and hydrate the skin. If your skin is feeling particularly dry now that we've hit the cold snap, try mixing a drop into our Enriching Night Cream before tucking yourself in for some beauty sleep.
Shop our Biodegradable Sheet Masks
---