The Sukin Journal
Discover the world of natural through our eyes! From skincare tips, lifestyle and environmental hacks to inspirational interviews! Explore it all.
How to Look After Your Beard, Naturally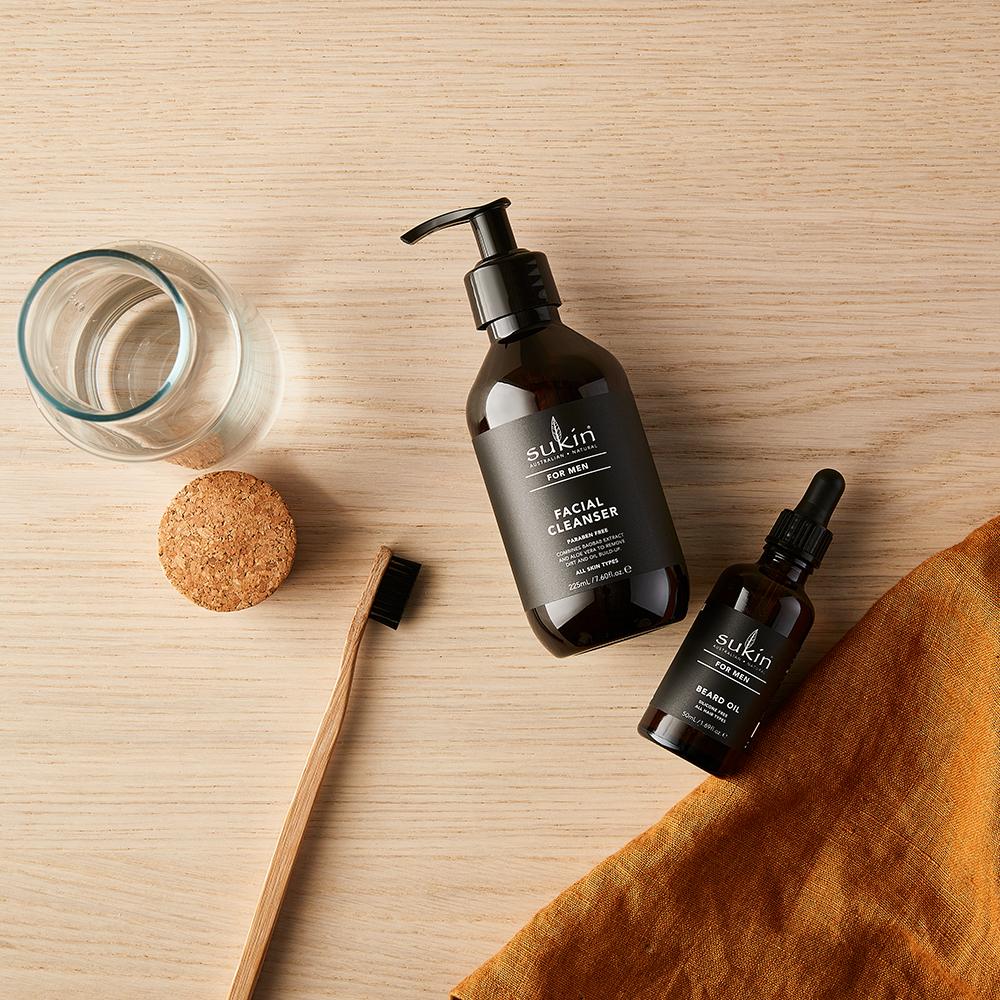 With such a focus on caring for, growing, strengthening and nourishing the hair on our head, you'd be forgiven for neglecting the humble beard.

Men are growing increasingly conscious of the health of their skin and hair, embracing simple and effective formulas and working natural ingredients into their routines. Men's skin is looking better than ever but, in many cases, that beautiful complexion is hidden beneath a dry, scratchy beard and split ends.

Caring for your facial hair is just as important as caring for your skin. Working a beard oil into your routine will ensure your hair is looking as hydrated and youthful as your skin, and it will help to reduce the irritation often caused by facial hair grooming.

What does a beard oil actually do?

Almost 50% of men are sporting facial hair of some kind. Moustache, stubble, a full beard or a goatee- whatever shape your facial hair takes, you must be using a beard oil.

Facial hair is constantly exposed to the elements in the same way your skin and the hair on your head is- you shampoo your hair and you wash your skin to ensure it is clean and hydrated, so why shouldn't your beard receive the same level of care? A beard oil will work to strengthen, condition and nourish your facial hair, ensuring it doesn't look and feel wiry and dry.

Beard oils are also essential as they care for the skin beneath your facial hair. If you have a beard, you'll generally use your skincare on only the visible areas of skin on your face. So how can you hydrate and protect the skin beneath your beard? With a beard oil. The skin that sits underneath your facial hair can often become itchy and irritated. A beard oil will allow you to deliver hydration to that irritated skin, leaving you feeling soothed and comfortable. Dry skin can also lead to dandruff (or "beardruff"), so it's important to keep that skin thoroughly moisturised.

How do you use a beard oil?

A beard oil can be applied to either damp or dry skin and hair, meaning you can reach for it whenever your beard is starting to feel a little wiry or your skin is feeling itchy and irritated.

Simply pump or pour your beard oil into your hands, then gently massage into your facial hair so that both your beard and skin can reap the benefits.

How to choose the right beard oil for you

Hydration is the most important factor in any beard oil, so look for one specifically designed to hydrate and nourish both your hair and your skin. If your skin is easily irritated or has a tendency to feel itchy, it's worth choosing a beard oil rich in natural ingredients, rather than harsh chemicals that could potentially cause further irritation.


Sukin's new Beard Oil contains a hydrating concentration of Argan, Almond & Crambe Oils will strengthen and hydrate your beard, as well as helping to reduce any flaking and itching of the skin.

If you tend to favour a simple, streamlined grooming routine, look for a fragranced beard oil- this will save you time choosing and applying a cologne or aftershave! Sukin's Beard Oil is infused with Sukin's classic "For Men" scent of citrus, menthol and rich woody undertones.

What should a men's skincare routine look like?

An effective routine doesn't have to be complicated or particularly time consuming. Concentrated, natural products will ensure that your skin (and facial hair) are in prime condition by following just three to four simple steps, twice a day.

Step 1. Cleanse

At the basin, dampen your hands and your face. Pump the Sukin For Men Facial Cleanser into your hands and lather with water. Gently massage the cleanser into your face and neck to remove dirt, grime, oil and bacteria from the skin, then rinse thoroughly with water.

Step 2. Exfoliate

Twice per week, follow up your cleanse with the Sukin For Men Facial Scrub to remove any additional oil build up as well as dry and dead skin cells that have been exposed to the elements. Apply in the same way you would your cleanser, working in gentle, circular motions for a deep cleanse.

Step 3. Moisturise

Restore much needed moisture to the skin after cleansing (or exfoliating) with the Sukin For Men Facial Moisturiser. After patting your skin dry, gently apply a small amount of moisturiser into both the face and the neck.

Step 4. Beard Care

To finish your routine, massage your new Sukin Beard Oil into any facial hair- even stubble!
Love, Sukin
Other products you may like
---