The Sukin Journal
Discover the world of natural through our eyes! From skincare tips, lifestyle and environmental hacks to inspirational interviews! Explore it all.
10 Skincare Tips Every Teen Should Know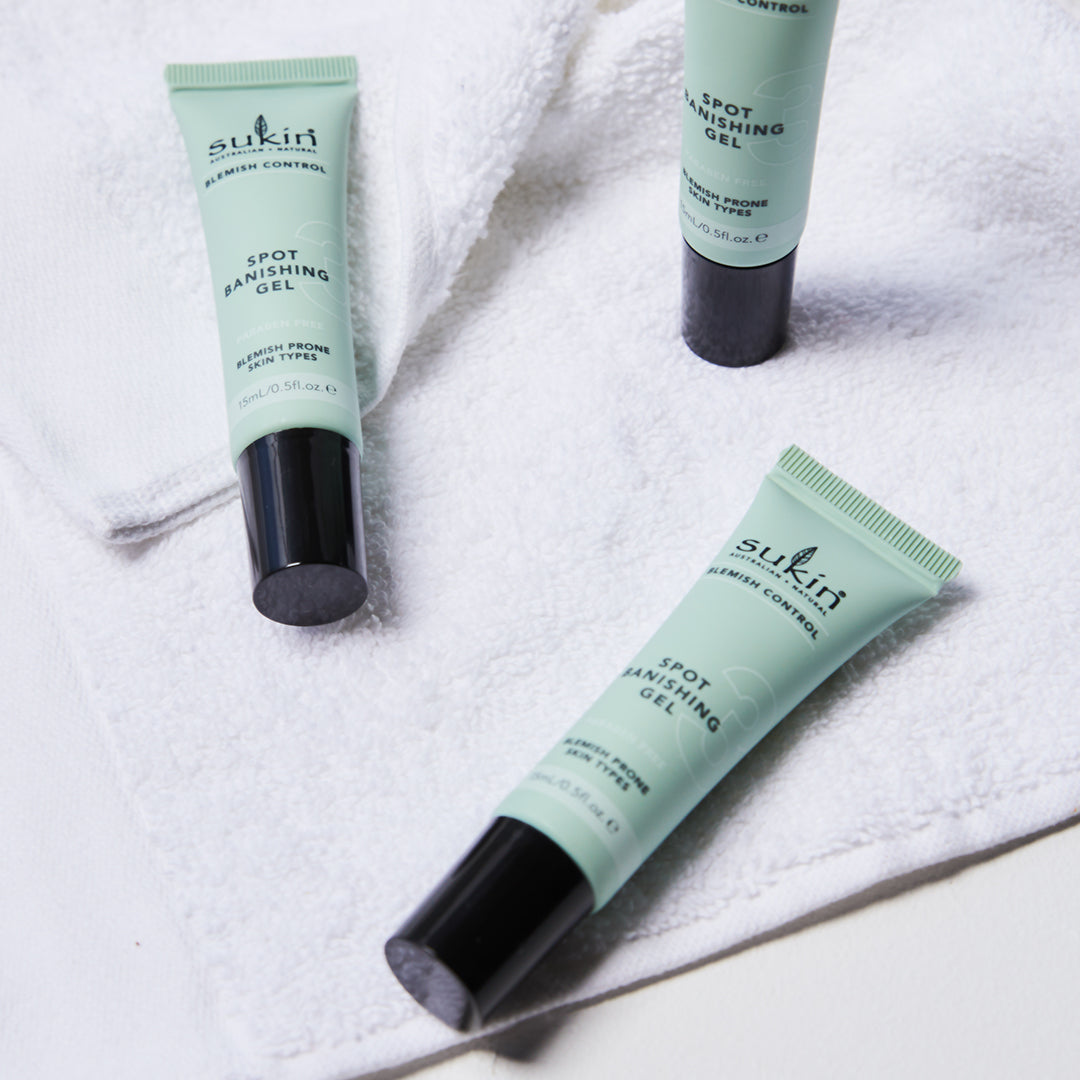 Natural skincare for teenage skin is no easy task. With hormones surging and bodies changing, finding the best teenage skincare products for your teenage skincare routine is essential. From battling blemishes to oily skin, to dry skin, teenage skin conditions will vary from teen to teen. Fortunately, there are plenty of adolescent skincare products on the market for treating teenage skin problems. Our Blemish Control range gets to work after just 30 minutes to fight the causes of adolescent breakouts. Using proven native ingredients to leave skin healthy and clear, here are the 10 teenage skincare tips every teenager should know.

Develop a Skincare Routine
Sounds pretty obvious, right? But if you don't already have a teenage skincare routine, then your skin is missing out on some much needed TLC. From moisturising to cleansing, keep reading to learn the ins and outs of the best skincare for teenage skin.

Promote Natural Oil Production
Dealing with teenage skin problems means dealing with skin that is still young and developing. Choose products that work to improve the health and natural function of the skin, rather than stronger cosmetics that could strip the skin of its protective barrier. For more critical teenage skin conditions like acne, consider reaching out to a dermatological expert.

Natural vs Synthetic Ingredients
There are hundreds of different ingredients used throughout the skincare industry. Understanding what you're putting on your skin is an essential step in putting together a quality skincare routine, especially when you have the choice between natural and synthetic ingredients. Our belief is that everything we need to nourish our bodies can be found in nature. So at Sukin, that's what we use. To learn more about the ingredients we use in our Blemish Control and all our other products, check out our Ingredients Glossary for more information.

Cleansing Hydration
Keep your skin hydrated with our Sukin Blemish Control Clearing Facial Wash to gently cleanse the skin without drying it out. Native Australian ingredients like Eucalyptus reduce blemishes and minimise redness from breakouts, while Tea Tree absorbs excess oils and Pomegranate balances congested, clogged pores.

Eat Well
Developing bodies need a lot of energy. Feed your teenage cravings with a healthy mix of food. Try not to chow down on too much fast food, and listen to your parents when they tell you to eat your fruits and vegetables.

Sleep Well
Research has shown that adolescents require roughly 10 hours of sleep every night. Unfortunately, the average amount teens get is around only 7 hours. The closer you get to 10 hours, the better you'll feel, and the healthier your skin will appear.

Reduce That Oily Shine
Young skin is active skin, which means oil production is at an all-time high during our teenage years. Remove the sheen with our Sukin Blemish Control Pore Perfecting Toner with the cleansing power of Eucalyptus, Tea Tree, and Quince. Moisten a cotton pad with a gentle toner to help mattify the skin first, then apply the perfecting toner.

Use a Moisturiser
Hydrated skin is healthy skin. Keep your teenage skin problems in check with the Sukin Blemish Control Oil-Free Moisturiser. Rocking an oil-free formula that prevents further congestion, this hydrating moisturiser employs organic ingredients like Willowherb and Quince to soothe and refine blemish-prone skin. Plus, Moringa for keeping pores unclogged.

Use Fast-Working Spot Treatments
When oil production is rampant, breakouts and blemishes can occur at the most inopportune times. The Sukin Blemish Control Spot Banishing Gel works to treat breakouts quickly thanks to fast-acting Salicylic Acid, which dissolves the dirt, bacteria and dead skin cells that clog the pores. Paired with Willowherb, which soothes blemishes and minimises redness, and Quince to reduce shine, you'll be formal ready, thanks to Sukin Naturals.

Exercise
This one is a no brainer. Even the Australian government agrees that "children and young people should participate in at least 60 minutes (and up to several hours) of moderate to vigorous-intensity physical activity every day". So what are you waiting for? Get out and get active. Your body and your skin will thank you for it.

If you're just getting started with your teenage skincare routine, grab the complete Sukin Blemish Control Kit, which contains all four products to help naturally clear adolescent skin.

Shop with Sukin Naturals today for free shipping for orders over $50 within Australia.