The Sukin Journal
Discover the world of natural through our eyes! From skincare tips, lifestyle and environmental hacks to inspirational interviews! Explore it all.
How to care for your skin while wearing a face mask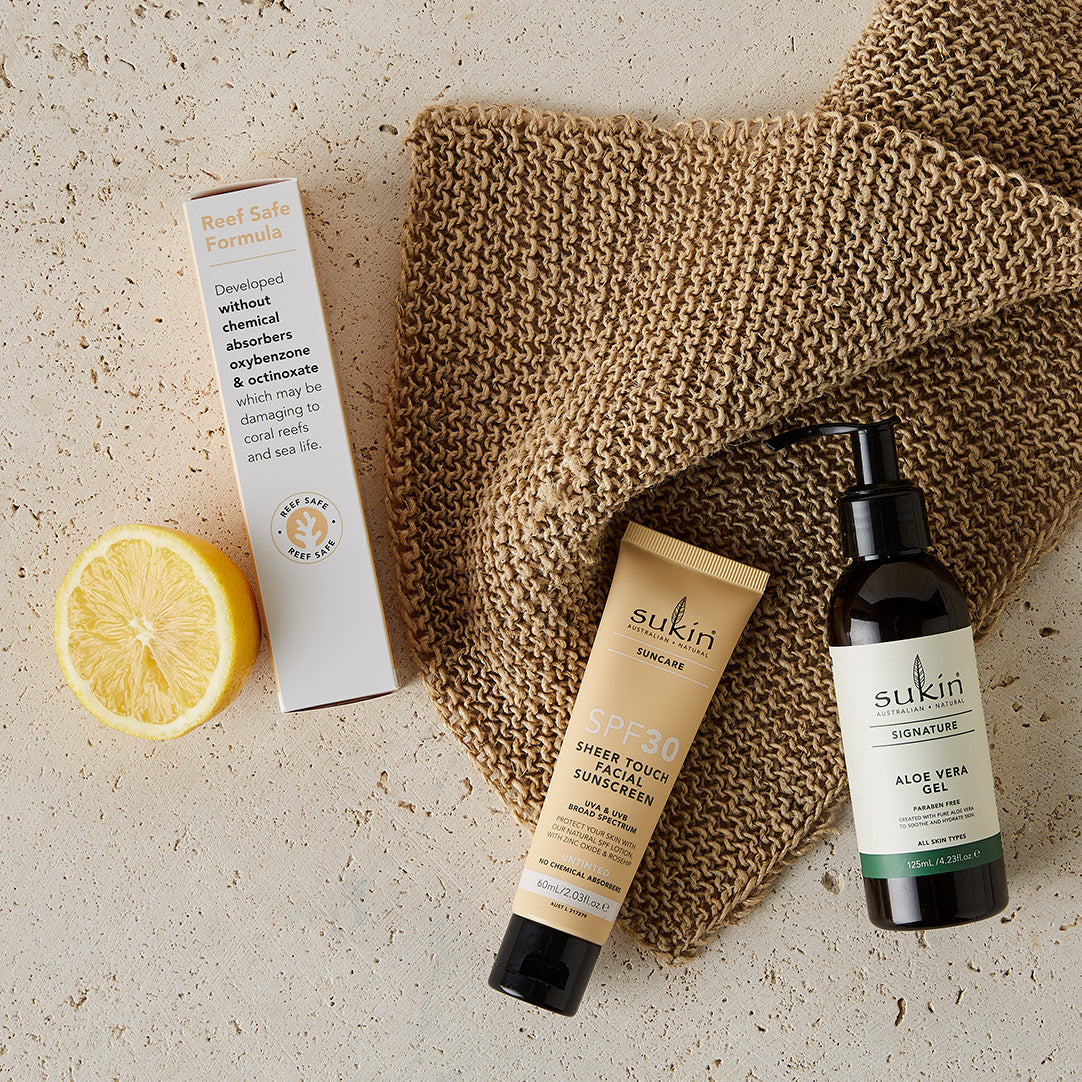 As our home-town Melbourne has gone into further lockdown, we're all required to do our part and wear a mask when leaving the house! We're sharing our helpful skin tips on how to look after your skin and avoid excess mask irritation!

When wearing a mask, it's particularly important to ensure your skin is healthy, this means caring for your skin, being consistent with your skincare routine and if necessary, change up your products and steps to prevent and treat any adverse skin reactions.
If skin is becoming dry, irritated or experiencing breakouts – 'maskne' from wearing a mask, swap for more nurturing options with skin-soothing ingredients that deeply hydrate, nourish and help to calm and protect the skin. We recommend a daily routine to include a gentle cleanser, hydrating toner, light-weight moisturiser and sunscreen.
Wash your hands thoroughly before putting on your mask and straight after removing your mask. 
1. Cleanse
It is essential to gently cleanse your skin twice daily, and most importantly after taking off a mask to remove sweat, grime and bacteria that may have built up underneath the mask. Avoid over-cleansing as this may strip the skin of its natural oils and cause the skin's protective barrier function to be weakened leading to dryness, irritation and redness Use a cleanser for your personal skin type.
If you are unsure of your skin type, take the Sukin Skincare Quiz here to find out.
2. Hydrating Mist Toner
Refresh the skin with a hydrating mist toner which combines Chamomile and Rosewater to help soothe and cool dry skin and aids to promote a sense of calm. Tip: When not wearing a mask, use throughout the day to refresh and deliver an instant hit of hydration to skin.
3. Moisturiser
A well-moisturised skin not only keeps skin hydrated, it also protects the skin barrier, is better able to defend against 'maskne' and is less likely to become irritated. In general, whilst wearing a mask opt for lightweight, skin-soothing, rich antioxidant ingredients, such as hyaluronic acid and aloe vera. To assist any areas of specific concern like breakouts, reach for ingredients such as willowherb, which helps soothe and reduce redness.

4. SPF
Although half of your face is protected with the mask, it is still important to apply sunscreen to the whole face – your last step in the morning after you moisturise (before makeup if wearing it) to protect the skin from damage caused by UV rays and other stressors… and to avoid half face tan lines! 😊
Be sure to wait five minutes after application before putting on your mask, in order to allow the products to absorb into the skin.


How to choose a Mask
Whilst there are many mask options with varying degree of effectiveness, we may like to take into consideration the environmental impact of single-use masks. Click here for more information.
You may wish to choose a mask you can wash, and re-use made with soft fabrics such as cotton which are gentler on the skin and will help ease friction which leads to skin irritations.
 Photo credit: Permanent Vacation @permanent.vacation
Be sure to wash or change the mask frequently. Wash the mask in gentle, fragrance-free soap or eco-friendly detergent, that can be kind to your skin, preferably with hot water, at least once a day. 

Look after yourselves!

Love, Sukin