The Sukin Journal
Discover the world of natural through our eyes! From skincare tips, lifestyle and environmental hacks to inspirational interviews! Explore it all.
Dry vs Dehydrated Skin - What's the difference?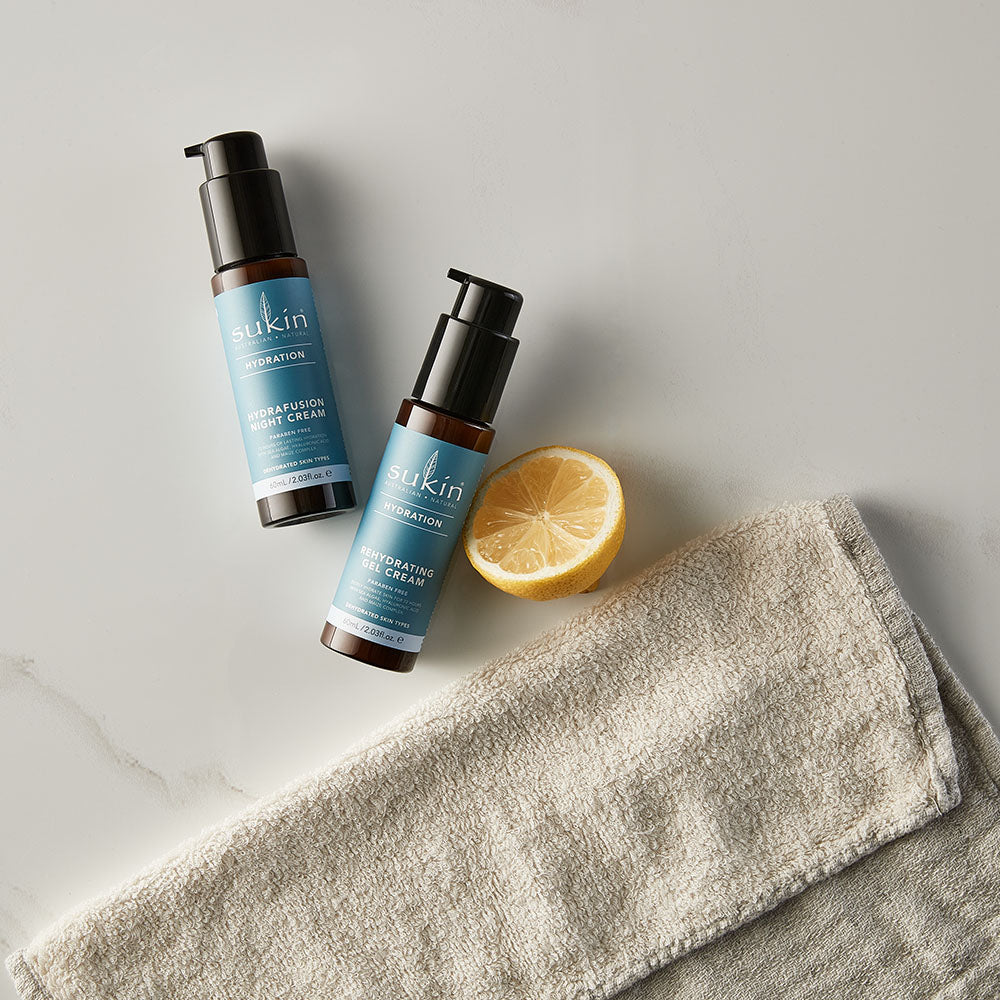 The difference between dry skin and dehydrated skin is actually more pronounced than you would think. Although these terms are often interchangeable, remedies for dry vs dehydrated skin require different skin care products.

The easiest way to tell dry and dehydrated skin apart is by what's missing. Dry skin is classified as a "skin type," characterised by a lack of sebum (the oil our skin produces naturally). Looking at dehydrated skin close-up, we can see it's actually a skin condition characterised by a lack of water. Because of this, dehydrated skin can strike any skin type, be it dry, combination, or even oily.

Learning how to fix dehydrated skin comes down to the combination of skin care products you use to rehydrate your skin, while skin care products for dry skin restore the natural oils. We're here to help you understand the different skin types and apply the right skin care products for your skin type and condition.

Sukin Naturals has a massive range of hydrating skin care products to restore moisture to dehydrated skin, alongside Rosehip oil skin care for revitalising dry skin.
Skin Types and Dry Skin
Dry skin is a skin type. Skin types are classified as either normal, dry, oily or combination. Dry skin, for example, is characterised by the following symptoms:
scaly skin
white flakes
redness
irritation
Dry skin is also associated with conditions like psoriasis, eczema, and acne.
What is my Skin Type?
Anyone can figure out their skin type with the "bare face" method. Around thirty minutes after cleansing (ensuring you've applied no other skincare products), examine your pores in the mirror.

Enlarged pores and noticeable shine may indicate oily skin, invisible pores and flakey skin can indicate dry skin, and a combination of the two suggests a combination skin type.

If your results are inconclusive, a blotting test is far more accurate at establishing your actual skin type. At least thirty minutes after cleansing, gently pat blotting paper (or a tissue) onto your skin, then hold the sheet up to the light.

Oily Skin: a significant amount of oil on the paper.

Normal Skin: very little oil on the paper.

Dry Skin: no oil, but you experience a tight, uncomfortable feeling.

Combination Skin: We recommend trying a few different areas of the face, as you may have a combination of the above symptoms.
Is your skin dehydrated?
Oily, combination, normal and dry skin types can all experience dehydration. While the symptoms of dehydrated skin are similar to those of dry skin, there are a few essential things to consider.

You may suffer from dehydration if your skin feels uncharacteristically tight and uncomfortable. If your complexion appears dull and almost sallow, dehydration may be the cause too. A telling sign is the appearance of fine lines. If your skin is showing visible signs of age, more so than usual (think fine lines, wrinkles and dark circles), there's a high chance that your skin is dehydrated.

Still unsure? Try the pinch test. Gently pinch your skin, release it, and watch how your skin reacts. If it bounces back immediately, your skin is hydrated. If it takes a moment for the skin to return to its normal state, you may require moisture. 


Skincare products for dry skin
Since dry skin lacks oil while dehydrated skin lacks water, it's essential to choose the right products for your skin type or state of skin if you wish to look and feel your best!

Dry skin types will benefit from skincare products that work to restore the skin's natural oil production levels naturally. Sukin Natural's Rosehip Oil Skincare collection is perfect for dry skin. Rosehip oil offers an abundance of essential fatty acids to maintain the skin's overall appearance, restoring natural oils and soothing redness, revitalising dry skin while also helping to reduce the appearance of fine lines.

Rich Moisture Facial Masque
A richly hydrating cream-based masque that supports even the driest skin types.

How to use: Apply to damp face and neck. Relax and allow to penetrate for 15 minutes, and then rinse off with warm water and a washcloth.

Rejuvenating Facial Scrub
combines grounded rosehip seeds and walnut shells to effectively buff the skin, revealing a clearer and fresh complexion.

How to use: Apply a small amount to the fingertips. In a circular motion, massage into the face and neck. Rinse well with warm water. Avoid contact with eyes. Use once or twice weekly.

Nourishing Cream Cleanser
Say goodbye to dehydrated, stripped skin post-cleansing! Winner of Best Cleanser in beautyheaven's 2019 Glosscar Awards.

How to use: Apply a small amount to moist hands. Gently massage into skin and then rinse thoroughly. Use once or twice daily.
Enriching Night Cream
Indulge yourself in the magical properties of our liquid gold- Rosehip Oil! Winner of Best Night Moisturiser in beautyheaven's 2019 Glosscar Awards.

How to use: After cleansing at night, gently massage into face, neck and décolletage.

Certified Organic Rosehip Oil (25ml or 50ml)
Maintain healthy-looking skin using our Certified Organic Rosehip Oil containing 70% essential fatty acids to soothe and soften dry skin. Winner of Best Natural Skincare Product in beautyheaven's 2019 Glosscar Awards.

How to use: Apply 2-3 drops to the palm of your hand. Use fingers to massage into cleansed face, neck and body morning and night, or as desired.

Hydrating Day Cream
Relieve dehydrated skin and help prevent signs of premature ageing with our Hydrating Day Cream, infused with a powerful blend of Rosehip Oil.

How to use: After cleansing in the morning, gently massage into face, neck and décolletage.
Skincare products for dehydrated skin
Those suffering from dehydrated skin will herald the arrival of Sukin's Hydration Range. A natural hydrating skincare range to help revive and replenish your skin with up to 72 hours of natural hydration after four weeks of use.

Thanks to a unique Bio-Marine Blend of intensely hydrating, natural ingredients - Maize Complex, Hyaluronic Acid and Sea Algae. After two weeks of use, clinical tests have revealed that the Sukin Hydration Range leaves previously-dehydrated skin looking and feeling 50% smoother and 50% less flakey. Rehydrate thirsty skin instantly with a skincare range that took over two years to develop and trial, redefining what is possible for natural skincare.

Rehydrating Gel Cream
An instant boost of moisture to the skin.

How to use: After cleansing, apply one pump of product and gently press it into the face, neck and décolletage. Wait until fully absorbed before applying your next product layer. * Just one pump ** And one minute to absorb.

Hydrafusion Night Cream
Quench thirsty skin overnight.

How to use: After cleansing at night, gently massage into face, neck and décolletage.

Hydra Eye Gel
Seriously hydrate the delicate under-eye area.

How to use: Gently use the tube tip to apply gel to the under-eye area along the cheekbones.

Deeply Hydrating Biodegradable Sheet Mask
Deliver visible hydration deep into the skin with our concentrated serum.

How to use: Open the packet, unfold the mask and apply it to your face. Leave on for 15 to 30 minutes and then gently remove. Massage the remaining serum into your skin. Don't forget to recycle this packaging.
If you have any further questions, please message us directly @sukinskincare
Other products you may like
---